Democrats have drafted a bill to preserve the cartel-operated smuggling business which has been used to deliver 180,000 Central American children and working-age youths to migrant parents and their employers in the United States.
The bill comes as President Donald Trump has begun shutting down the "Unaccompanied Alien Child" smuggling route by identifying and arresting the resident illegals who try to pick up — or "sponsor" — their smuggled migrant children or young workers.
The UAC children and youths are delivered by cartel-approved coyotes to the border patrol, which then must send the UACs to the shelters operated by the Department of Health and Human Services. In turn, since 2010, the HHS has fulfilled the coyotes' smuggling contracts by delivering the UACs to their illegal-migrant parents, relatives or employers throughout the United States.
CNN reported:
The bill would bar the government from using a sponsor's undocumented status as a reason to deny releasing a child to them, and it would prevent the Department of Homeland Security from using information provided by a potential child sponsor to arrest or deport an undocumented immigrant.
Rep. Debbie Wasserman Schultz, a Florida Democrat, said CNN's reporting had prompted her to draft the legislation, which will be introduced with at least a dozen other Democrats and GOP Rep. Carlos Curbelo of Florida.

CNN confirmed last month that dozens of immigrants who came forward to sponsor children out of custody had been arrested by Immigration and Customs Enforcement from July to September, 70% of whom were arrested only on immigration violations
The migrant smuggling-route was created by President Barack Obama's deputies in 2010 and has been used by coyotes to send more than 180,000 migrants kids and youths into the United States. If the average smuggling price was $4,500 per child, Obama's deputies created an $800 million business for the cartels.
Few of the migrant UACs have been approved to stay — but few have been sent home by clogged courts.
A statement from Wasserman Schultz said:
While visiting a 'tender age' immigration facility this summer in South Florida, I specifically asked and was told that potential sponsors were not asked about their immigration status. This is simply unacceptable. Actively arresting potential child sponsors for children held in federal custody does not make our country safer. Instead it ensures that hundreds if not thousands of children who are fleeing dangerous circumstances will languish for longer periods in overly-crowded detention facilities. The penchant for child cruelty of Donald Trump and his Republican enablers is repulsive and antithetical to American moral leadership
The UAC-smuggling bill has very little chance of passage through Congress unless Democrats win House and Senate majorities this November.
But any Democratic majority likely would try to add this measure to a must-pass funding bill — and also try to open up other loopholes in the nation's borders.
For example, a group of Democrats has drafted a bill this summer that would force officials to release all pregnant migrants at the border. The bill is designed to end Trump's March 2018 policy of detaining and quickly repatriating migrants who are less than six months pregnant.
From mid-December 2017 to early-April 2018, almost 600 pregnant migrants were caught crossing the border, and almost 40 were in detention on April 7, the Department of Homeland Security told Breitbart News. The agency declined to say if the pregnant migrants were returned home or were released into the United States.
The draft bill would allow pregnant immigrants to walk through the border walls, claim asylum, get work permits, and give birth to an anchor baby. The migrants could then use their status as the parent of a citizen to get legal residency by filing an "Adjustment of Status" request with the Department of Homeland Security.
Twenty-four Democratic Senators are co-sponsoring the "Stop Shackling and Detaining Pregnant Women Act" which says the Department of Homeland Security:
(A) shall not detain a person under any provision of the Immigration and Nationality Act (8 U.S.C. 1101 et seq.) during pregnancy or postpartum recovery, pending a decision with respect to whether the person is to be removed from the United States; and

(B) shall immediately release any detainee found to be pregnant.
The move-and-countermove battle between Democrats and Trump's aides is matched by the cartels' actions and sales pitches to Central Americans who are trying to decide if the $10,000 cost for a coyote can be repaid by off-the-books work in the United States.
For example, the cartels advise their clients to bring one of their children up to the border so they can use the Flores settlement to get released from detention after 20 days. The Washington Post reported Sept. 30:
Guatemalan community leaders told McAleenan that smuggling guides who charge $10,000 for a trip to the United States capi­tal­ize on the dysfunction of the American immigration system.

"They say that if you bring a child they'll let you into the United States and give you citizenship," said Dora Alonzo Quijivix, describing the sales pitch during a meeting McAleenan attended with indigenous leaders in Quetzaltenango, the largest city in the western highlands. "Now they're saying pregnant women who go will also get citizenship."

Quijivix said she's heard smugglers say this on local radio stations.
DHS officials have repeatedly warned Congress and the media that migrants respond rationally to incentives created by legislators, U.S. employers, and Central American cartels.
"Our legal framework continues to act as a powerful magnet for families and children seeking a better life," Kevin McAleenan, the Commissioner of U.S. Customs and Border Protection agency. "As a result, transnational criminal organizations are profiting from a billion-dollar human smuggling industry that treats people like a disposable commodity," he told the Washington Post.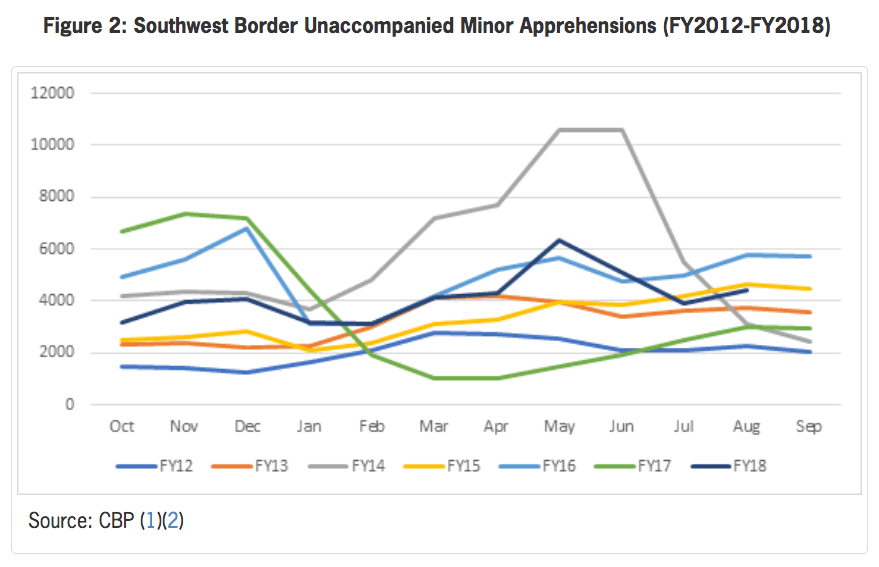 The inflow of Central American migrants is a useful gain for business groups. Since 2010, it has delivered more than half a million new consumers, at least 400,000 lower-skill workers and has allowed the rental of hundreds of thousands of apartments. Government employees also gain from the migration, including by the delivery of at least 180,000 children and youths into the nation's schools.
Four million young Americans will join the workforce this year, but the federal government will also import 1.1 million legal immigrants, and allow an army of at least 2 million white-collar and blue-collar visa-workers to work U.S. jobs, alongside additional asylum-claiming migrants and at least 8 million illegal migrants.
Overall, the Washington-imposed economic policy of economic growth via immigration shifts wealth from young people towards older people by flooding the market with cheap white-collar and blue-collar foreign labor.
That flood of outside labor spikes profits and Wall Street values by cutting salaries for manual and skilled labor offered by blue-collar and white-collar employees. The policy also drives up real estate prices, widens wealth-gaps, reduces high-tech investment, increases state and local tax burdens, hurts kids' schools and college education, pushes Americans away from high-tech careers, and sidelines at least 5 million marginalized Americans and their families, including many who are now struggling with opioid addictions. Immigration also pulls investment and wealth away from heartland states because investment flows towards the large immigrant populations living in the coastal states.