Breitbart News has obtained photographs of members of the New Black Panther Party wielding weapons and holding signs supporting Democrat gubernatorial candidate Stacey Abrams, a leftist who hopes to be the first black female governor in Georgia.
This comes on the heels of Oprah Winfrey's visit to the state on Abrams behalf where she said the Democrat refuses to allow the sacrifices of those who were "lynched" and "oppressed" to be "in vain."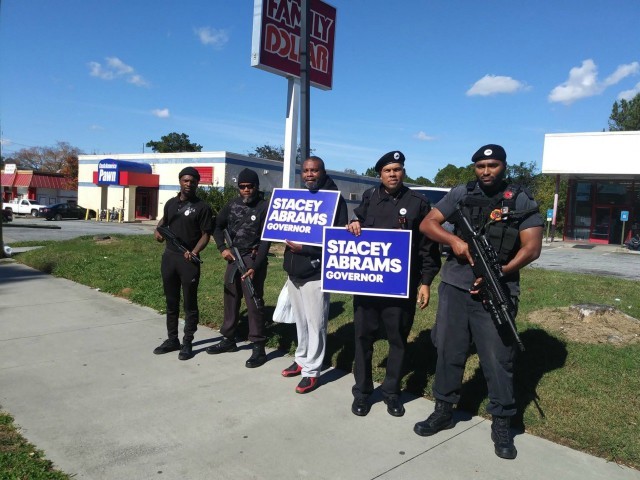 The photos show the men, dressed all in black, with the Black Panther logo on their clothing and holding weapons.
Abrams opponent, Republican Georgia Secretary of State Brian Kemp, will be the focus of a rally today in Georgia where President Donald Trump will be stumping on his behalf.
https://www.facebook.com/permalink.php?story_fbid=775668999432096&id=643248062674191
Ryan Mahoney, Kemp for Governor spokesman, has no doubt about the origin of the images. He said:
It's no surprise that militant Black Panthers are armed and patrolling the streets of Georgia for Stacey Abrams. The Black Panthers are a radical hate group with a racist and anti-semitic agenda. They are dangerous and encourage violence against our men and women in uniform. Stacey Abrams should immediately denounce the Black Panthers and their hateful record of racism. She should stand against and condemn their attempts to intimidate hardworking Georgia voters just days before the election.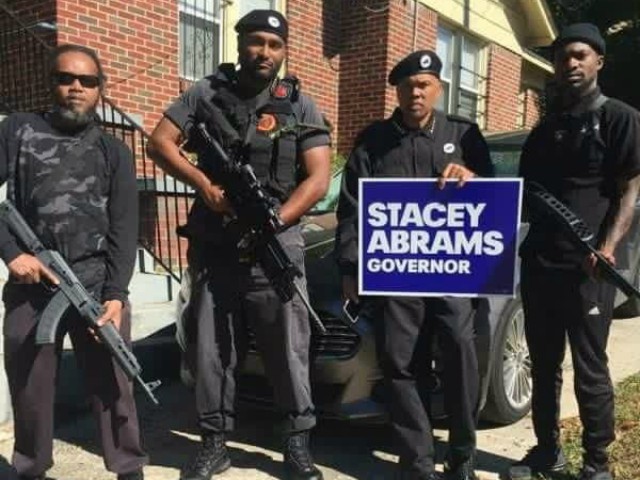 As Breitbart News reported: 
The Georgia governor's race is one of the most closely watched campaigns in the nation and is attracting top surrogates from both parties in the final days before the election. Vice President Mike Pence stumped for Kemp earlier Thursday, while President Donald Trump will be in the state this weekend. "I heard Oprah is in town today," Pence said at today's rally. "I heard Will Ferrell was going door-to-door the other day. I'd like to remind Stacey and Oprah and Will Ferrell, I'm kind of a big deal, too."
Real Clear Politics poll tracking shows Kemp up by one point and labels the contest a "toss-up."
Follow Penny Starr on Twitter