The left wasted little time on Thursday celebrating the passing of Christian television evangelist Pat Robertson. The 93-year-old's death was announced earlier in the day by his broadcasting network. No cause was given.
As Breitbart News reported, Robertson was a familiar presence in American living rooms for over half a century, known for his "700 Club" television show, and in later years, his televised pronouncements of God's judgment on a host of topics.
His energy and business sense turned a tiny Virginia TV station into a global evangelical network before he sought the GOP presidential nomination in 1988 and helped make religion central to Republican Party politics in America.
That combination of Christian evangelical zeal and political ambition drew critics on the political left who celebrated on social media as soon as news of his death became public.
One Facebook post immediately made clear how his venomous detractors felt.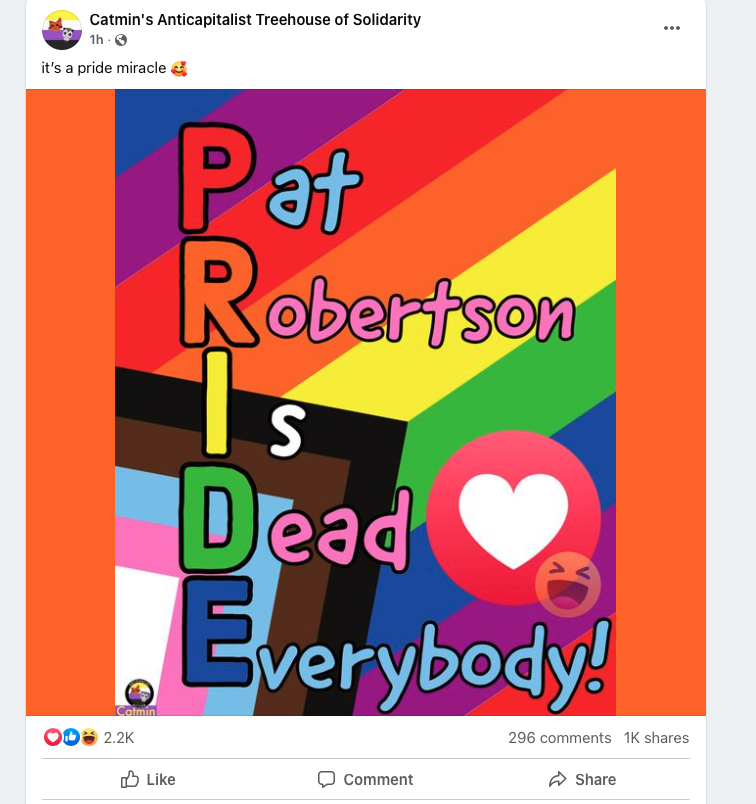 Elsewhere the response from many – but by no means all – flooded Twitter and other social media outlets with their caustic comments.
Pat Robertson finally died. It's not Kissinger, but… pic.twitter.com/QPtCbp5FH3

— TheCiroth (@TheCiroth) June 8, 2023
Pat Robertson has died.

I need to break this out again. pic.twitter.com/fTHYxHlcgs

— Tim Byrne (@TByrne75) June 8, 2023
The fact that Pat Robertson went to Hell during Pride Month makes me almost believe there is a God..or Hell. pic.twitter.com/DD0Dd04pH9

— Sgt Joker (@TheSGTJoker) June 8, 2023
"Conspiratorial hatemonger" Rolling Stone on Pat Robertson's death: pic.twitter.com/jAwIVF517Q

— Mike Sington (@MikeSington) June 8, 2023
His wife Dede, who was a founding board member of CBN, died last year at the age of 94.
Robertson stepped down as host of the show after half a century in 2021, with his son Gordon taking over the weekday show.
The couple had four children, 14 grandchildren and 24 great-grandchildren, CBN said in a statement.
Follow Simon Kent on Twitter:

Follow @SunSimonKent

or e-mail to: skent@breitbart.com