ARCADIA, Calif.—In those brief moments, as the thundering pack of horses hurtle towards the finish line, it feels as though Santa Anita racetrack becomes a single droning organism.
The voices of individuals blend and swirl, thousands of discreet cellular masses surge towards a grand unity. There's a buzzing, elevating into a low roar, reaching a crescendo, only to deflate in an instant—an instant when dreams are either clinched or suspended, until the horses run again.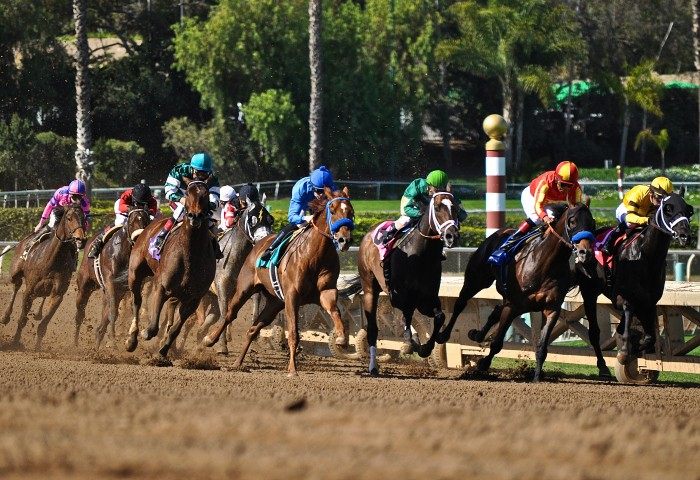 For it is in that instant that the hard work, devotion, dedication, and love of all involved in the sport of horse racing comes to fruition. Grooms and jockeys, handicappers and trainers, exercise riders and owners, from the north and the south and sea to shining sea are united by a fervent desire to succeed.
Nobody in the sport—nobody serious, I am told—is satisfied to place. It's the winner's circle or nothing. Nobody in the sport—nobody serious, I am told—is in this purely for money or the glory. Anyone who is serious is in it to be the best they can be, to elevate themselves and the animals they ride.
American sports may be the last arena where exceptionalism truly rules the day. Nowhere is this more evident than the American racetrack.
It likely comes off as starry-eyed nonsense from this racetrack rookie, especially to the jaded degenerates out there (you know who you are), but sometimes it takes a fresh perspective to remind the cynical that, at the end of the day, horse racing is something special.
The Legend
It's difficult to imagine a greater success story than Bruce Headley, the 80-year-old legendary owner-trainer who bought his first horse with $500 in war bonds. He's since won 123 stakes races over his 56-year career, and is a millionaire several times over.
Mr. Headley was introduced to racing as a child, as his mother and aunt babysat him at Santa Anita during the day. He left home at 15, but was too big to be a jockey, instead opting to become an exercise rider, working hard for the next ten years before taking out his training license in 1959. Along the way, he observed and learned from the best—Bill Shoemaker—incorporating the famous jockey's tactics into his own training.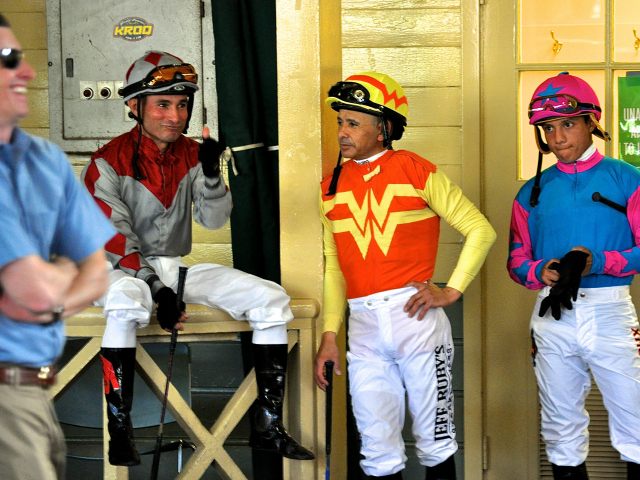 When asked what he attributes his success to, he says bluntly, "Hard work, and the love of a good woman." He met his wife in 1957 and "she loves the horses more than I do." He adds, "I love it, and if you love what you do, you'll never think of it as a job." Nor did he let a few broken bones, including his neck, get in the way.
He's been at Santa Anita all his life, honing his skills one year after the next, buying and selling horses, and despite all his success, he adheres to the time-honored traditions of formality and respect. He never once calls anyone by their first name, whether present or not, instead opting for the formal "Mister," followed by their last name.
He speaks with authority, but in subdued tones, about every issue facing horse racing. His opinions are his own, he's careful to say, and he's protected himself all his life because he's always owned and trained his own horses. He is decidedly old school, proving that success comes from picking the right horse, and eschewing anything other than oats, water, and hay. Nothing substitutes for knowledge and experience. It's an uncommon philosophy in today's racing world.
"I'm in the twilight zone, on my way out," Headley told me. "That's why nobody is sitting here with me," he chuckled, sitting alone by the track café. We sat for half an hour, and he pointed out who everyone was, knew everything about them, whispered who the most talented trainers were, and described subtle nuances about how horses were performing during the workout.
I thought about my old high school math teacher, who told us that paying attention would get us anywhere we wanted to go.
All I could think was, "Why is this guy sitting by himself?"
The Jock
Mr. Headley introduced me to Kent Desormeaux, the jockey with over 5,000 wins to his credit, including three at the Kentucky Derby (Real Quiet, 1998; Fusaichi Pegasus, 2000; Big Brown, 2008).
Sitting in the shade of the grandstand, Mr. Desormeaux spoke in his trademark Cajun accent, sharing how his father managed a bush track in Louisiana, where country boys would match their ponies, before he himself broke the starting gate on a Shetland at age ten.
From the age of seven, when he got his second pony, he took care of it and other horses, a work ethic instilled by his parents. He honed his skills at the 4-H Club, grooming and showing horses for halter competition. From age 14 to 16, he learned the jockey saddle, "watching the people around me, learning how to position my body."
"By the time I got to a boss like David Vance, those many days of riding before and after school, I wasn't afraid of the work. With David Vance, it could be raining or snowing sideways or four degrees there in Maryland, and I had to ride. There was many a time I had to rake the shedrow in between sets."
Did that hard work make a tangible difference?
"The people around us saw my work ethic and offered me opportunities," he explains. "When I was a kid, all I wanted to do was race horses at Evangeline Downs. Then I wanted to be at Louisiana Downs, and got there and thought I was in heaven. Then five weeks later I was in Maryland. I would arrive at each place, and have enough success to keep going. I wasn't even looking to go to the next level."
For Mr. Desormeaux, though, the pinnacle is the Kentucky Derby.
"That's the only reason I'm still here, because I want more of those Derbies," he confesses. "It's magical. The magnitude of the energy in incredible. I have horses who aren't even in the Derby, and they never perform as well for me as they do on that day."
He speaks with intensity, passion, and emotion as he describes winning the Derby.
"I had it explained by one of my peers, Chris Antley, and I could break up in tears just telling you," he says. "Imagine going around the racetrack, and at the quarter pole, it's as if you're like a lost child in the woods, you're five years old, looking for your mom. Imagine turning for home and you have horse. You feel like you're going to win it—that's like the moment when you spot your mom. And when you arrive under the wire…"
He pauses, trying to put words to emotion.
"In front, that's the moment you and your mom embrace, after being lost."
We sit in silence for a few seconds.
"Before I could fist-pump in joy, I succumbed to tears, then I was laughing two strides later, then crying three strides later," he divulges. "My whole life flashed before me. How did I get here? There was a flash of my first real race, for my brother, on a horse named Yazoo. Then flashes of me showing halter class, picking horse's feet, all the stalls I cleaned, bedding the stalls, and pushing wheelbarrows of chaff. It was a slideshow of my life."
Despite all this, Mr. Desormeaux remains humble.
"The Derby was never a destiny. It came from all my success, and I owe a lot to the horsemen who put me on the horses I could have success with." Nor is it just the competitive drive to win that gives him satisfaction. "It's about getting along with the animal and become one with it through the reins. I'm about as close to a horse whisperer as you can get. I believe that in my bones."
His advice for anyone, not just jockeys, is to "hone the skills that you need to do the job you're pursuing. Practice. Practice makes perfect."
Behind the Track
Even on the day of the San Felipe Stakes and Santa Anita Handicap, prep races for the Kentucky Derby in May, the barn area strikes a stark contrast to the spectator stands. It is quiet here, save the occasional nicker or whinny.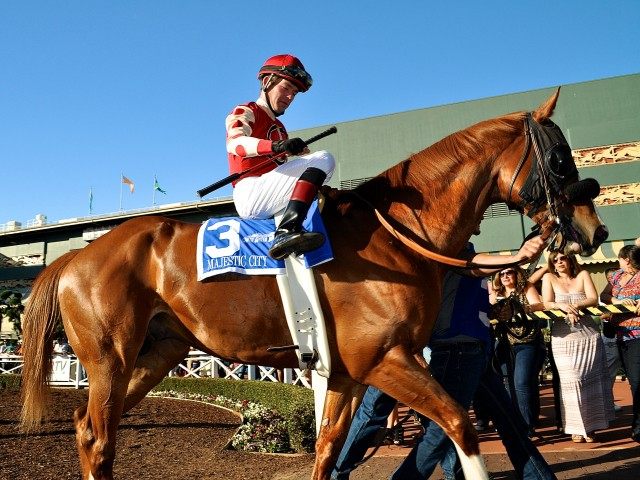 I'm told the horses are easily spooked, but the massive chestnut colt nudges my shoulder playfully. He's glad for the company. I swat away the cloud of insects floating around my head and give him a friendly stroke on the face. He nibbles my hand in return. No carrots? He lets out a snort, and stamps his legs, lovingly wrapped by the groom I just passed.
Bales of hay are stacked nearby. The distant clank of an aluminum bucket echoes through the corridor of mud and straw. Other horses poke their heads out of stalls, curious to identify the interloper.
Young Hispanic men come and go, lugging rakes or buckets. I converse with one young man in Spanish, learning about his long days working the stalls. He doesn't mind it at all, he says. He listens to everything that is said, absorbing the conversations of the trainers and assistant trainers, watching how the horses' legs are iced and padded, paying attention to detail.
He's way too large to ever be a jockey, but likes the idea of being a trainer one day. He corrects himself, he will be a trainer one day. I ask how he can be so sure. He tells me that they all know he's listening and watching. His chance will come.