NEW YORK CITY—Serena Williams puts a gentle but crafty serve to her sister Venus's backhand, acing her, to open the game, but on the next one Venus whams back with one of those backhands out of heaven—hell if you are standing on the opposite side of the net—that return to the server like a ball hurled by Roger Clemens when he's had enough of you. It's 15-all, and then she does it again.
Tennis players sometimes claim their sport is like chess, in the sense that they are craftily setting up the opponent to spring a trap on him, or her seeing as how here we are talking about the two best women in the contemporary game. But tennis is also, or maybe this is part of springing traps too, a repetition-compulsion game, you see top players getting into maniacal efforts to prove, on one side, it just is not possible she can take this, and on the other, to show oh yes I can. So they go back and forth on this serve, return serve, end point in the net a few times but it turns out Venus's rockets have missed and it is 40-30 for the kid.
Not that she is a kid. She is a proud and stately young lady and, on the Tour, a veteran, and so is her sister, two years her senior and, as it happens, even more elegant tonight with a stunning yet classic blue and white outfit with matching white headband and shoes. But you still think of Serena as the kid. She was the kid sister when they were both kids. It may cross a few minds in the grand fully packed stadium in Queens that we have grown up, or grown old, with these girls, watched them become elegant and commanding women, and watching them here is watching America's champions, America's tops, settling a score to see who's which—or just to put on a show for everyone.
Now the pattern changes as it would in chess after a failed gambit and Serena keeps the ball in play on a return of serve to the baseline and pushes her sister back into a corner, looking to close the game. But Venus gets to the shot and hits a stunning down-the-line winner to even up again at deuce. You need two points in a row to win, crazy scoring system the Brits invented when British madness invented the sport when they were inventing modern world, must have been one of their moments of inattention. The astonishing thing happens, Serena puts Venus's next return-of-serve almost lazily into the net. Venus has a break point.
When you say lazily, just as when you refer to Serena's serve as gentle, you are either tongue in cheek or tongue in context. What would be gentle or lazy for Serena—or for Venus—would be considered an extraordinary exertion for all but a handful of other women on the Tour. The serve that led off this game, for example, moved at 96 mph, a velocity few women reach and in fact many men do not reach. It's just that with Serena, as with Venus, the first serve commonly tops 110. It goes up into the 120s. They whizz.
These are power shots. Venus and Serena seldom, if ever, play defensive tennis, at most they sometimes counter-punch, which consists of using the physics of your opponent's power shot in reverse. You can get caught in the back of the court and a high-velocity shot comes at you and you cannot do much else but counter it this way. However, a Williams counter-punch, like those backhand returns of big serves Venus employed to get ahead early in this game, are not ordinary counterpunches. They are themselves so well done—fast and aimed for maximum effect—that they do not just counter, they reverse. Power is suddenly on their side of the net. They've seized the initiative.
This is skill more than muscle power. The Williams sisters, it must be admitted, are still, after all these years—nearly 20 years—thought even by people who should know better to rely on a power game, for which they have a physical advantage: they are big. This is, to be blunt, a lie, or if you do not want to get moral about it, it is stupid. Any one who follows tennis or who knows anything about very physical sports, including martial arts, knows that the key to speed and power is how you throw, how you make contact with raquet or bat or what-all.
Of course strength and conditioning are important, fundamental, and the reality is that even frail-looking young ladies these days, if they are playing tennis, are anything but frail. Sure, physics counts, and a truck hits with more power than a bicycle. But humans are not vehicles. They put movement into their movements. They use their bodies in relation to what they are about to make contact with to get the consequence they want. If size were all—Venus is six-one, Serena five-ten—lots of girls (young ladies) would hit serves as hard as they, and in fact a few do.
What these two have is a learned talent, the operative word is learned, for finding the best circumstances to hit the ball hard and accurately. That means getting into position on the court and also forcing the opponent to give you the ball where and how you want it. This is called setting up opportunities, and Serena is a master, a mistress, at it. So is Venus.
Venus knows her sister happens to be, well, in better condition to play lengthy points because she, Venus, suffers from a chronic condition that can bring on weak spells, though she controls it with a determination—a regimen—that is testimony to her will-to-win (and her love of this sport). So she has been doing everything she can in this match to keep the points short, setting up Serena faster than Serena sets her up. Few points exceed five shots, counting the serve. This is what Venus is relying on. Serena plays the same way, but against a capable player, like her sister or the other young lady who gave her a real run for the money a couple rounds ago, her old pal Bethanie Mattek-Sands, she needs a little time to move them to where she can hit the ball away from them. So, Venus hit the down-the-line marvel and got the game evened up and the next thing you know, Serena, rattled, is hitting Venus's return-of-serve into the net. The return of serve is called the serve-plus-one and the rule is that if your serve works well, the return will be feeble and therefore your serve-plus-one is going to be a closer.
Netting the return of serve puts Serena on the verge of break. She saves it with a forehand shot to a corner Venus cannot go for, it is too fast. So instead she whams another backhand return-of-serve on the next point and Serena, unable to touch it, faces another break point. Rattled—who knows?—she doubles, hits two service faults in a row. Break, and suddenly Venus has the score she needs, if she can keep everything even.
Still, this matter of strength and power nags at observers of the sisters' game. It likely does not nag at the celebrities who are in attendance at the fully, totally, sardine-can packed Ashe Stadium, the Oprah Winfreys, the Donald Trumps. There are quite a few, the announcer keeps mentioning them and getting their photos on the big screens atop the bleachers: Laila Ali, Candace Bergen, Chris Tucker. Venus and Serena are celebrities, as Babe Ruth was in his time and Suzanne Lenglen in hers. She was the first modern-style celebrity in women's tennis. She revolutionized clothes, with daring innovations such as shorter dresses that showed a bit of ankle, even calf. Bill Tilden, her contemporary, was doing the same thing for men's outfits, favoring loose and comfortable slacks and light shirts. This is why it is important to mention the sisters' outfits, it is part of their game plan just as much as it was Tilden's or Lenglen's. So people from completely other fields enjoy the show, or feel they ought to be seen at it. This is democracy, or classical Rome. It stinks, but you deal with it.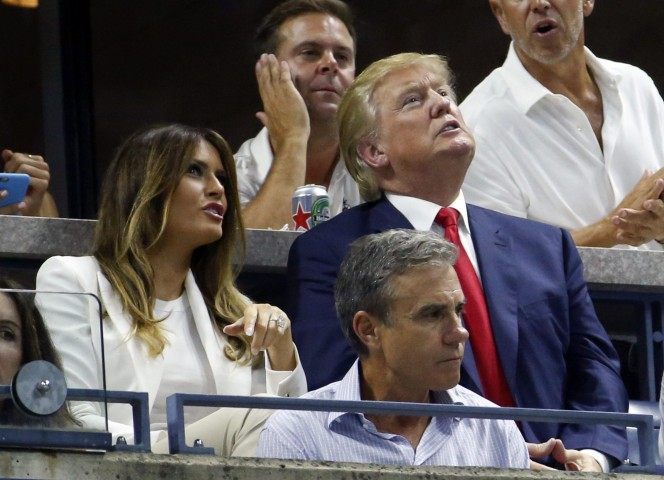 What stinks more is the stupidity or dishonesty of tennis professionals and allegedly serious observers of the sport who, over the years, have commented that the Williams' way of playing is "muscular," meaning masculine. This reflects a meanness and envy and mostly an incomprehension of what they are doing. Sports like all other fields are filled with dopes and blockheads. Every once in a while someone comes along and innovates in ways that influence the sport profoundly—Lenglen with her astonishing all-court running game, Chris Evert more recently with the two handed backhand she popularized and that is now assumed to be one of the sport's staples (Venus and Serena both use it.). As notes Yvette Bishop, USTA staffer and long-time tennis fan (apologies for mistaking her given name in an earlier dispatch), the Williams sisters brought a game to the game, as it were, that built on a lot of classic form as well as their own work and trial-and-error innovations with their parents and other tennis coaches.
Why this should be confused with their size is a bit of a mystery and inevitably provokes suspicions that their critics harbor hysterical racist delusions. Who knows what bitterness exists in the human heart? The same heart that would develop of fixation on the Williams sisters would panic at the thought of Missy Copeland, top ballerina at the moment, becoming the model of what a ballerina should look like. She is a young high-colored, as used to be said, woman of breathtaking beauty and fantastic physical strength and grace. As Venus used to say, Deal with it.
The truth is, though, that this issue has been minor. The Williams sisters have had their ups and downs and have been plagued by health concerns—not unlike many other tennis players. Tennis is not a contact sport but it does take a huge toll on the body and many great careers have been curtailed or slowed by physical causes. Venus and Serena have bounced back each time they have had health problems, which is one of the reasons they are so admired.
At present they are at or near the top of their form. Venus, perhaps, a little below it, due to the diminished stamina. She simply cannot last as long as she used to or run quite all over the place as she did, reaching everything put to her with her graceful long legs and arms. She still does it, often enough to beat almost everyone. But not enough to beat everyone.
Yet here she has broken Serena, who since returning to the Tour after a health scare has been winning twice as much as her nearest competitors and is currently on a 32-match winning streak in Grand Slam match play. She has earned nearly $10 million this year. But now here is Venus nailing the lead down with a game that is all aces—one up the middle, one to the other side, one to the body, 115 mph, right at you, you cannot do anything but try to deflect it with your racquet, and a final point to hold at love with a serve Serena gets her racquet on but only to send it flying out of bounds. 4-1, and suddenly Venus is in complete control, master, mistress, of her own fate in this set.
She lost the first, a fairly conventional, by Williams standards affair in which Serena broke her on schedule and closed out in about half an hour. It appeared then the match might not be as competitive as predicted. That was to underestimate the will-to-win that is part of the will-to-come-back, come hell or health issues. Serena says repeatedly that Venus is the toughest competitor she ever meets on the court, and they have met many times. They fight like the tigresses they are, and over the years, Serena has been coming out ahead, though in many big matches, at Toronto a couple of months ago, for instance, Venus prevailed.
This too is why the sisters are far more popular by all who know about them than they are disliked by the envious. They fight. And this is a particularly American quality that is admired, rightly so. They are competitors in the meritocracy of sports, and that is noticed. Sure, Donald Trump showed up because he is a New Yorker and this was the biggest thing in New York this week. But there is no reason to deny he admires Venus's or Serena's fantastic competitiveness. The cheers for him when he was presented on the screen were mixed with boos, as is normal. Personally I boo political types whenever I see them. I boo the mayor of New York, a lout, all the time. When politicians work, the people suffer. But still, you get the point.
Venus is now coming on very strong. Despite the high humidity, which she visibly suffers from, she forces errors on her sister and with yet another fantastic return of serve that Serena cannot deal with she break again in the sixth game to go up 5-1. She looks to take the second set.
It takes effort—Serena saves two set points against Venus's serve, but three is it as Serena nets a backhand and the match goes to a decider.
Well, you can look it up, though since it made national and international news there is no harm saying it ended with a 107 mph ace. The sisters' embrace at the end of it all was truly touching. Not because so many women tennis players are, frankly, kind of bitchy and scarcely look at each other, handshakes in the most perfunctory way if at all; Serena and Venus, in contrast, always have been gracious and generous toward their opponents, win or lose, and this should outweigh any outburst during matches that, growing up, got people sometimes riled up about their attitude, though again one has to wonder about what made this so important if it was not—but we've been there.
The embrace was something. They love each other, each is the other's best friend. They love their other sisters and their parents. What goes through their minds when they compete? I love her too much to make her lose. I love her too well to condescend and let her win. Who can say?
Serena has two to go and she will have the Grand Slam, the first since Steffi Graf in 1988. She has a fair shot at it.