Ronda Rousey's sister says she saw her sister die in defeat against Holly Holm—and then painfully watched as so many celebrities took joy in her younger sibling's fall.
"I saw how horrible people can be to someone they don't even know," Maria Burns Ortiz writes at Vice, "which made me even more appreciative when I saw how wonderfully Ronda's friends and family treated her."
Donald Trump, 50 Cent, and Lady Gaga all used social media to mock Rousey in the aftermath of Holly Holm's left leg relieving her of consciousness. Rousey's failure to touch gloves with Holm immediately before the fight and provocation of a skirmish at the weigh-in staredown left many seeing her as a poor sport. The behavior followed a pattern: Rowdy previously laughed at Bethe Correia after knocking her out and refused to shake hands after her second fight with Miesha Tate. Her entrance music, after all, informs: "I don't give a damn about my bad reputation."
Two-thousand and fifteen was the year Ronda Rousey conquered the world—and was conquered by her conquests. Like so many rulers, she extended her empire too far and it collapsed back on her.
"Then there was Australia, where we expected Ronda to win," Burns Ortiz reflects on the UFC 193 shocking defeat. "Just like we always do. Just like we always will. But she didn't.
"I haven't rewatched it. I haven't read about it. I won't. I don't see a point in reliving the moment when a part of my loved one died, when I saw someone I cared about have her soul crushed."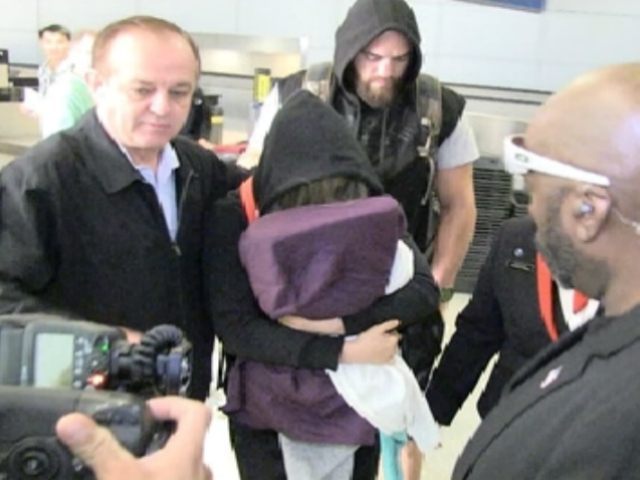 Rousey appeared in Entourage and Furious 7 this year and released an autobiography. When Breitbart Sports asked her in January whether the extracurricular activities might distract from her main job, Rousey reacted with great hostility, saying: "The reason why you doubt the ability that it could ever be done is the reason why you will never do anything that great."
But all the balls up in the air eventually dropped to the floor in November when the curtain closed on Rousey's juggling act. Her sister offers the outside-of-the-Octagon activities as a reason for Rousey losing the UFC women's 135-pound strap:
Three fights on three continents in the span of nine months. A book tour. Hollywood meetings. Scripts to read. Photo shoots. The cover of Sports Illustrated, Self, Shape, and magazines I've never even heard of. Hosting on ESPN. A pair of ESPYs. Film premieres. UFC promotion. Training camps. Flights. Appearances on Ellen, Kelly and Michael, Good Morning America, The Tonight Show, Jimmy Kimmel Live! Her image plastered on TV screens everywhere. Interviews and interviews and interviews. Training camps. It's a lot. It's not an excuse. It's just a fact.
Rousey headlines UFC 200 in a return bout against Holly Holm. But she also stars in the Road House remake. Despite pictures of Rousey's head buried in a purple pillow upon her return to the states and stories of her eating junk food and living in bed with the blinds drawn, Burns Ortiz sees her sister as rising from the deck. "The world watched Ronda fall," she writes, "but I have had the opportunity to watch her get back up."