UFC featherweight champion Conor McGregor doubled down on blasphemous speech at a Wednesday press conference promoting UFC 197.
A reporter asked McGregor's opponent, lightweight champion Rafael Dos Anjos, for his thoughts on McGregor's comments about Jesus that he would "whoop his ass" to a TMZ question about a theoretical fight between King Conor and the King of Kings.
"I think when a guy says something like that he has no respect for anybody," Dos Anjos responded. "I am just a single tool in Jesus' hands. On March 5, he will feel what a single tool in Jesus' hands can do with him."
McGregor interjected with words that elevated the controversy started by an offhand response to an intentionally silly tabloid query.
"Me and Jesus are cool," McGregor explained at Wednesday's Las Vegas press conference. "I'm cool with all the gods. Gods recognize gods."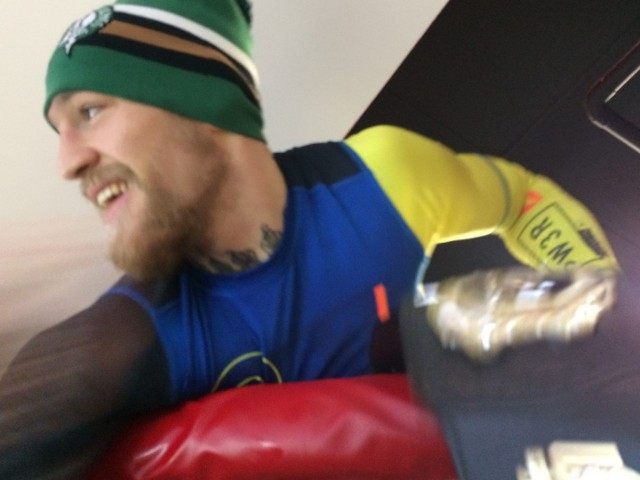 The 19-2 featherweight champion looks to add a second UFC belt to his collection through this bold superfight against the 25-7 Dos Anjos, a much stronger man, albeit one lacking the Irishman's KO power, who boasts wins over Benson Henderson, Cowboy Cerrone, and Anthony Pettis. McGregor, tall and long for the featherweight division, fights as perhaps the naturally smaller man against the lightweight champion. Though the UFC lists Dos Anjos as the taller man, McGregor, shaved head and all, appeared to enjoy a slight height advantage at the presser. The Brazilian appears substantially thicker. He employs takedowns and ground-and-pound, a Conor kryptonite, but likely faces a disadvantage standing. The power in McGregor's hands, 17 knockouts in 19 wins, likely remains dangerous even in the heavier division.
Whatever McGregor's beliefs about God, he remains a true believer in himself. "Everything that happens began in the mind," McGregor told Breitbart Sports last year. "So for me, of course I visualized this. I visualized this success. I visualized this belt. I visualized multiple belts. Now it is forming into my reality." In the wake of these words, McGregor backed his mouth with his fists, dramatically coming from behind to stop Chad Mendes at UFC 189 and sensationally knocking out Jose Aldo in 13 seconds at UFC 194.
On Wednesday, the mouthy McGregor also called his opponent a "gringo" and questioned his patriotism because of his move from Brazil to America. "I will drag his head through the streets of Rio de Janeiro through a parade of people," McGregor promises. "It will become a national holiday."
"The whole world has American dreams," Dos Anjos reasons. "This country has people from all parts of the world. We have Irish who live here, we have Brazilians. I think these people don't deserve to be called traitors."
The pair settle their differences on March 5 in Sin City.
A visibly angry Dos Anjos refused to shake McGregor's extended hand, which he left reached out for effect, at the staredown concluding the event.