The Pac-12 announced fines of up to $100,000 meted out against schools whose fans storm the field or court.
The iconic photo of a cut-down net around John Wooden's neck and a UCLA mob crowding the coach after winning the NCAA tournament in his last game? The Pac-12's no-fun police erase such moments of unplanned exuberance from future history. The Play? The Stanford Band doesn't rush the field at California Memorial Stadium under such a Debbie Downer of a decree.
The presidents and chancellors of the schools announced the new punishments on Tuesday. The conference metes out a $25,000 fine for a first offense, $50,000 to a repeat offender, and $100,000 on the third strike. The fines go into effect for the coming academic year.
Both the SEC and the Big East feature similar fines against schools for the on-field/on-court exuberance of their fans.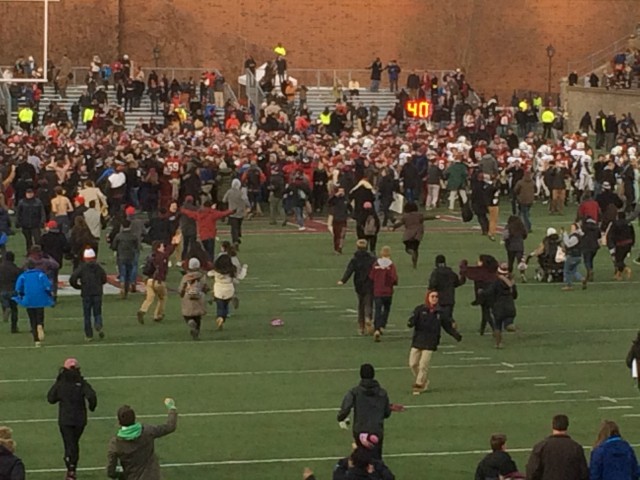 The control-freak bureaucrats running the local Monster U as though a police state hate spontaneity. They want free-speech zones to corral unpredictable talk and verbal consent agreements before every escalation in a makeout session. Unscheduled, unauthorized fun serves as their arch enemy. It taunts them that some human actions remain beyond their control.
"The Pac-12 Council carefully considered this policy and its impact on our fans who loyally support our teams," Mike Williams, director of athletics at the University of California, Berkeley, explained in a statement. "This enhanced policy underscores the importance our universities place on the safety and welfare of our student-athletes, officials and fans, and will allow us to educate staffs and fans on procedures going forward."
Yeah, and it saves a few bucks on torn-down goal posts, too.