Michael Bisping fought Luke Rockhold on short notice and long odds but somehow prevailed to win the UFC middleweight championship at the Fabulous Forum in Los Angeles.
Bisping went body-head with a right-left combination that sent the champion to the canvas. Rockhold got up but the Brit sent him down for good with a left hook. He followed up with several gratuitous shots that coaxed intervention from Big John McCarthy 3:36 into the first round.
The Count counted ten years and 26 fights in the UFC for a title shot but made the best of it once he received his opportunity. Rockhold had obliterated the Brit in an earlier fight and never allowed Bisping to forget it, which turned out poorly for the American. Rockhold, not moderating his rhetoric after the loss, called the new champion a "d—," a "piece of s—," and a "maggot" at the postfight presser.
In the co-main event Dominick Cruz decisioned Urijah Faber 50-45, 50-45, 49-45 to retain the bantamweight title. The bitter rivals fought for the third time, with the victory giving the younger man a 2-1 edge. The California Kid contemplated a long break or perhaps a permanent one after the loss.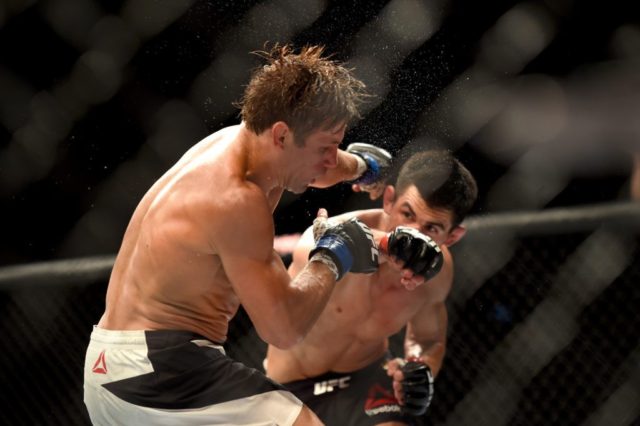 In other action from UFC 199, Max Holloway scored a unanimous nod over Ricardo Llamas, Brian Ortega knocked out Clay Guida with a knee late in the 3rd, and Dan Henderson turned back the clock by turning out Hector Lombard's lights in the second after a rough first.
"I try not to make my fights quite that epic," the 45-year-old said after the fight. "I've done it before, but I try not to let it go that way, but sometimes it happens like that. This is the first time all of my kids have been here to watch me fight, I'm happy I got to share this with them. It's definitely an emotional night and it's definitely a possibility that this was my last time in the octagon. We'll see what happens from here."