Street-fighting legend Kimbo Slice died of a heart attack Monday night in South Florida.
The charismatic Slice, sporting a unique beard surrounding a mug of gold teeth beneath a bald head, gained fame from his exploits on backyard brawls posted on YouTube. His celebrity led to careers in mixed-martial arts (MMA) and boxing. In the latter pursuit, he compiled a 7-0 record against competition of stiffs. But in MMA, he defeated several well-known fighters, including an over-the-hill Tank Abbott, a way-over-the-hill Ken Shamrock, a legitimate UFC fighter in Houston Alexander, and a prime James Thompson. He also defeated Olympic gold medalist Ray Mercer in an MMA bout later ruled an exhibition.
Earlier this year, he struggled with his gas tank in a Bellator bout against DaDa 5000, who himself nearly died of heart failure after the fight. Atop coming into the bout in poor shape, Slice popped positive for performance-enhancing drugs, which negated a stoppage victory that would have given him a 6-2 MMA record. Nevertheless, he secured a return engagement with James Thompson in England, a bout scheduled as the headliner for a Bellator card on July 16.
Although purists questioned the heavy hitter's skills as a mixed-martial artist, the walking cartoon character always delivered massive ratings. When Breitbart Sports caught up with him last year at an autograph signing with Fedor Emelianenko and Royce Gracie at Mohegan Sun Casino, several fans, overlooking essentially the founder of the sport and arguably its most accomplished athlete at the table, exclaimed: "Hey, look, it's Kimbo Slice!"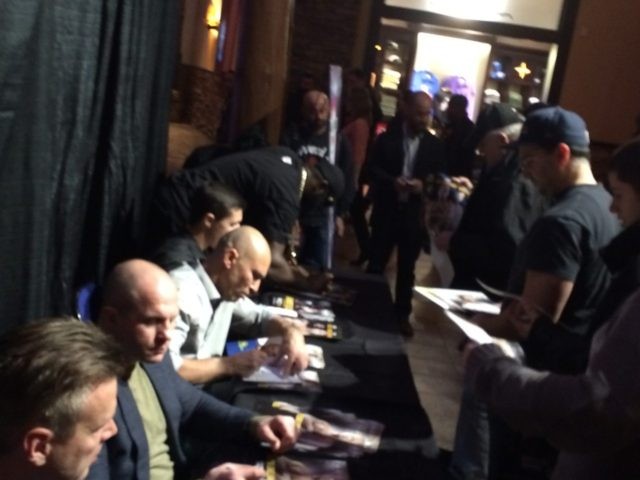 When Slice returned to MMA in 2015 after five years away from the cage to fight Ken Shamrock, Breitbart Sports asked him if the bout represented a one-off return.
"It's not one and done for me," Slice told Breitbart Sports. "I'm here, man. I'm here to fight anybody in the heavyweight division. I'm not here to make friends. I'm not here to shake anybody's hands. I'm here to thump."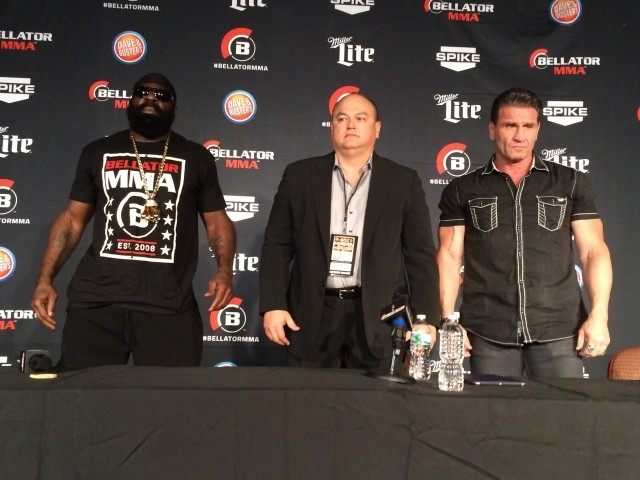 But it's clear the Bahamian-born Kevin Ferguson counted many friends in the world of combat sports. Figures around MMA eulogized the heavyweight fighter in 140 characters or less:
We lost a very passionate and caring person in @KimboSlice …..don't let the image fool you.

— Bill Goldberg (@Goldberg) June 7, 2016
The ATT Family and South Florida community lost a legend today. RIP Kimbo. pic.twitter.com/sjs8ctyJMd

— American Top Team (@AmericanTopTeam) June 7, 2016
RIP KIMBO SLICE. You will be missed fam.!!!

— Melvin Guillard (@Young__Assassin) June 7, 2016
Wow, just heard about Kimbo Slice, this is crazy. They say he passed away, he was 42?! Does anybody know 100% certain?

— Bas Rutten (@BasRuttenMMA) June 7, 2016
@KimboSlice, my dude. Get right. I care about you as a personal friend. You've been my guy since I got in the fight game. Get healthy my guy

— Matt Mitrione (@mattmitrione) June 7, 2016
I knew kimbo since I was 19. I was a kid. Wouldn't be where I'm at it if it wasn't for him.

— Jorge Masvidal UFC (@GamebredFighter) June 7, 2016
RIP kimbo was a real dude real humble my prayers with his fam

— Jorge Masvidal UFC (@GamebredFighter) June 7, 2016
When Breitbart Sports asked Masvidal last year about comparisons to the more famous backyard brawler, he welcomed them: "Kimbo Slice is a tough dude." Masvidal reflected on the transition that he and Kimbo made from the backyards in Miami to legal fights in MMA. "The only advantage, when you get into a street fight, you don't know if your partner is going to jump in with a knife and stab me or pull a gun out on me," he noted. "Going into the UFC you don't have that stress. You're just worried about fighting. If anything happens there's doctors, there's a medical team on the side. It's like a big phew."
"We are all shocked and saddened by the devastating and untimely loss of Kimbo Slice, a beloved member of the Bellator family," promotion president Scott Coker said in a statement. "One of the most popular MMA fighters ever, Kimbo was a charismatic, larger-than-life personality that transcended the sport. Outside of the cage he was a friendly, gentle giant and a devoted family man. His loss leaves us all with extremely heavy hearts, and our thoughts and prayers are with the entire Ferguson family and all of Kimbo's friends, fans, and teammates."
Slice leaves behind a fiancee and six children.