After spending months attacking President-elect Donald Trump at every opportunity, Dallas Maverick's owner and billionaire businessman Mark Cuban was spotted meeting with White House strategist Stephen Bannon on Tuesday.
In a story that first appeared on TMZ, Cuban was seen meeting with Bannon, Trump's strategist, at the King Cole Bar inside the St. Regis Hotel in New York City on November 22,  sparking rumors that Cuban was testing the waters for a rapprochement, according to Politico.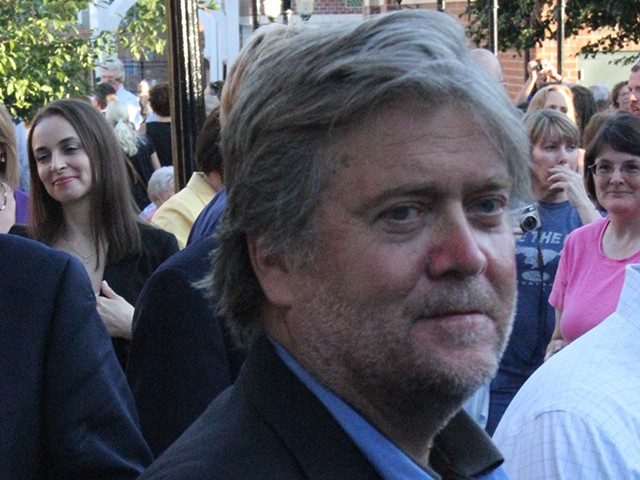 Neither Bannon nor Cuban have commented on the meeting.
The NBA team owner had once been a fan of Donald Trump but sometime during the recent campaign for president he did a flip-flop and suddenly came out in strong support of Hillary Clinton.
At one point, Cuban cried Trump was "trying to f**k the country."
Then, back in September the billionaire warned that the U.S. economy and the stock markets would "tank" if Trump won the election. Of course, since Election Day the markets have soared to new highs.
Early in October, Cuban insisted that Trump's name had become so "toxic" that he would go bankrupt if he lost his bid for the White House.
Only days before the election Cuban insisted that he'd rather lose every penny he had than have a Donald Trump presidency.
Still, Cuban has been a big supporter of Steve Bannon. In fact, right after the election, Cuban estimated that the biggest winners on Election Day were Steve Bannon and Breitbart News.
During that same appearance after the election, Cuban also had high praise for Bannon. "I know who Steve Bannon is. I've done business with him. He's a smart guy. He's smarter than Donald," he said.
Follow Warner Todd Huston on Twitter @warnerthuston or email the author at igcolonel@hotmail.com.