Two-thousand and sixteen transpired as a great year for hardcore golf fans as they got to witness two of the greatest displays of stroke play and match play in history.
Henrik Stenson's round of 63 is the greatest round of golf that's ever been played. I explained why here.
The round that sort of flew under was the Ryder Cup singles match between Sergio Garcia and Phil Mickelson. This was the greatest match-play contest ever. Garcia didn't make a bogey and made nine birdies. Mickelson made 10 birdies. Together they made 19 birdies, combined for 18 under par, and boasted a better ball score of 58. That is truly amazing golf.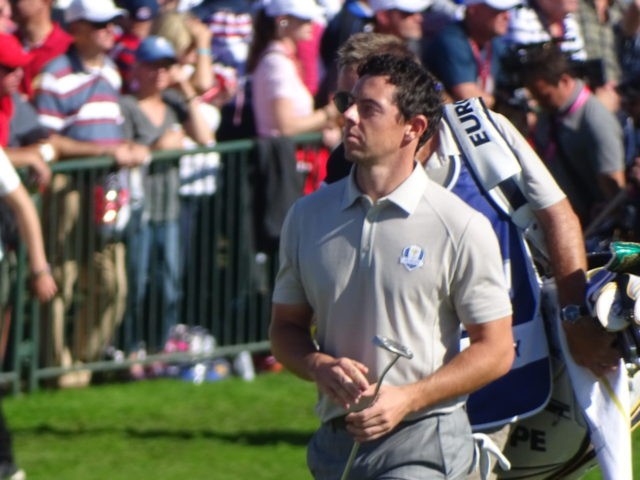 The round most people wanted to talk about though was Rory McIlroy vs Patrick Reed. Now granted that was some stellar from those two as well but just on the front nine, they came back to earth on the back nine before Reed made his birdie on 18 to close out McIlroy. The level of play could not match what Mickelson and Garcia did for 18 holes. The McIlroy-Reed match got all the attention because they were the first group out on Sunday, were the two team leaders, and featured some amazing putts and some over-the-top celebrations. I usually hate overt celebrations of any type in sports and would prefer golfers act like Pentecostal ministers while on the course. Exceptions can be made, however, and this was one of them. The showboating all stemmed from the raucous atmosphere at Hazeltine as documented here.
Let's hope the players keep these types of histrionic displays off the fairways and greens in 2017.
Here are some key dates to remember on the 2017 PGA schedule:
Jan 5-8: While you are fighting to put snow chains on your Buick, the top golfers will be playing the Plantation course in Kapalua, Hawaii. Do not begrudge them, though; they worked hard on their golf games while we were playing video games. We all make choices in life.
Feb 23-26: The Honda Classic is the first event of 2017 with some real cache and it also starts the Florida swing on the tour. Past champions include Adam Scott (2016), Padraig Harrington (2015), and Rory McIlroy (2012). This will whet your whistle for Augusta.
Mar 16-19: The Arnold Palmer Classic in Orlando, Florida. Expect a big turnout here to honor the King and all he's done for golf.
Apr 6-9: The Masters. Heard of it? This has potential to be one of the most hyped Masters ever. Tiger is back and hopefully will be playing well by then. Jordan Spieth will be coming back to his crime scene on the 12th hole where he took quadruple bogey to throw away victory last year. Rory will be trying to complete the career Grand Slam on a course in a tournament where the pressure seems to get to him.  Dustin Johnson will try and overpower the course and hope his short game is good enough to win. Can't wait!
May 11-14:  The Players Championship. Although nobody is calling it golf's 5th major anymore, the course is set up for drama down the stretch. Especially when the leaders face the 17th hole island green on Sunday.
June 1-4: The Memorial Tournament in Dublin, Ohio. Expect another big field to compete in Jack Nicklaus' tournament. I haven't figured out who they are memorializing? Is it Nicklaus? That would be sort of arrogant. I'm going to assume it is for Memorial Day and honors our fallen soldiers.
June 15-18: The U.S. Open at Erin Hills in Hartford, Wisconsin. Golf fans are very excited to see the new U.S. Open venue. Hopefully it won't be a disaster like Chambers Bay in 2015.
July 20-23: The Open Championship at Royal Birkdale in England. I still prefer to call it the British Open. Don't the Brits have to defer to us since we won that war?
Aug 10-13: The PGA Championship at Quail Hollow in Charlotte, North Carolina. This is another new venue hosting its first major championship. McIlroy will be a huge favorite as he has set the course record and won tournaments here numerous times.
Sept 21-24: The Tour Championship at East Lake Golf Club in Atlanta. The Fed Ex Cup wraps up here and to the winner goes $10 million.
Sept 28-Oct: The President's Cup. This will be interesting because of who the president is. Trump will be in his element handing out a golf trophy at Liberty National in Jersey City, New Jersey. Should be a lot of fun as should the 2017 year in golf.
You can reach Dan Redmond on twitter @danfromdc