Twinks4Trump creator Lucian Wintrich has been banned from Facebook for thirty days, leaving him banished from the social network until after the election after posting a screenshot of hate mail he received.
Facebook also removed the post, which showed an angry user threatening to inform Wintrich's employers about his work, unaware that Wintrich is self-employed.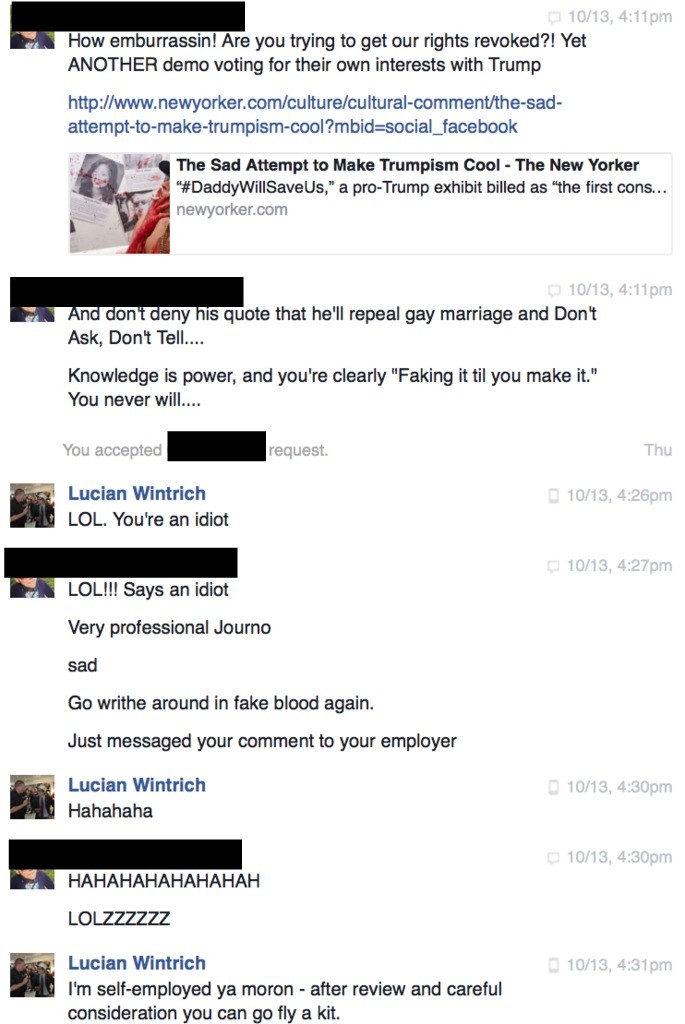 "This charming individual read about me in the New Yorker, made the wonderful decision to contact me claiming that my support of Trump and curation of the #DaddyWillSaveUs art show would somehow result in the 'repeal of gay marriage and Don't Ask, Don't Tell,'" said Wintrich in an email to Breitbart Tech. "DADT was already repealed by the Obama Administration, and to overturn Obergefell v. Hodges (marriage equality) it would require an unfeasible two-thirds majority vote of the House and Senate plus three-fourths of state legislatures; rather than explaining this, I summarized the idiocy of what he said with 'LOL. You're an idiot.'"
"As is typical with this type of liberal, he went running to 'my employer' to tell on me – a practice that did manage to get me fired from my last position," he continued. "Essentially, here is another liberal who doesn't understand how our political system in America works, gets discouraged while trying to 'educate' me, and then resorts to thinking he can get me fired from a company I co-founded."
"I posted the screenshot of the interaction on Facebook, 10 hours later Facebook pulled it & suspended me for 30 days," Wintrich concluded. "Which is not taking into account that they overturned my last suspension for posting a screenshot of another Trump supporter being harassed."

Wintrich, a homosexual Trump supporter, was previously suspended by Facebook in August. After Breitbart News covered the suspension, Facebook eventually reinstated Wintrich's account, blaming the suspension on an "error."
Later in August, Wintrich was fired from his job after Breitbart senior editor Milo Yiannopoulos praised him and his work in a column entitled: "How Donald Trump Made It Cool To Be Gay Again."
Wintrich has since gone on to host the pro-Trump art show "#DaddyWillSaveUs", which took place in New York last week and included pieces by Yiannopoulos, Martin Shkreli, and Gavin McInnes, as well as Wintrich's signature Twinks4Trump exhibition.
A mass email from a Death and Taxes writer was sent to hundreds of New York journalists before the event, requesting that they "ignore it until it goes away."
Left-wing news outlet Mic then successfully sabotaged a charity fundraiser that was due to take place at the show. Meanwhile the show's location realtor threatened to sue Wintrich, claiming that he thought the event was satirical after the original location was cancelled, with the venue threatening to send funds to the Clinton campaign.
Breitbart Tech have reached out to Facebook for comment on Wintrich's suspension but have not yet received a reply.
Charlie Nash is a reporter for Breitbart Tech. You can follow him on Twitter @MrNashington or like his page at Facebook.