Only gamers with Intel i7 based CPUs will be able to access the Single Player Horde Mode and Apocalyptic Mode in Vertigo Games' Arizona Sunshine.
When user "Atomp" posted a question on the Arizona Sunshine forum on Steam, he thought he was addressing a potential bug in the VR zombie game. When Vertigo Games responded, the answer was unprecedented: two of the games' modes were locked, exclusive only users with Intel's i7 processor installed.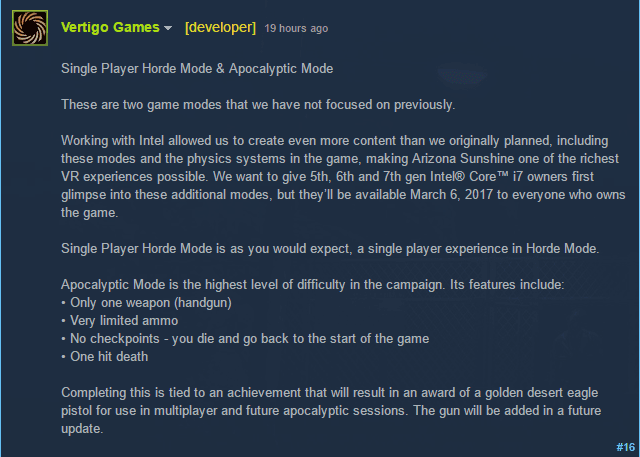 The first replies to the developer post neatly summed up the community's general response. One person asked whether Vertigo Games considered that "a full quarter of exclusivity is.. a bit excessive," and wondered "who would buy an I7 for that alone? Or does Intel plan to keep doing this? If so, please let them know that it, if anything, would make me go and buy AMD instead."
Other users questioned the ethics of a decision to announce this exclusivity after the game's release, when the bulk of consumers had already paid for the product. In fact, when questioned beforehand, Vertigo Games had allegedly stated that the lack of some features was due to technical limitations within Unity's physics engine.
Paid optimizations are nothing new to the PC gaming landscape. Intel, AMD, and nVidia have all participated in the practice, which prioritizes specific hardware in a newly-released title. But locking consumers out of content for an entire quarter of the game without telling them beforehand, merely because they hadn't bought the right generation of the right processor is a step beyond.
It remains to be seen how Steam and Vertigo Games will address the potentially massive fallout from this decision. The most common responses to the post clearly stated that customers would not have purchased the game had they been informed of the exclusivity beforehand. For many, Steam's 2 hour gameplay grace period for returns is long past.
*UPDATE*
Developer Vertigo Games directed Breitbart Tech to a response they have posted to Arizona Sunshine's community page, which says, "We are unlocking these modes immediately to all players, and we hope you enjoy them."
We have recommended and still recommend using the Core i7 in order to maintain a constant 90FPS with advanced physics. We also realize that these chips cost money. We created bonus content that was not advertised as a reward for those of you who took us up on our recommendation.

We wanted you to feel it was worth it, but we also wanted everybody to be able to play these modes eventually. These surprise game modes were meant to be a reward for those players with high-end VR systems who were looking for the most immersive experience possible.

You are most important to us, and we hear and appreciate your comments. We are unlocking these modes to all players immediately via an automatic update, and we hope you enjoy them.
Follow Nate Church @Get2Church on Twitter for the latest news in gaming and technology, and snarky opinions on both.