Earlier today, users on Twitter reported that tweets from the official account of the Drudge Report were being hidden from users behind a "sensitive content" filter.
A screenshot published on the British news site Westmonster revealed the filtering of the Drudge Report, one of the largest and highest-profile conservative sites on the web.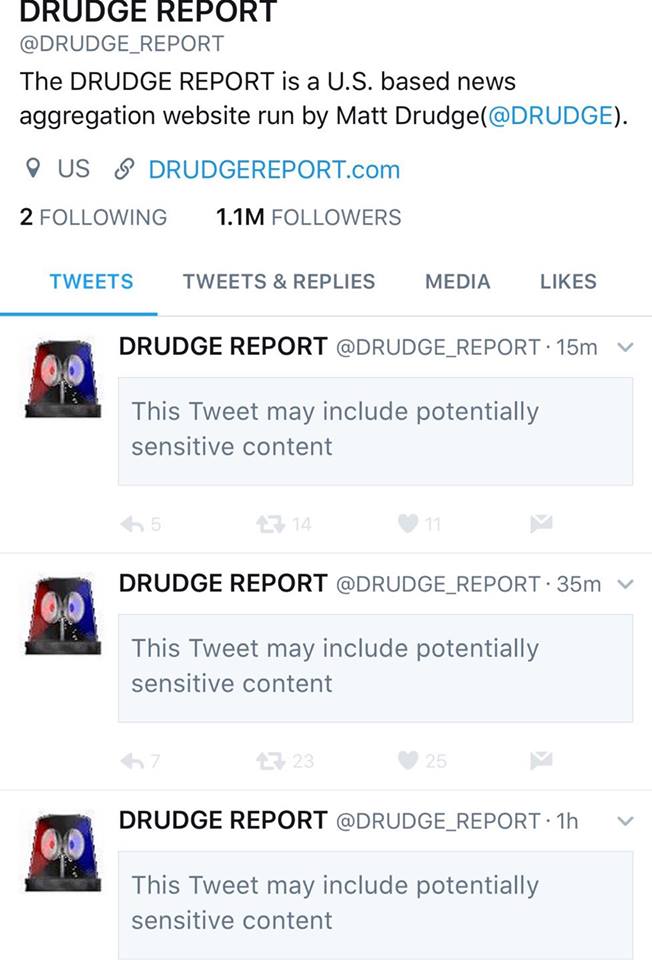 The only way to unblock tweets marked as "sensitive" by Twitter is to opt-in by checking a box in your account's "safety" settings. By making the system opt-in rather than opt-out, Twitter provides a censored, filtered service to its users by default.

Reports of the Drudge Report's account being put behind the filter were confirmed by a Breitbart reporter and by ZeroHedge, which reported that "hardly any tweets were visible" from the Report's account when they logged in to Twitter earlier today.
The censorship was lifted later in the day, and tweets from the Drudge Report are now visible, even when users opt-in to Twitter's "sensitive content" filtering. However, Twitter has not explained why the Drudge Report was placed behind the filter in the first place, and has not responded to a request for comment from Breitbart News at this time.
Twitter started experimenting with labelling entire user accounts as "sensitive" earlier this month. Recently, we reported that the social media company is using IBM's "Watson" supercomputer to identify "abusive" accounts on Twitter.
Twitter's bias against conservatives is well-known. The company frequently bans or locks the accounts of conservative users who have not broken its terms of service, while allowing threats of violence against the President and First Lady to run rampant on the platform.
You can follow Allum Bokhari on Twitter, add him on Facebook, and download Milo Alert! for Android to be kept up to date on his latest articles.