Political bias at Twitter appears to be getting worse, not better. Yesterday, actor and political firebrand Adam Baldwin had his account locked over a tweet that did not appear to break any of Twitter's terms of service.
Baldwin made a tweet comparing GamerGate supporters to anti-GamerGate, in which he argued that the former are "much more attractive and joyous" than the latter. Inexplicably, his account was then locked and was only restored after he deleted the Tweet.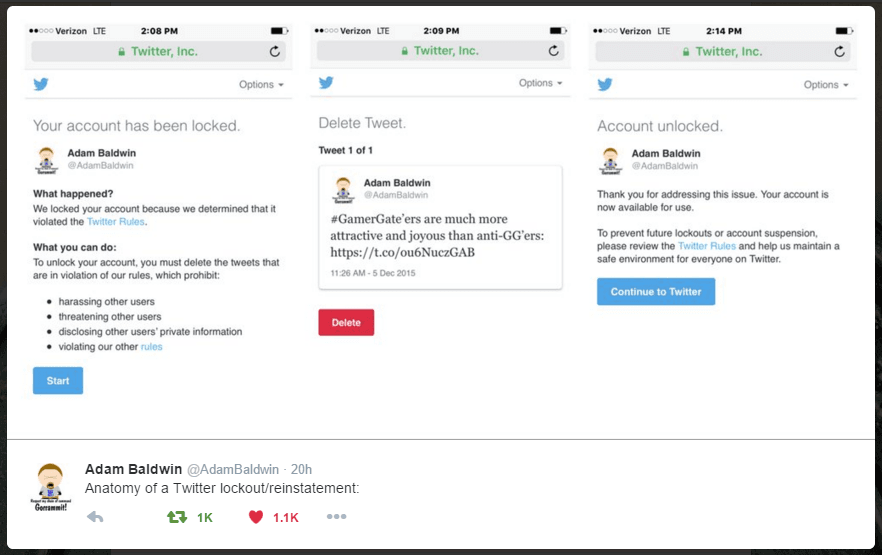 Breitbart Tech asked Twitter to clarify what rule Baldwin had broken but were told that Twitter does not comment on individual accounts for "privacy and security reasons." It's a convenient policy that allows the company to ignore tough questions about unfair and biased enforcement.
Baldwin, who has previously written for Breitbart, became a hate-figure for trendy Silicon Valley progressives after he coined the "#GamerGate" hashtag almost a year and a half ago.
The tag became a rallying point for tens of thousands of gamers who were fed up with politically intolerant, unprofessional video game journalists and progressive-led attempts to censor video games. It significantly altered the power dynamics of social media, especially Twitter, where progressive public shaming mobs had previously roamed free without serious opposition.
Internet social justice warriors see Baldwin as one of the architects of this change, and as a result he has become a target. They even attempted to use their online mobs to bar the actor from attending a pop culture convention in Australia earlier this year, although GamerGate provided enough counter-pressure to foil their efforts.
Breitbart has extensively covered Twitter's strange suspension priorities, which sees more proactive enforcement against critics of western feminism than ISIS recruiters, as well as their installation of mandatory content filters to protect users' feelings. Until Twitter improves its transparency regarding the suspension and penalisation of individual accounts, however, it's difficult to ascertain just how politically biased its decision-making process is. Perhaps they want it that way.
Follow Allum Bokhari @LibertarianBlue on Twitter, and download Milo Alert! for Android to be kept up to date on his latest articles.