University of Mississippi Professor James Thomas says that simply harassing Republicans in restaurants isn't enough, leftists should put their "whole damn fingers" in senators' meals, because they "don't deserve civility."
James Thomas, an Assistant Professor at Ole Miss, tweeted from his account @Insurgent_Prof, calling for the abandonment of civility by contaminating GOP senators' meals in restaurants, or redistributing the meals to other patrons.
Thomas made this statement on October 6, the day Justice Kavanaugh was sworn into the United States Supreme Court. He has since set his account on private.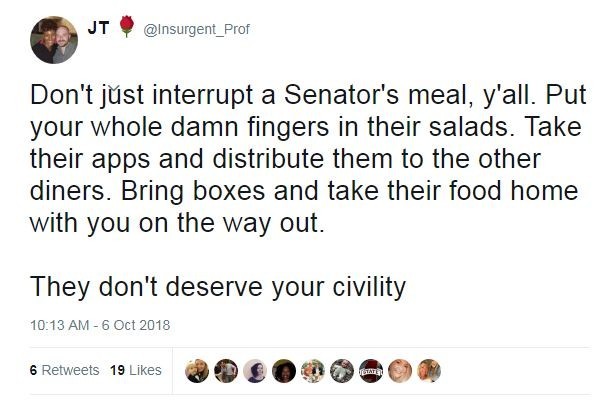 Don't just interrupt a senator's meal, y'all. Put your whole damn fingers in their salads. Take their apps and distribute them to the other diners. Bring boxes and take their food home with you on the way out. They don't deserve your civility.
Mississippi State Senator and U.S. Senate candidate Chris McDaniel reacted to the professor's statement on Facebook, calling for "disciplinary action."
This hasn't been the professor's first time calling for harassment. In a July tweet, Thomas said that he might begin "calling the cops on white people," because he believes it's clear that skin color is an issue directly pertaining to national security.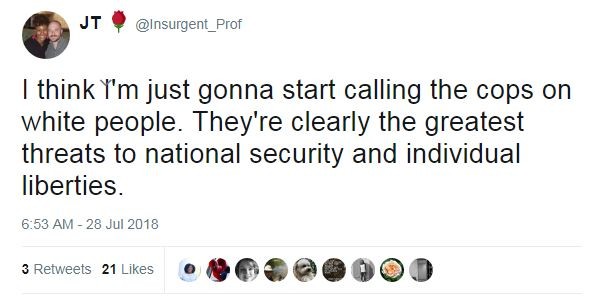 I think I'm just gonna start calling the cops on white people. They're clearly the greatest threats to national security and individual liberties.
University of Mississippi Chancellor Jeff Vitter posted to Facebook on Sunday, condemning statements that encourage acts of aggression, and urging members of the university's community to demonstrate civility toward others.
"A recent social media post by a UM faculty member did not reflect the values articulated by the university, such as respect for the dignity of each individual and civility and fairness," wrote Vitter, "While I passionately support free speech, I condemn statements that encourage acts of aggression. I urge all members of the Ole Miss community to demonstrate civility and respect for others and to honor the ideal of diversity of thought that is a foundational element of the academy."
While Vitter did not use Thomas' name, his timely post regarding "a UM faculty member" seemed to be in reference to the assistant professor, specifically.
Professor Thomas earned his doctorate in sociology with a minor in women's and gender studies, according to the university's website. Thomas teaches both entry and upper-level courses at the university, some of his courses — ironically — include titles such as "Social Problems" and "Population Trends and Problems."
The university did not immediately respond to Breitbart News' request for comment.
You can follow Alana Mastrangelo on Twitter at @ARmastrangelo and on Instagram.