Antifa has threatened to burn down a New Jersey theater hosting a debate on political violence, according a statement by the event organizers. The far-left extremists also hacked the theater's official Twitter account, promising to occupy it until it cancels the event.
The discussion, titled "Ending Racism, Violence and Authoritarianism," was organized by the free speech friendly social network Minds.com, and features a range of liberal, libertarian, and conservative speakers including journalist Andy Ngo, who was brutally attacked and hospitalized by Antifa in Portland earlier this year.
Other speakers include British YouTuber and recent political candidate Carl Benjamin, independent journalist Tim Pool, BlazeTV host Lauren Chen, Canadian feminist Meghan Murphy, and many others.
A spokeswoman for Minds.com said that Antifa have threatened to burn down the theater, and are also bombarding the owners with threatening messages and phonecalls.
Antifa have also resorted to cyber warfare, hacking the official Twitter account of the theater and promising to "occupy" it until the event is cancelled.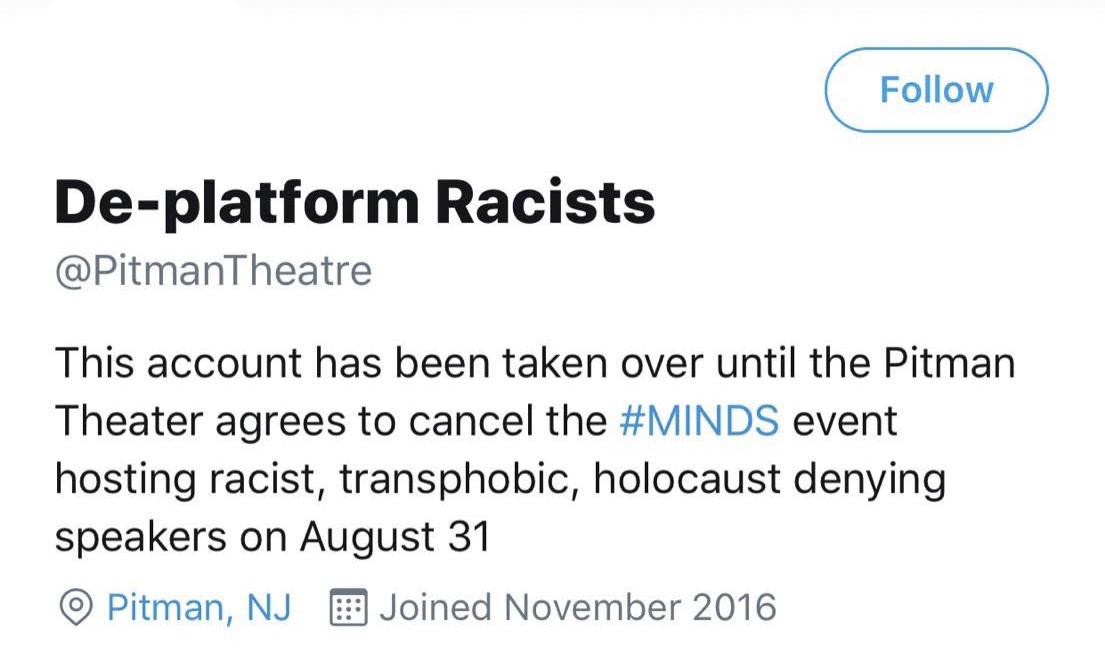 An Antifa-supporting account on social media suggested that the event could be fought by "locking them in and lighting a fire."

In a statement to Breitbart News, a Minds.com spokeswoman said they were determined to continue with the event, regardless of Antifa's violent threats.
"Despite ongoing aggressive threats and alleged criminal actions taken against the Pitman Theater and our event, the Minds IRL 'Ending Racism, Violence and Authoritarianism'  will be taking place as scheduled on August 31, 2019″ said the spokeswoman.
"The purpose of this event is to bring together a diverse group of people with differing viewpoints – people who often have combative and unproductive discussions online, behind their screens – and have them discuss their opinions and beliefs face-to-face, where each person can see the humanity of those whose viewpoints he or she disagrees with."
"At this time, we are in discussion with our original venue, the Broadway Theater of Pitman, about the escalating situation, however, the event is not cancelled, and will absolutely be in Pitman in some capacity. We are exploring alternative venues, but any new venue will be in the Pitman/Philadelphia region in the event things do change. We will notify all attendees about any changes in venues via email as soon as we have more information. The safety of our attendees is always our first consideration – and having a location that is both convenient for travel as well as a conducive and safe environment is what we strive for."
Are you a corporate or Big Tech insider who wants to confidentially reveal wrongdoing or political bias at your company? Reach out to Allum Bokhari at his secure email address allumbokhari@protonmail.com. 
Allum Bokhari is the senior technology correspondent at Breitbart News.