Everything is bigger and better in Texas and the holidays are no different! Texas boasts some of the most spectacular and unique Christmas displays and events in the United States. Take a tour of the Christmas lighting trail in the Hill Country, see beautiful Victorian gazebos on the grounds of the Dallas Arboretum, or visit a neighborhood in Austin that the national media has recognized as one of the most unique and overstated displays in the country!  Here are just a few of our Texas holiday sites:
Austin: The Miracle of 37th Street
Just down the street from the University of Texas campus and off the Guadalupe Street strip, is a residential neighborhood that would make the Griswolds jealous. The television show Good Morning America has highlighted the Texas neighborhood that brings thousands to it throughout the holidays daily. The Miracle of 37th Street is said to be one of the most vibrant and creative Christmas light displays in any neighborhood in the Lone Star State. Lights connect houses, and pets and neighbors have been seen adorned with holiday lights. The neighborhood has been going all-out for Christmas for 20 years.
Austin: Trail of Lights in Zilker Park
CNN has listed Austin's Zilker Park as one of top eight places in the United States for viewing holiday light displays. A legion of 1,500 volunteers have spent 15,000 hours getting the park ready for this annual event that has been held for 50 years. There are 1.25 miles of light displays, 100 lighted trees, and even a 90-foot-tall Ferris Wheel. The Zilker Park Christmas tree is the tallest man-made Christmas tree in the world – it is 155 feet "Texas" tall. Visit Zilker Park through December 21st.
Bandera: Christmas Cowboy Style        
Bandera is the "Cowboy Capital of the World" and the Longhorn Saloon will hold its annual Christmas Singing in the Saddle event beginning on December 21st at 1:30 p.m. Folks bring their horses, or even rent one from the Longhorn Saloon, and then go caroling down Main Street. A chuck wagon is waiting at the end of the ride and hot chocolate and cookies are given to participants.
Boerne: Cowboy Christmas at Enchanted Springs Ranch
Come on out and enjoy a cowboy Christmas set in an 1800's old western town. The theme park is an active movie set and has been featured by True West Magazine as one of the "Preferred Western Movie Sets." Come out on December 21st and see western shows, a Cowboy Santa, enjoy a petting zoo and caroling, and go on a hayride! From 10:00 a.m. to 5:00 p.m. and just 25 minutes from San Antone!
Dallas Arboretum: The 12 Days of Christmas

Dallas' newest holiday tradition is a .75 mile walk through the Dallas Arboretum and Botanical Garden. It showcases 25-foot handcrafted Victorian Era themed gazebos that are filled with costumed characters and animals. Tour the extravagantly decorated DeGolyer House and see the Byer's Choice Ltd. Christmas Caroler figurines on loan from a private collection. Live carolers and holiday goodies are a part of the celebration, and don't miss Santa's reindeer – they make their last stop on December 23rd! The Christmas adventure is opened during the day and at night through January 4th.
Galveston: Moody Gardens Festival of Lights

Moody Gardens is hosting a one-mile trail of 100 lighted scenes and over one million lights. The festival runs through January 3rd and is on property that has stunning views of Galveston Bay. There is an outdoor skating rink and you can enjoy holiday buffets and treats. Other attractions which are available are the Aquarium, Rainforest, and Discovery Pyramids, the MG 3D Theater, an Arctic Ice Slide and the Colonel Paddlewheel Boat. Hotel packages at the Moody Gardens Hotel are available.
Goliad: Mission History in Lights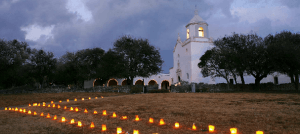 Come meander through Goliad State Park, hear the story of the Mission Espiritu Santo and the Native Americans and Spanish Franciscan Priests who traveled there. The Mission, located on the San Antonio River, is lighted for the holidays. The park contains a restoration of the Spanish Colonial Era Mission of Nuestra Senora del Espiritu Santo de Zuniga which was reconstructed by the Civilian Conservation Corps in the 1930s. This "Mission History in Lights" runs throughout the month of December.
Grapevine: The Christmas Capital of Texas
The City of Grapevine brags that it is the "Christmas Capital of Texas." The City hosts more than 1,400 events during a period covering over 40 days. The City is covered with millions of lights and has Texas-sized decorations. The North Pole Express is one of the most popular Christmas Capital features. Guests board a beautiful Victorian coach and elves welcome you and sing holiday classics as you take a train ride. The Gaylord Texan Resort has 2 million twinkling lights, 15,000 ornaments, a 54-foot tall Christmas tree and an 8-foot tall gingerbread house. Visitors can go snow tubing, and see a Frosty the Snowman that was carved from more than 2 million pounds of ice. Be sure to visit the Palace Theater in historic downtown and watch old Christmas movie classics.
Houston: Zoo Lights
More than two million lights adorn the grounds of the Houston Zoo. There is an African Forest that is lit to the max, enormous glowing rotating ornaments, and a walk-in snow globe where you can have your photo taken. There is an amazing psychedelic jungle made of black lights, lasers, and inflated fabric plants. The Garden Railroad village has four running toy trains and over 30 buildings, and Thomas the Tank engine, and his friend Emily is there. See featured photo above. The Wildlife Carousel has been elaborately decorated for the holidays – ride it and watch the lights as your swirl! Houston Zoo Lights is open through January 4th but is closed on Christmas Eve and Christmas Day.
Johnson City: Texas 2014 Lights Spectacular
Take a carriage ride to view the lights in Johnson City. It boasts one of the largest light displays in Texas, and private residences, businesses, and churches are adorned with millions of lights. The center of the display is the Blanco County Courthouse that is decorated with 100,000 lights. Get some of the holiday goodies or arts and crafts sold by the Johnson City Garden club.
Marble Falls: Christmas Walkway of Lights

Two million twinkling small lights adorn over 150 sculptures which have been placed around the sparkling reservoir of Lake Marble Falls on the Colorado River. Stroll along the shoreline and see patriotic, religious, conventional and novel sculptures. It is located 45 miles west of Austin and 85 miles north of San Antonio on Highway 281.
San Antonio: Christmas at Natural Bridge Caverns
Come enjoy Christmas carols 180 feet below the ground as you go exploring through caves looking at beautiful cave formations. Go on the Hidden Passages tour, and see the Journey to Bethlehem show that uses video-mapping projection technology and audio to bring to life the story of Bethlehem. Take a Country Christmas hayride and make s'mores and drink hot chocolate as you listen to the serenades of a singing cowboy. Go through the huge lighted outdoor maze and twist and turn as you look for Santa's reindeer. Ride on a Zip-line, and see a 30-foot decorated tree and a light show. Shows the week of Christmas are on December 22nd and 23rd.
Stonewall: Lyndon B. Johnson State Park Tree Lighting
Just down the road from Johnson City, is Stonewall, Texas where the Texas Parks and Wildlife Department is holding the annual LBJ Tree Lighting. Held on December 21st in the evening, the tradition was started 45 years ago by President and Mrs. Lady Bird Johnson. The event features a live nativity, carolers, Santa Claus, and a spectacular tree lighting. Enjoy German cookies and cakes, and revisit history with the Sauer-Beckmann Living History farm which has a real candlelit German Christmas tree.
Christmas is a magical time of year but especially in Texas!  Have a blessed and joyous holiday season.
Lana Shadwick is a contributing writer and legal analyst for Breitbart Texas. Follower her on Twitter @LanaShadwick2.