The leader of the Gulf Cartel in the border city of Reynosa, Mexico, has been singled out as the person responsible for the death of a four-month-old baby that occurred immediately across the border from McAllen, Texas. The innocent infant and three others were crushed to death after cartel gunmen attacked a military vehicle on a street filled with other human beings. The truck crashed into a food stand and crushed the people. Rather than take responsibility for killing the baby, the Gulf Cartel's Julian "Comandante Toro" Loisa Salinas has placed banners blaming the government for the crash. Toro is also known by the name "Juan Manuel Loisa Salinas."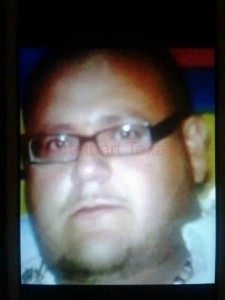 As previously reported by Breitbart Texas, the deadly attack took place on Thursday when an armored Mexican military truck was chasing a group of Gulf Cartel gunmen. As the chase continued, the gunmen set up an ambush of sorts and attacked the truck sending it into a taco stand crushing six people. The Gulf Cartel chose to do this regardless of the effect it could have on the innocent families on the street.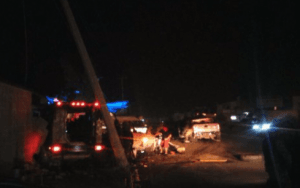 Initially authorities had believed that a second cartel vehicle had rammed the cartel truck causing the accident, however, Tamaulipas authorities then claimed that the truck had come under machine gun fire that shattered the windshield. Other eyewitnesses claimed that it was a grenade that was thrown at the vehicle.
On Friday morning, citizens in this border city awoke to several banners being hung throughout the city where the Gulf Cartel blamed the military for causing the deadly crash.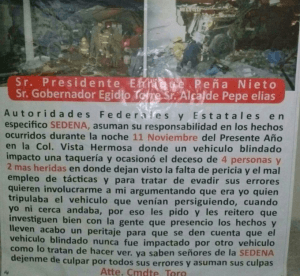 In the banner, the commander claims that authorities are trying to blame him by stating that he was driving the vehicle that was trying to get away. Comandante Toro also claims that he was nowhere in sight of the shootout and that the crash was caused by the "poor skills" of the Mexican military.
The banner by Toro does not mention that he and his organization control all of the criminal activity that takes place in Reynosa, Mexico, and that the need for soldiers in armored vehicles is a direct response to the escalating violence brought about by the Gulf Cartel under his failed leadership.

Through their vast network of informants, lookout and gunmen, the Gulf Cartel is able to control all of the criminal activity in the area–meaning that an independent criminal would face sure death if caught violating that organizations territory.
Not long after Toro had his banners hung, social media users used his photograph to make fun of him. One of the most circulated memes shows Loisa's face superimposed on a screen-capture of a Mexican movie classic where the main character named Pepe El Toro is unjustly jailed.
In the meme mocking the cartel commander, the photograph says "Pepe El Toro Is Innocent"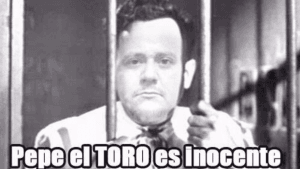 Follow Breitbart Texas Managing Director Brandon Darby on Twitter: @brandondarby