MONTERREY, Nuevo Leon — A human smuggler who had been using a cloned federal vehicle to move 17 illegal immigrants has been caught as he made his way to the Texas border. He has since been released.
The arrest took place along highway 57 near the municipality of Galeana, Nuevo Leon, when federal police officers on patrol spotted a suspicious vehicle, information provided to Breitbart Texas by federal authorities revealed.
The vehicle was a Chevrolet van with false logos from SEDESOL or the Social Development Secretariat. The agency is tasked with providing food and other basic items to individuals living in extreme poverty. The vehicle had regular license plates from the State of Mexico and not government issued ones leading authorities to pull the vehicle over for inspection.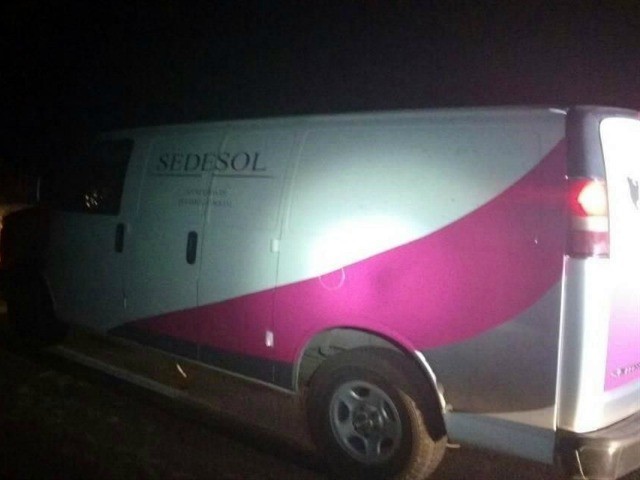 A source close to the investigation who spoke to Breitbart Texas stated that Ricardo Garcia Lopez, the driver of the vehicle, appeared extremely nervous during the traffic stop. The man was not able to provide any documentation to prove that he was a government employee of that he was able to drive a government vehicle.
Federal authorities began a search of the van and when they opened the back doors they discovered 17 illegal immigrants. The heat inside the vehicle, the lack of ventilation and water resulted in some of the immigrants showing signs of dehydration.
During questioning by authorities, the would-be illegal immigrants said that they had begun the most recent leg of their journey in Mexico City where they boarded the van. Their destination was the border state of Tamaulipas where another human smuggler would help them cross illegally into Texas.
The cloned vehicle, the driver and the 17 illegal immigrants were turned over to Mexico's Attorney General's Office (PGR) for further investigation.
Breitbart Texas reached out to Mexico's Attorney General's Office and learned that Ricardo Garcia Lopez was released from custody, but the investigation continues.
Editor's Note: Breitbart Texas traveled to the Mexican States of Tamaulipas, Coahuila and Nuevo León to recruit citizen journalists willing to risk their lives and expose the cartels silencing their communities.  The writers would face certain death at the hands of the various cartels that operate in those areas including the Gulf Cartel and Los Zetas if a pseudonym were not used. Breitbart Texas' Cartel Chronicles are published in both English and in their original Spanish. This article was written by Tony Aranda from Monterrey, Nuevo León.