From Rachel Stoltzfoos at the non-profit Daily Caller News Foundation:
Breitbart News published at least 30 stories in the past week about Donald Trump's theory that Sen. Ted Cruz is ineligible to run for president because he's not a natural born citizen, moving into birther territory despite a previous categorical statement from a lead editor that Breitbart is "not a birther site."
"I think pretty categorically, I think I can talk for our editorial team and I can certainly talk for Andrew [Breitbart]," Breitbart Executive Chairman Stephen Bannon said in 2013, responding to criticism over the site's coverage of President Barack Obama's birth certificate. "We're not a birther site."
A spokesman for Breitbart did not dispute Bannon's statement, and defended the site's prolific coverage of Cruz's birth by saying it's a mainstream story. Kurt Bardella told The Daily Caller News Foundation it's "unfair and unusual" to single out Breitbart's coverage of what he called "one of the most dominant storylines of this year" that is of "tremendous interest to the Breitbart audience."
"Under this logic, every media outlet in America would be a 'birther site,'" he told TheDCNF.
Breitbart's editorial board is an outspoken critic of the mainstream media and Republican willingness to play along with its power structure. "For years, I have been begging Republicans to stand up to the mainstream media," editor-at-large Ben Shapiro wrote in a November Townhall post. "The left has dominated the media for as long as I've been alive."
A quick examination of a few mainstream media outlets' coverage of the story reveals Breitbart's devotion to Cruz's eligibility for the White House is equaled by The Washington Post, but far surpasses the appetite of outlets such as The New York Times, The Wall Street Journal and Politico.
"According to four sources with knowledge of the situation," Buzzfeed's McKay Coppins reported over the summer, "editors and writers at the outlet have privately complained since at least last year that the company's top management was allowing [Donald] Trump to turn Breitbart into his own fan website — using it to hype his political prospects and attack his enemies."
Trump, who is closely trailing Cruz in the Republican caucuses in Iowa, has been the lead spokesman for Cruz eligibility accusations. Following in the footsteps of Hillary Clinton, Trump also served as a prominent person questioning Obama's eligibility in 2011.
WaPo and Breitbart have been writing twice the number of stories on the subject of whether Cruz is natural born as those three outlets. Each of the two wrote at least 30 stories on it in the past week, compared to less than 15 stories each from TheNYT, WSJ and Politico.
WaPo's obsession with Cruz recently attracted public scrutiny when one of its cartoonists depicted his children as monkeys, but a comparison of Breitbart and WaPo's homepage's Tuesday shows Breitbart may be a bit more devoted to Trump's birther theory.
Here's Breitbart: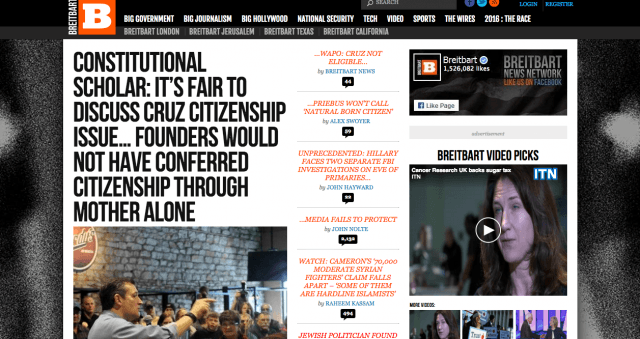 And WaPo: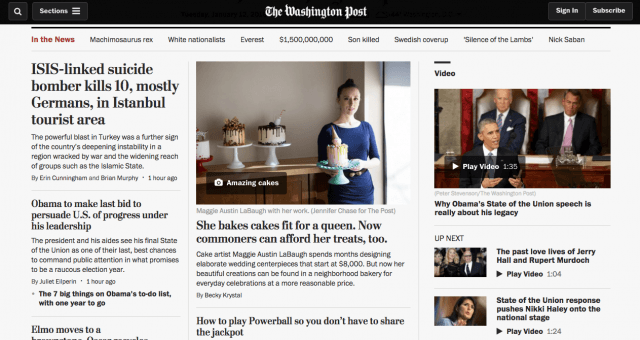 The Cruz campaign declined to comment.