Benny Johnson of Independent Journal reports that Breitbart News reporter Michelle Fields has filed assault charges against Donald Trump's campaign manager Corey Lewandowski. Washington Post reporter Ben Terris said Lewandowski roughly pulled her away from Trump while asking a question.
**UPDATE** Huffington Post's Michael Calderone corroborates:
I've confirmed Michelle Fields has filed criminal complaint against Lewandowski.

— Michael Calderone (@mlcalderone) March 11, 2016
**UPDATE** Jupiter, Florida police department releases statement confirming a misdemeanor battery investigation.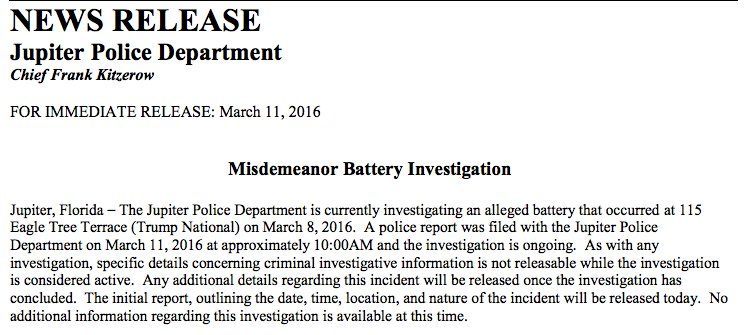 **UPDATE** Fields confirms with CNN.
From injo.com:
Michelle Fields has filed a criminal complaint against Corey Lewandowski, the campaign manager for Donald Trump.
Independent Journal Review has learned from a source familiar with the events that Fields has filed assault charges with the police department in Jupiter, Florida, which is the jurisdiction where the alleged incident occurred.
Read the rest of the story here.