UPDATE: Alex Weprin reports at Politico on the statement from Murdoch and the reaction of the top Fox News talent to the announcement:
"Roger Ailes has made a remarkable contribution to our company and our country," said Murdoch in a statement. "Roger shared my vision of a great and independent television organization and executed it brilliantly over 20 great years. Fox News has given voice to those who were ignored by the traditional networks and has been one of the great commercial success stories of modern media. It is always difficult to create a channel or a publication from the ground up and against seemingly entrenched monopolies… I am personally committed to ensuring that Fox News remains a distinctive, powerful voice. Our nation needs a robust Fox News to resonate from every corner of the country. To ensure continuity of all that is best about Fox News and what it stands for, I will take over as Chairman and acting CEO, with the support of our existing management team under Bill Shine, Jay Wallace and Mark Kranz."

Ailes, who founded the channel in 1996 with the financial backing of Rupert Murdoch, found himself at odds with Murdoch's two children, Lachlan and James, who are now leading the company.

"We join our father in recognizing Roger's remarkable contributions to our company" the brothers said in a statement. "Our talented Fox News and Fox Business colleagues, up and down the organization and on both sides of the camera, have built something that continues to redefine the cable news experience for millions of viewers. We are enormously proud of their accomplishments. For them, as well as for our colleagues across our entire organization, we continue our commitment to maintaining a work environment based on trust and respect. We take seriously our responsibility to uphold these traditional, long-standing values of our company."

Rupert Murdoch held a conference call with staff from the channel, according to anchor Bret Baier, who spoke to reporters in Cleveland.

"Basically [the gist of the call] was we have a job to do, and he praised us for the coverage this week and said 'Let's do what we do best.' Yeah it was continuity, that was the message that came out of the conference call," Baier said.

In a letter to Rupert Murdoch, first published by The Drudge Report, Ailes said how "proud" he was about the success of Fox News, adding: Having spent 20 years building this historic business, I will not allow my presence to become a distraction from the work that must be done every day to ensure that Fox News and Fox Business continue to lead our industry."

As the news broke, Fox News security was attempting to establish a perimeter around Fox News' space at the Republican National Convention in Cleveland, where reporters had gathered to interview Fox News staff to get reactions to the news. At least one Fox staffer was visibly distraught by the news.

"No, you can't talk to anybody from Fox News," a security guard told gathered reporters.

But former Fox News anchor and current Fox News contributor Brit Hume, anchor Greta Van Susteren, anchor Chris Wallace and Baier addressed the reporters who had gathered there.

"There are people in tears. I shed mine a couple of days ago when the stories started to come out," Wallace said. "Roger Ailes is the best boss I've had in almost a half a century in journalism. I admired him tremendously, professionally, and loved him, personally. He and Rupert built, came up with the idea of Fox in the beginning. And as sad as I am for Roger to go, I can't think of a better person to keep the vision of Fox News going than Rupert."

"I'm absolutely heartbroken that all this happened. I love the guy, and I'm heartbroken," Hume said.

Baier, when asked whether he was among the Fox News talent that had a "key man clause," which would allow him to leave Fox News Channel if Ailes does, responded "Yeah, I am."

"I can't speak for anyone else. I know a number of people have things in their contracts that are whatever they're called – key-man clauses or something. I can't speak for anyone else."

"I'm really happy at Fox and as long as, you know, things are going like they're going I think I couldn't be happier," Baier added. "I don't think it's going to change much from my perspective as what I do every day. I think a lot of what we do on the news side is bottom up and it's always been that way. I'm betting that Rupert is going to continue with that same process."

"I will tell you, it was quite inspiring to all of us that Rupert Murdoch flew back and he's taking over the helm and he made everyone feel really good. He's not changing anything," Van Susteren said. "Change is always tough, but I think Rupert Murdoch coming back was a big deal for all of us."
Read the rest here.
According to the Drudge Report, embattled Fox News CEO Roger Ailes will step down from the network, but stay on as a consultant for its parent company 21st Century Fox until 2018. A subsequent Drudge headline reads: "Murdoch and Son to Address Newsroom This Hour About Changes."

In an exclusive to the Drudge Report, Drudge posted a copy of the letter Ailes sent to Murdoch:
Dear Rupert,

With your support, I am proud that we have built Fox News and Fox Business Channels into powerful and lucrative news organizations that inform our audience and reward our shareholders. I take particular pride in the role that I have played advancing the careers of the many women I have promoted to executive and on-air positions. Many of these talented journalists have deservedly become household names known for their intelligence and strength, whether reporting the news, fair and balanced, and offering exciting opinions on our opinion programs. . Fox News has become Number 1 in all of cable because I consistently identified and promoted the most talented men and women in television, and they performed at the highest levels.

Having spent 20 years building this historic business, I will not allow my presence to become a distraction from the work that must be done every day to ensure that Fox News and Fox Business continue to lead our industry. I am confident that everyone at Fox News and Fox Business will continue as the standard setters that they are, and that the businesses are well positioned for even greater success in the future.

I am proud of our accomplishments and look forward to continuing to work with you as a consultant in building 21st Century Fox

All the best,

Roger.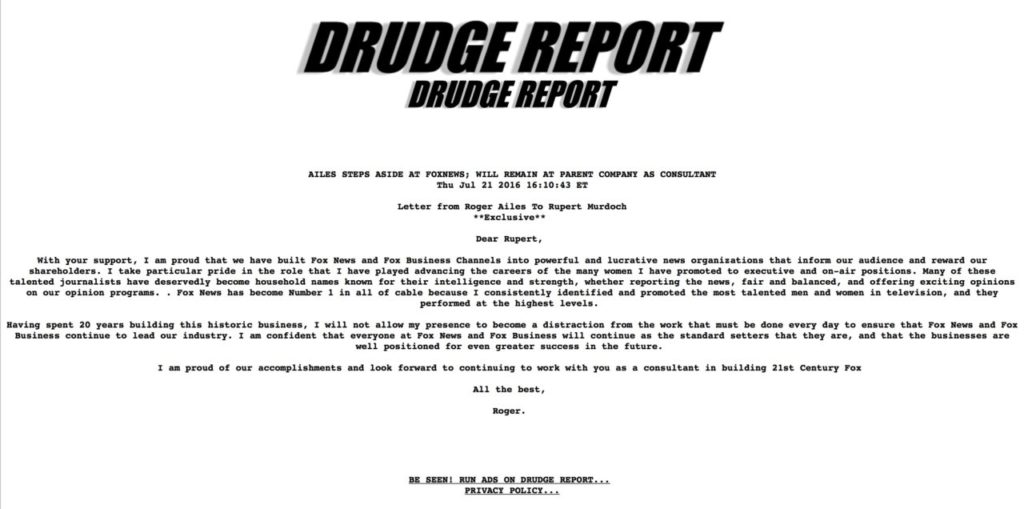 The Daily Mail reported early on Thursday that "Roger Ailes has left the building – with up to $60 million."
Ashley Collman from the Daily Mail writes:
Roger Ailes it out at Fox News – the network's headquarters that is.

Sources tell New York Magazine that the network's CEO was moved out of his office at 1211 Avenue of the Americas and into another New York City building owner by 21st Century Fox – Fox News' parent company – on Thursday.

The same sources also revealed that Ailes and 21st Century Fox had agreed to a payout of $60million – that's $20million more than what was originally reported on Tuesday.

However, the sources say that both parties are 'still wrestling' over the language or Ailes' apology or 'acceptance of responsibility' and the length of time that he will continue to work as a consultant.

Meanwhile, a former Fox News anchor hinted that she has stories of her own to tell about Ailes.
Read the rest of the story here.