In another extraordinary outburst, MSNBC "counter-terrorism analyst" Malcolm Nance called on the Islamic State to bomb a building owned by Donald Trump in the Turkish city of Istanbul.
Responding to a photo of a Trump property in Istanbul, Nance tweeted: "This is my nominee for the first ISIS suicide bombing of a Trump property." He later deleted the tweet but has yet to issue an apology or explanation.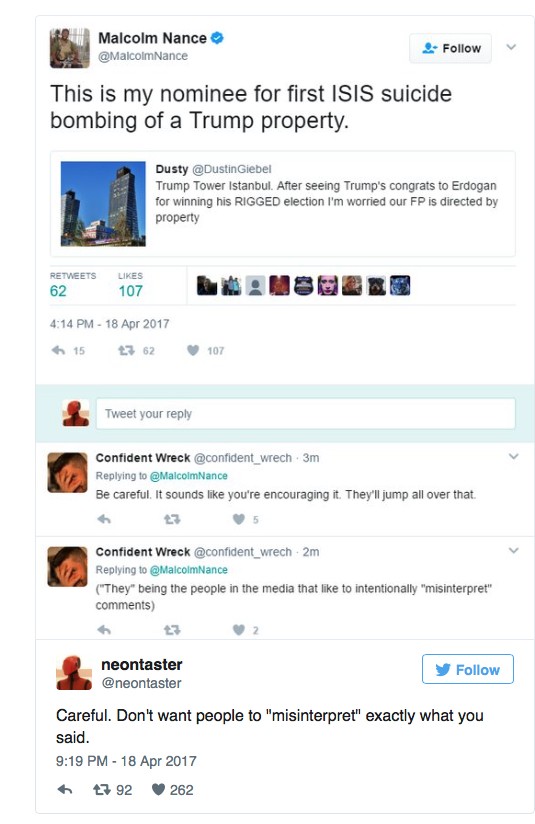 In the run-up to last year's presidential election, Nance described Donald Trump as the "ISIS candidate," and following his victory, predicted that Donald Trump's security and military advisors would lead to "the end of U.S.-Middle East relations as it exists today." He also questioned whether Trump's victory meant America was "teetering on the edge of fascism."
Despite being a counter-terrorism expert, Nance also has a history of denying terrorist acts' connection to Islamism, describing the terrorist responsible for the bulldozing of civilians with a truck in Nice as "mentally unstable," Orlando nightclub shooter Omar Mateen as suffering from a "physchosexual problem," and the San Bernadino mass shootings as "a hybrid act of terrorism/workplace violence."
Nance's comments also come at a time of a rising Islamist terror threat in Turkey, as the country's President Recep Erdoğan turns the country into a religious state. In 2016 alone, the country was the target of dozens of terror attacks, ranging from car bombs to nightclub shootings.
You can follow Ben Kew on Facebook, on Twitter at @ben_kew, or email him at bkew@breitbart.com