NBC's Joy Reid praised a blogger who championed the idea that conservative commentator Ann Coulter kill herself, archives of Reid's old blog reveal.
On June 13, 2006, at the now defunct Reid Report, and under the ghoulish headline "You know, it would kill her, and I think I'm cool with that…" Reid introduces the excerpt by mocking Coulter as a man (something the notoriously homophobic Reid frequently did).
"Ad Age's Media Guy serves up … Dr. Evil Her..m…self: Ann Coulter," Reid writes.
Here is the excerpt Reid references:
Would it kill you, "Godless" author Ann Coulter, to do us all a favor and kill yourself? (Oh, well, yeah, I guess it would kill you.)

After her recent rabidly hateful, foaming-at-the-mouth, sub-human "Today" show appearance — in which she reiterated her assertion that 9/11 widows are "enjoying their husband's deaths" — even her former supporters began to fantasize about how much nicer the world would be if it were Coulterless.
Reid then follows this with a cheer of personal approval over the idea of Coulter being killed.
"Oweee. And I mean that in a good way," Reid writes.
Just below that is a link to Reid Report piece titled "Ann Coulter is a very bad man."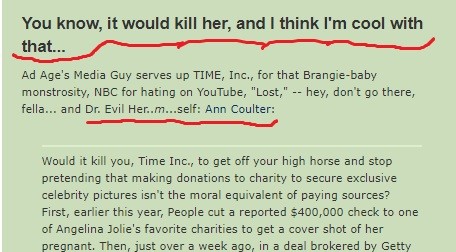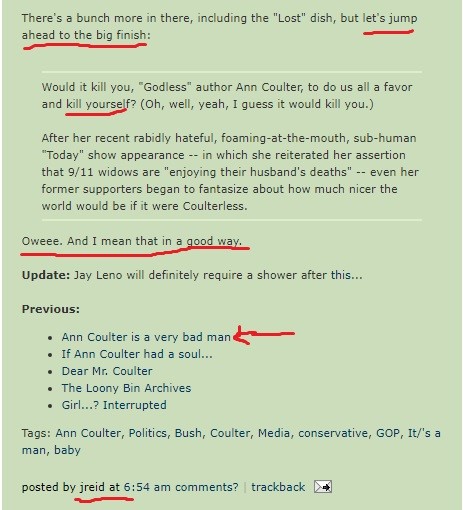 It is important to point out that, at the time, Reid was not a thoughtless, immature teenager championing the untimely death of a political opponent. In 2006, Reid turned 38, co-hosted a local radio show, and wrote a political column for the Miami Herald.
Reid was also a grown woman when she wrote a seemingly unending series of homophobic posts on this same blog.
Worse still, Reid was a 49-year-old anchor for NBC News at MSNBC when she lied to the whole world about a hacker writing some of those homophobic posts. To cover up her gay-baiting past, Reid not only sent the media on a wild goose chase in search of her fabricated hacker, she reportedly involved the FBI in her phony crime.
On top of that, Wednesday night we learned that Reid has spread 9/11 conspiracy theories.
In summation, Joy Reid, is a serial-homophobe who spreads 9/11 conspiracy theories, who cheers on the death of her political opponents, and who spreads conspiracy theories of her own — even to the FBI — about hackers who do not exist.
Oh, and this same Joy Reid is a big star at NBC News, an anchor for MSNBC, and someone the network chose to co-host a high-profile panel on bigotry earlier this week. BIGOTRY.
But Reid is in solid company at NBC among her other ideologically pure NBC colleagues, including homophobe Alec Baldwin, rape-denier Andrea Mitchell, abuse-enabler Mika Brzezinski, serial liar Brian Williams, accused stalker/groper Mike Tirico, and accused harassers Chris Matthews, and Tom Brokaw.
Follow John Nolte on Twitter @NolteNC. Follow his Facebook Page here.