UNCASVILLE, Conn.—Boxer Lennox Allen won't player hate on the nine-figure paydays enjoyed by Manny Pacquiao and Floyd Mayweather this Saturday night.
"I'm not going to be envious of nobody's money," Allen tells Breitbart Sports. "Only thing I got to focus on is focus on me, man, where I want to be and what I want to do. I'm happy for both of those guys, Mayweather, Paquiao."
Mayweather appears primed to grab a record $180 million purse. Pacquiao looks like he heads for a $120 payday. Even the insignia gracing the Filipino's trunks award him a record $2.5 million, an amount Allen likely hasn't seen in his entire twenty-fight career. He may regard the average $4,400 ticket price as "ridiculous" and opt to watch at a bar rather than home to save money. But Allen won't let envy get the better of him. He roots for these guys to get rich.
So what's going to happen at the MGM Grand Garden Arena?
"Same thing that happens in every one of Mayweather's fights," the undefeated light heavyweight predicts. "He's going to roll his shoulders and potshot all night, get Pacquiao frustrated."
"I'm a Mayweather fan," Allen confesses. "So, I'm gonna go with Mayweather."
He thinks neither man possesses much knockout power and the fight comes five years too late. Nevertheless, the Guyanese immigrant doesn't begrudge the aging pair for securing an unprecedented payday.
"To be honest," Allen tells Breitbart Sports. "I don't feel envy about nothing nobody's earning because boxing's not an easy sport."
Paul Gonsalves, Allen's most recent opponent, would agree.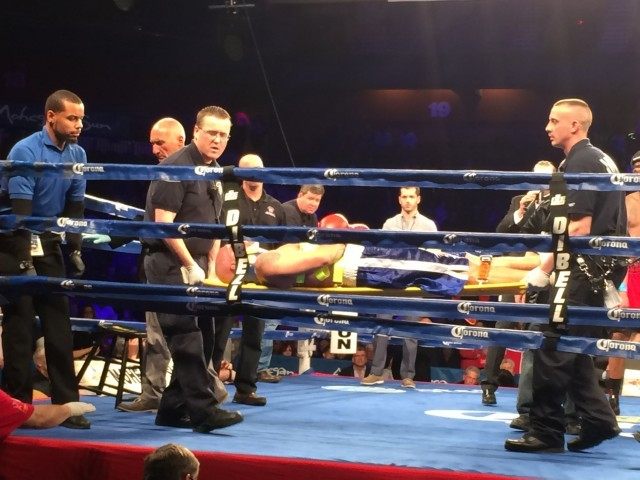 Allen, after dropping to the canvas on what seemed a slip ruled a knockdown in the sixth, came roaring back in the seventh round of their April 17th fight. He meted out a straight-punch, true knockout to Gonsalves, who took an awful second impact in his unconsciousness when his head hit the ring floor. After laying on the deck for an uncomfortable amount of time, Gonsalves departed the ring, albeit on a stretcher, upon which he gave a thumbs-up gesture to a relieved ringside audience.
Gonsalves surely wondered not why Pacquaio and Mayweather make millions for such taxing and dangerous activity but why he made mere thousands. As Allen notes, "boxing's not an easy sport."