An injury has knocked out the most hyped fight in UFC history. But the replacement bout appears as a consolation prize not lacking in its own excitement.
Chad Mendes, a heavy-handed wrestler, replaces champion Jose Aldo, sidelined by a rib injury. He takes on Conor McGregor, an Irishman with big hands and a big mouth, for the interim featherweight belt at UFC 189 on July 11.
The cool Californian has endured the Dubliner's heated insults, making the fight not a hard one to sell to fans. When the stocky Mendes asked McGregor if he knew what wrestling is, the 5'9" striker responded, "I can rest my balls on your forehead," to a riotous response from the British Isles studio audience.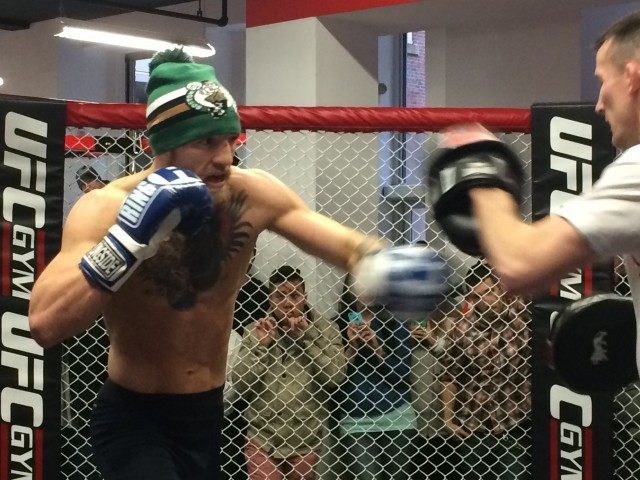 The winner likely faces Jose Aldo to determine the division's true champion this fall.
"UFC 189 has a new main event, as featherweight champion Jose Aldo has withdrawn from his July 11 title defense against Conor McGregor due to an injured rib," the UFC announced on Tuesday afternoon. "Chad Mendes, who had been on standby since news of Aldo's injury broke, will now face McGregor for the interim 145-pound crown at the MGM Grand Garden Arena in Las Vegas."
The pair, both boasting 17-2 records, begin an abbreviated promotional campaign in earnest later today on a conference call in which Breitbart Sports has been invited to participate.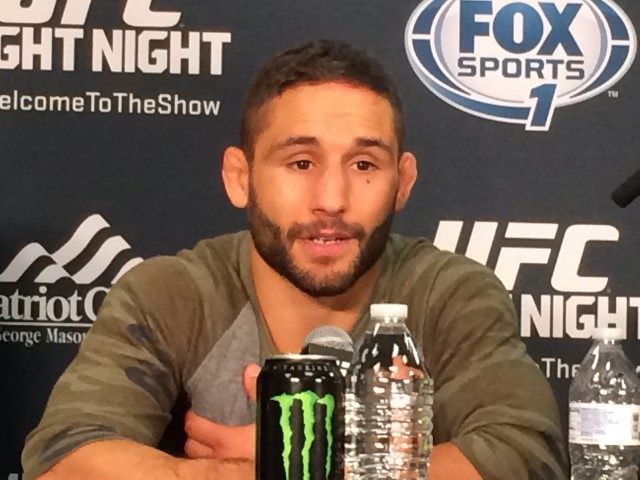 "I think I'm in a good position either way," Mendes told Breitbart Sports this spring, expressing confidence in another title shot despite two failed attempts against Aldo. Then, Money Mendes, a longshot to win a third match against Aldo should the Brazilian have prevailed at UFC 189 and likely waiting for an inevitable McGregor-Aldo rematch before landing a shot at title had the Irishman emerged victorious, appeared as the odd man out. He nevertheless remained optimistic. Mendes held, "If for whatever reason Conor wins, I'd like to get in there and beat the crap out of that guy and take the belt."
Conor didn't get the chance to beat Aldo. But Chad Mendes, who appeared on the outside looking in this spring, now gets his third chance at the belt and his first chance to "beat the crap out of that guy" who insulted him on international television.