Monday on his radio show broadcasted FM 92.5 and AM 770 in Huntsville, AL, morning drive talker Dale Jackson reacted to AL.com's editorial that appeared on the front pages of The Birmingham News, The Huntsville Times and Mobile, AL's Press-Register.
The editorial attacked Republican U.S. Senate hopeful Roy Moore and endorsed his opponent Democrat Doug Jones.
Jackson, who was joined by his guest Alabama A&M political science professor Shannon Reeves, described the editorial as "absurd" and "masturbatory nonsense," and said the way the national media were reporting on it came off as derogatory toward Alabamians.
"It's absurd – I mean, the way that they did this is nuts," Jackson said. "And to watch the self- … I was trying to say something, but I don't want to say something vulgar. It's masturbatory nonsense. That's all it is. I mean, it really is. It really is just them patting each other on the back and saying, 'You guys are right. You sure are great.' And really – this is the real tone of the coverage of their editorial: 'Even in Alabama, those morons know? Wow. Roy Moore must be really bad.' That's the gist. Who does that sway?'"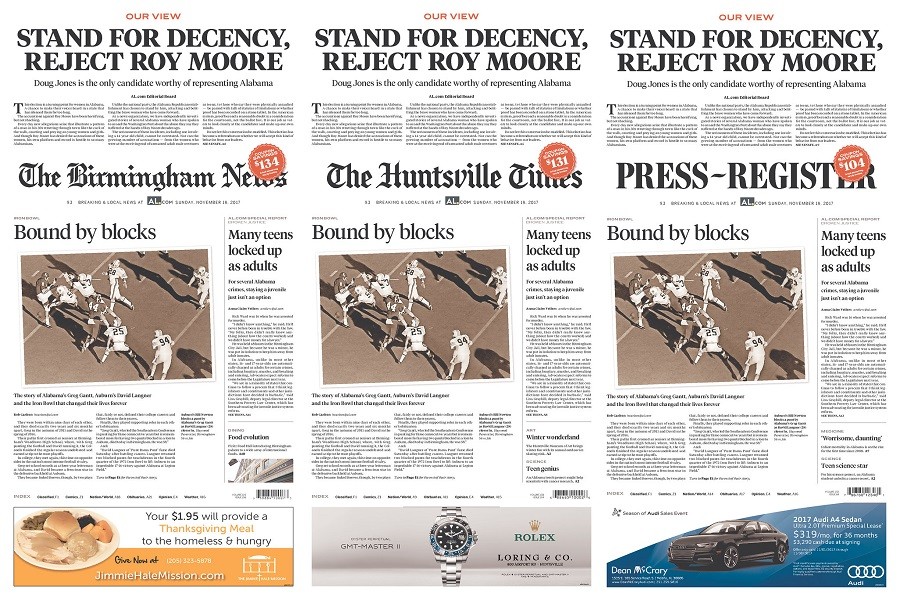 Jackson urged listeners to consider AL.com's body of work on the December 12 special election, which he said had been anti-Moore.
"They made the stand – their reporters have made it clear that this is the position of the paper," he continued. "It's like The Washington Post. The Washington Post endorsed Doug Jones and then two weeks later, came out with this story. Again, The Washington Post – I think they have a bias. I think they want Roy Moore to lose. I think all of that is true. But there is not a body of work of The Washington Post where they have just been murdering Roy Moore. The AL.com folks have been murdering him daily for three months."
Jackson's remarks were a continuation of what he had laid out earlier in an open letter to CNN's Brian Stelter, which he had posted to Facebook. In it, Jackson had described AL.com as a "sports blog with a liberal bias."
Follow Jeff Poor on Twitter @jeff_poor