Following this week's announcement of his executive gun control actions, President Obama is holding a special town hall in Fairfax, Virginia, tonight to be telecast live on CNN at 5pm ET. Stay with us for live updates.
**LIVE UPDATES**
10:20 pm ET: At one point during the town hall, CNN replayed footage of Obama's speech announcing his executive gun control. Here's the image of Obama watched himself cry: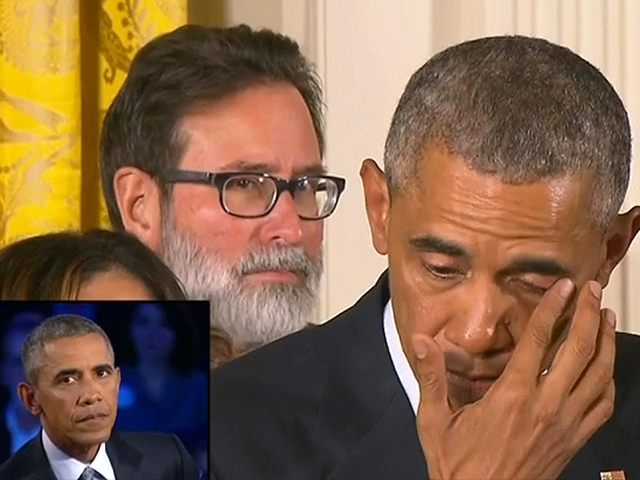 9:55 pm ET: Gun control proponent Father Michael Pfleger asked Obama about titling guns the way we title cars, saying: "We don't take cars away by putting titles on them, why can't we do that with guns?" The main reason Obama gave for not supporting "licensing and registration" of all guns is that "there is not enough national consensus at this stage."
9:28 pm ET: While Obama was holding his town hall, GOP frontrunner Donald Trump ended his campaign rally tonight by promising he would end "gun-free" zones in schools and U.S. military bases on his first day in office.
"I will get rid of gun-free zones on schools — you have to — and on military bases on my first day. It gets signed my first day," Trump said, adding: "You know what a gun-free zone is to a sicko? That's bait." More on this here.
9:25 pm ET: The post-town hall coverage on CNN centers around Obama's dismissal of Americans' fears that he is trying to gut our Second Amendment rights. It apparently is difficult for some CNN pundits to understand why Americans might not trust the word of a man who once promised we could keep our healthcare if we liked it.
9:11 pm ET: Obama says the notion that he will take people's guns away is a conspiracy. Breitbart's Charlie Spiering writes:
"This notion of a conspiracy out there and it gets wrapped up in concerns about the federal government," Obama said, referring to the idea that he would take people's guns.

When Anderson Cooper suggested that many people believed the idea, Obama shot back.

"I'm sorry, Cooper. Yes. Is it is fair to call it a conspiracy? What are you saying?"

Obama ridiculed the idea that somehow the government was plotting to take away people's guns through the use of martial law.

"I would hope that you would agree with that," Obama said disapprovingly to Cooper.
9:10 pm ET: Breitbart's AWR Hawkins notes that there is literally no measure by which to ascertain who is or isn't "in the business of gun dealers." Obama said there is no standard, that it's a "case by case evaluation." That is ridiculous. It means essentially that you'll have to look over your shoulder for the ATF every time you sell a gun.
9:02 pm ET: Breitbart's Charlie Stiering writes:
Chicago activist and pastor Father Michael Pfleger appeared at the town hall to ask Obama a question about gun violence in America.

After his question, Obama noted that Pfleger was doing "heroic work" in the city of Chicago.

Pfleger made headlines after he gave a sermon making fun of Hillary Clinton during the 2008 Democratic presidential primary elections, claiming she was upset that a "black man was stealing her show."

Obama said he was "deeply disappointed" in Pfleger's sermon after which the controversial pastor apologized.

In July 2015, Pfleger announced lawsuits against three Chicago suburbs insisting that gun control was a "civil right" that was being violated.
8:58 pm ET: Breitbart's Michelle Moons writes:
After Elliot Roger went on a May 2014 killing spree in Isla Vista, California, not only did a sign for gun control appear outside the scene of one of the murders, but also a sign for knife control. A photo of the signs can be seen here.

Roger's first three murders were stabbing deaths. He then used both firearms and his vehicle to injure and kill people in the Isla Vista area. Obama used one example of a stabbing does "less" damage during the Thursday evening town hall, theorizing that a the attacker may have done more damage with a gun. There are already advocates, though they may be more on the fringe, advocating for knife control as evidenced at the scene of one of the Isla Vista murders.
8:46 pm ET: The infamous radical leftwing Chicago community organizer Father Michael Pfleger made an appearance at the town hall. You may recall him from the 2008 Democratic primary campaign when he said that Hillary Clinton felt "white entitlement and supremacy" in her race against then-Senator Barack Obama. Obama is a long-time ally of Pfleger. During his time as an Illinois state senator, Obama directed $225k of state grants directly to Pfleger's church, St. Sabina.
8:40 pm ET: Obama is using old gun control talking points. Breitbart's Charlie Spiering notes:
Obama began his town hall mostly rehashing his old talking points on gun control – including the idea that somehow in some places in America it was cheaper to buy a gun than buy a book.

That was from a speech he gave in March 2013 in response to the Sandy Hook shootings.

He also told a story about how First Lady Michelle Obama once admitted during a campaign event in Iowa that she would want a gun if she lived there.

That was also from an old speech from April 2013.
8:20 pm ET: In regards to the increase in gun ownership and the decline in crime, Breitbart's AWR Hawkins notes that privately owned guns increased by nearly 150 million from 1994 to now, and crime steadily decreased throughout that period. Stay tuned for a longer report from him on this later.
8:15 pm ET: Chris Kyle's widow Taya Kyle addressed concerns that the background checks Obama is proposing don't have any affect on stopping bad guys from getting guns if they want to commit murder. This is her op-ed from earlier today.
8:11 pm ET: Obama defended himself against the notion that he is going to take people's guns away. He noted that he has been president for seven years but people still have guns – and in fact more guns have been sold since he took office. 

"I've been very good for gun manufacturers," he admitted.
8:06 pm ET: Obama told a story about First Lady Michelle Obama telling him back when he was campaigning in Iowa in 2008 that she could understand why people in rural communities like Iowa might want to own a shotgun. The story was presumably meant to illustrate a point he was trying to make about why the people he once described as "bitterly clinging" to their Second Amendment rights might come by their opinions.
8:03 pm ET: Obama opened by answering a question as to whether he's ever owned a gun. Short answer: no. Shooting skeet is the extent of his experience with firearms.
7:38 pm ET: In a New York Times op-ed released half an hour ago, Obama vows: "I will not campaign for, vote for or support any candidate, even in my own party, who does not support common-sense gun reform."
Breitbart's Charlie Spiering writes:
In a New York Times op-ed President Obama repeated most of his speech from Tuesday arguing for more gun control. But buried within the text was one promise – not to ever campaign for a pro-gun Democrat.

But those words don't carry much weight, particularly since Obama was largely sidelined from the campaign trail in the mid-term elections – except for areas that were safely liberal. That was partially a consequence of Obama's anti-gun positions.

Many of the pro-gun Senate Democrats in Republican states voted against Obama's push for gun control.

In 2013, Senate Democrats Mark Begich of Alaska, Mark Pryor of Arkansas, and Max Baucus of Montana voted against a gun control proposal championed by Obama in 2013.

They were later replaced by pro-gun Republicans.
Read more on this here.