It was 8:30 p.m. and I just finished recording the vocals for a demo at Capitol Records. We do a playback in Studio B and Paula Salvatore, who runs Capitol, listens and I get a big smile and nod of approval from her. She is the one who makes sure whatever happens at Capitol maintains the excellence it has always held, and she knows and works with everyone who's anyone in music.
She mentions I should meet Phil Ramone and Al Schmitt–two of the greats who have recorded, mixed and produced the biggest in the music business. We already had the great Dan Wallin on our team who my arranger Nic. tenBroek brought in. So, when Paula mentions Al and Phil, it is exactly the pedigree and excellence I want to be involved with in my dream of entering the music phase of my life and career. I will not compromise as I had perhaps done at times as an actor. Not in my commitment to acting but in the choices one has to make to support a family.
So she tells me she will make sure they listen to the demo and arrange a meeting for me when they are at Capitol next. Time passes and one evening I drive up to Capitol to meet Phil. I had known of the legendary status of Phil from his work with Billy Joel, Paul Simon, Barbra Streisand, Tony Bennett and, of course, Frank Sinatra among many others.
Al Schmitt and Paula had already paved the way, and my meeting with Phil went wonderfully. Phil agreed to produce my album, Davi Sings Sinatra – On the Road to Romance, which garnered terrific reviews and hit number six on the Billboard Jazz charts. I found in him a gentle, artistic soul who had a childlike enthusiasm with the wisdom of Solomon. He led not with ego but with HEART, the heart that finally gave out a few days ago.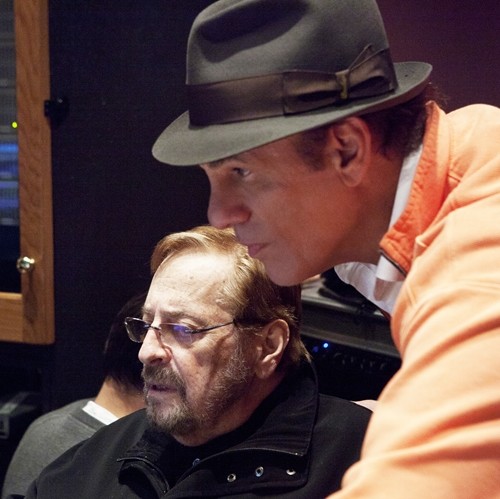 Phil also helped develop my live show and imparted the 60-plus years of experience he accumulated over the years. We also did six new tracks for our next album, which I will dedicate to him when it is completed later this year. He could communicate volumes in a gentle word or humorous remark, and if you weren't listening carefully you might miss a pearl of wisdom. He took me to Miami with him, invited me to a MusicCares rehearsal and we spent countless hours on both coasts when time permitted.
He was a gentle soul, had a marvelous wit, and was a friend, educator and ground breaker. He did the sound for several events for the Kennedy White House and White House events over the years. He even did sound for the famous birthday song Marilyn Monroe sang for President John F. Kennedy.
Phil was an innovator. It was at his insistence while doing the Sinatra duet albums that Capitol was able to pipe the live music into the Kodak Center from blocks away. Phil made Capitol put in a line that could record artists from different parts of the globe–this was in 1993 and led to what we witnessed at the awards. You can all read, and I encourage you to do so, about Phil's tremendous contributions from a variety of sources, one being his own book he did with Charlie Granata, Making Records.
But the man outweighs his accomplishments. A man who was filled with compassion and love. He was always concerned for his wife, Karen, and their three boys, who are now going through their grief and are in my prayers.
Driving up to Greg Fields and Monica Mancini's house where Phil stayed while in LA–it was known as the Ramone suite–while once a journey of fun anticipation will now have a bitter sweetness about it.
Thank you, Phil. I will miss the wee small hours we shared. May you be carried to the gates of Heaven on the beautiful music you gave the world. I will miss you as so many will, but your music and influence live on.
Phil always signed his message to you with, "Love Phil." That's how he lived and made his music. So, as I lift my glass of Jack Daniels, here's to you Phil. Thank You, Love Robert.