On Wednesday, former Malcolm in the Middle star Frankie Muniz sounded off on President Obama's appointment of controversy-ridden former UN ambassador Susan Rice to National Security Advisor:
Rice is under fire thanks to misleading the American people five separate times on the Sunday shows in the aftermath of the Benghazi terrorist attacks of September 11, 2012. She claimed that the attacks were actually spontaneous protests based on a YouTube video and then hijacked for terrorist purposes.
When a follower ripped Muniz for his statement about Rice, Muniz responded: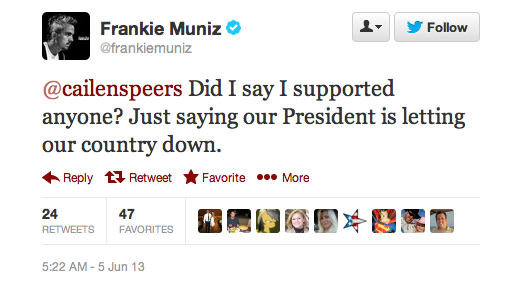 Ben Shapiro is Editor-At-Large of Breitbart News and author of the New York Times bestseller "Bullies: How the Left's Culture of Fear and Intimidation Silences America" (Threshold Editions, January 8, 2013).