50 Cent Throws Like a Girl… Or Why Boys Need Fathers
Dang.
—
—
My old high school classmate (Go Lasers!) Jay Weber, who is now a conservative talk radio host at WISN in Milwaukee, probably hit the nail on the head:
—
@NolteNC He throws like a girl because he didn't have a father figure growing up. No one ever taught him (or Obama) how to throw.

— Jay Weber (@JayWeber3) May 28, 2014
—
My dad doesn't even enjoy sports, but he still took me outside to throw it around.
Easy to laugh in the moment but it's all quite sad when you think about it. 
THR: 'Maleficent' Smells Like a Hit — 'A Million Ways to Die In The West' Does Not
After two box office disappointments — 2010's one-two of the terrific "Salt" and terrible "The Tourist" — Angelina Jolie looks like she has a hit on her hands with Disney's "Maleficent," a title I will never learn to spell correctly the first time.
Disney's twist on the "Sleeping Beauty" fairly tale is tracking to open with $60 million this weekend and the Hollywood Reporter is now chiming in with something close to a rave, as well as confidence that the $175 million "gamble on a first-time director" (Robert Stromberg) will "stir up box office magic."
Disney is still enjoying the after-glow of another princess movie, "Frozen," a wave that just won't crash and might roll right into "Maleficent."
I'm not a fan of the fantasy genre, but that doesn't make me blind to the appeal of the trailer or the fact that Jolie is going to own what could easily become an iconic role:
—
—
Commercially and critically, THR has less faith in Seth MacFarlane's Western comedy "A Million Ways to Die in the West," which also opens Friday (I'll see it tomorrow). Critic John DeFore found it longish with too much hit-or-miss in the joke department. Commercially, he argues, Westerns don't make money — even when you add aliens.
Fair enough, but with "Neighbors" finally slowing down and "Blended" already dead, do you really want to bet against MacFarlane — especially after "Ted?"
—
—
The Bob Newhart Show: The Complete Series Finally Arrives On DVD
Sitcoms were never better than in the 1970s. You can laugh at the production values and the "Dynomite!" catch-phrasing, but it was during this very short period of time that freedom reigned over censorship and, more importantly, political correctness.
"All In the Family," "Good Times," "Sanford and Son," "Barney Miller," "The Jeffersons," "Chico and the Man," "Taxi," "WKRP In Cincinnati," "Soap," "The Mary Tyler Moore Show," "The Odd Couple"… smart, hilarious, and best of all, not all about SEX, SEX, SEX.
During that era, everyone and everything was mocked. Nothing was off-limits. There was no such thing as a protected class. And if there really was such a thing as white privilege, I would use mine to get a home video release of "Chico and the Man."
Anyway, at long last, all six seasons of the brilliant "Bob Newhart Show" are available on DVD.
A bonus feature would be six season of this. 
At $80, it's a bit pricey, but it will come down and it will be mine … oh, yes it will.
Giving Up on "The Following," Already Addicted to "Mad Men"
I DVR  full seasons before watching. I just can't deal with the commercials or the waiting. Binge-viewing is what the 21st century is all about and it's just not my problem if everyone hasn't figured that out.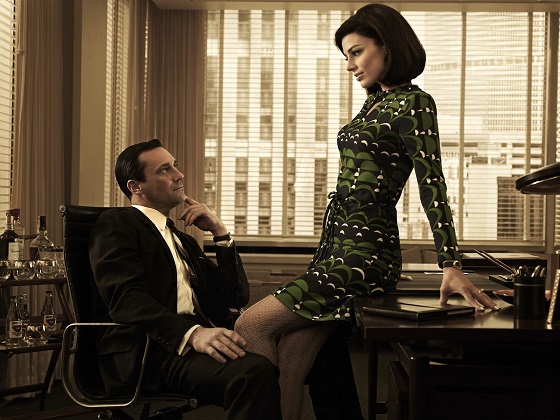 The wife and I were really looking forward to the second season of Kevin Bacon's "The Following." The first season was like "24" with serial killers — compelling, pulpy stuff. We gave up after four or five episodes this season, though. The Joe Carroll story was finished. Bringing him back really took the air out what I had hoped would be a fresh storyline.
Maybe I'm just burnt out on serial killers. I couldn't even make it through the first season of "Hannibal." But wait, I love "Bates Motel."
"The Following" is a Fox show.  "Hannibal" is NBC. It might just be that the old broadcast networks haven't really figured out how to do this yet.
That's why I'm reluctant to try NBC's "The Blacklist." Should I try it? The first season is a full 22 episodes. Feels like a lot.
Anyway, we have now jumped into the latest season of "Mad Men," which just ended Sunday. Only two episodes in we find ourselves already addicted — and the sweet thrill of being addicted to story and character is what binge-viewing is all about.
Three Franchises 'Die Hard' Director John McTiernan Should Immediately Take Charge Of
"Die Hard" director McTieran fought a long, grueling and expensive fight to stay out of prison after being convicted of lying to the FBI. The legal battle and 10 months in prison took a toll. The one-time A-list action director could lose his home in a forced bankruptcy.
THR reports, though, that at the still young age of 63, McTiernan is looking to revive his career. Apparently, he's attached to a Nicolas Cage actioner and is shopping a sequel to "The Thomas Crown Affair," one of the best romantic/heist films of the last thirty years.
Paramount should immediately grab the man who directed "The Hunt for Red October" to salvage the Jack Ryan franchise, which faltered badly with "Shadow Recruit." Hell, Fox could surely use the director of "Die Hard" and "Die Hard: With a Vengeance" to give that bloodless franchise a swift kick.
And then there's the "Predator" franchise…
This is not rocket science, Hollywood…
Quick Hits
Why 'Ant-Man' Director Edgar Wright Exited Marvel's Superhero Movie
Does Tarantino's 'Hateful Eight' Start Shooting In November?
Amazon Sale: 4-Bluray Pack of Batman, Lethal Weapon, and others for only $12.96.
'True Detective' Season 2 Sounds an Awful Lot Like 'Full House'
16 TV Characters Who Died After Their Performers Did

Send tips, requests to jnolte@breitbart.com
Follow  John Nolte on Twitter @NolteNC