When it comes to replacing DVDs with Bluray discs, let us just say that I am not a sucker. The picture just isn't better enough to make another purchase worthwhile. "Enter the Dragon," however, is an exception. It was also one of the first Blurays I ever purchased. This is the kind of film I must own the very best copy of, and with this brand new 40th Anniversary Ultimate Edition, my journey has finally come to an end.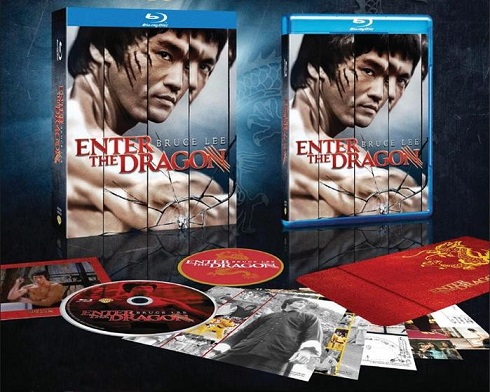 As far as action movies go, "Enter the Dragon" set a standard in story, performance, action, and all-out bad-assery. If you are confused as to why, almost forty years after his death, and after making only a handful of feature films, Bruce Lee is still one of the most recognizable icons in movies, a screening of "Enter the Dragon" will clear that right up.
Lee's nighttime reconnaissance excursion into the villain's underground lair, where he fights off over a dozen henchmen (one played by Jackie Chan) with only a pair of nunchucks, is still the greatest hand-to-hand combat scene I have ever come across. Second place could easily be any one of the many fight scenes that take place in a deceptively simple plot surrounding a mysterious martial arts tournament set on an island outside the law.
This new 40th anniversary collection is a legitimate goldmine for fanatics like myself. The remastered Bluray transfer is a major improvement over the original Bluray (which looked just fine). There are also a ton of extras to dive into. Three are brand new and exclusive to this collection:.
Commentary by producer Paul Heller
New Featurette No Way As Way
New
Featurette The Return to Han's Island
New
Featurette Wing Chun: The Art that Introduced Kung Fu to Bruce Lee
Interview Gallery featuring Lee's wife, Linda Lee Caldwell
Backyard Workout with Bruce Lee
Curse of the Dragon
Location:
Hong Kong with Enter the Dragon
Blood and Steel: The Making of Enter the Dragon
Personal Profile Bruce Lee: In His Own Words
Lee is nothing short of incredible in "Dragon," his first American film as star. His physicality, charisma, and presence only seem more vital today as we witness the death of the modern American movie star before our very eyes. Lee poured everything he had into making "Dragon" the martial arts film to beat all, and that is exactly what he gave us.
Forty years on, there is still no equal.
Sadly, Lee didn't live to see his dream or his immortal superstardom realized. Six days after "Enter the Dragon" was released, Lee died at age 32.
Lee would be only 72 today.
"Enter the Dragon" (40th Anniversary Collection) hits shelves June 11 and is available for pre-order at Amazon.com.
Follow John Nolte on Twitter @NolteNC