HOUSTON, Texas–A "National Day of Protesting Against Immigration Reform/Amnesty and Border Surge" was held on Friday in cities all over Texas and the nation. Breitbart Texas was at the protest at the Mexican Consulate in Houston and videotaped pro-amnesty supporters shouting, "Undocumented and Unafraid" and "Liberation Not Deportation!" They pointed to themselves and shouted, "This is what Democracy looks like" then pointed to protesters across the street and shouted, "That is what Racism looks like." They also shouted, "We ARE Home!"
One of the pro-amnesty supporters told fellow supporters, "Breitbart lied about ACORN." Another supporter said, "Breitbart is one of the most racist publications in the Country."
Protesters held American flags upside down communicating that the nation is in distress. The U.S. Flag Code provides that "The flag should never be displayed with the union down, except as a signal of dire distress in instances of extreme danger to life or property." These supporters also held signs saying, "If You Won't Send Them Home, Send Them To 1600 Pennsylvania Avenue, Washington, D.C."
Protesters called upon the Governor and Texas legislators to act and address the border crisis. Protester Hollie Feeley told Breitbart Texas, "If Rick Perry does not step-up and be the next Sam Houston, he will never be the next George Washington." Travis Leslie, a member of the Clear Lake Texas Tea Party said, "Our Legislators simply need to be doing more. This is a major crisis that affects us all regardless of economic class, political leanings, race, or gender. It affects our economy, our schools, and our healthcare. Too many are waiting on the Feds to come to the rescue. D.C. will not fix our border. It is up to Texas. Where are our leaders?"
Mark Hnatiuk from College Station said, "The reason they come here is not for hunting lands, they come here to take our wealth. The wealth that our parents built, we built. We built this Country, the infrastructure, the welfare system, we fought for it and we paid for it. The definition of sovereignty is freedom from external control. Who is controlling our borders?–The Cartel is controlling our borders."
Supporters of the National Protest movement stood with a huge banner inscribed "Illegal Aliens Are Killing America's Future." The banner contained photos of Americans who were murdered by illegal immigrants.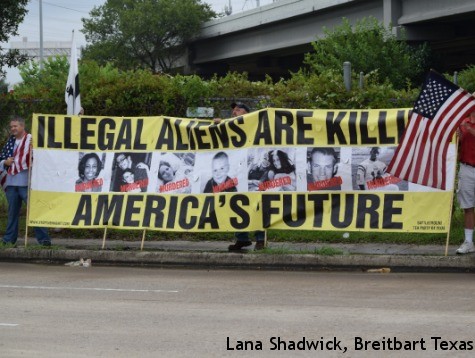 Protesters against illegal immigration included persons of all races. Darrell Collins, a Black American, said, "They need to follow the law and stop using racism as an excuse to break the law. They are trying to hijack the Black movement. He added, "I am not an African-American, I am an American! My grandma is from Brazil but I represent American people, no black, orange, I love America!" Nelson Reyes said, "Keep American Free! America is exceptional and if illegals want to come here, they need to do it the proper way." Saul Deleon told Breitbart Texas that the "invasion from illegals is destroying this Country – our schools, our hospitals, our prisons are bombarded with them, and our neighborhoods are bombarded by gangs and drugs."
Standing with protesters against the border surge, Gilbert Samuels asked, "Why are they here in front of the Mexican Consulate when most of the children are from El Salvador, Honduras, and Central America"? Gilbert added "Bush signed the law … they can be deported if they are from Mexico; they cannot be deported if they are from countries with poverty and violence."
Breitbart has reported about the plight of U.S. Marine Sgt. Andrew Tahmooressi. On March 31st, the Marine "accidently crossed the Mexican border with guns in his truck. He was promptly arrested, chained, and beaten by Mexican authorities." Russell Fiedler, an American Legion Rider out of Post 554 in League City, Texas told Breitbart Texas "I will trade 100 illegal immigrants for my Marine Corps brother who is being held unjustly in a Mexican prison." Travis Leslie said, "Bring back our Marine. We bend over backwards to humanly treat those who illegally cross our borders. The U.S. Marine made one mistake, owned up to it, declared the weapons that he has been incarcerated for, and he is paying a horrible price with no end in sight."
The apparent leader of the pro-amnesty group was Cesar Espinosa, the Executive Director of FIEL, Familias Inmigrantes y Estudiantes en la Luchal (Spanish for "Families and Students in the Struggle"). Speaking for the group, Espinosa told Breitbart Texas, "We are here basically to talk about truth about the undocumented community, what we contribute to the economy, the culture, and the community, and what we contribute in many other ways that people do not talk about."
Bill Lambert stood near the Mexican Consulate entrance holding a sigh inscribed "Love Children. Hate the U.S. Backed Tyrants They Flee From." He said, "I think we need to stop scapegoating the children. The U.S. created the crisis by backing tyrants in Honduras and elsewhere. Children do not want to leave their homes, their families, their friends."
The website containing the participating organizations, and the locations and dates for the National protest states that "protests are scheduled to be held at state capitals, Mexican consulates, and on streets and overpasses coast-to-coast, including Hawaii and Alaska." Protests were scheduled for July 18th and July 19th in cities across America.
Lana Shadwick is a contributing writer to Breitbart Texas. Follow her @LanaShadwick2 on Twitter.