Texas Governor Greg Abbott addressed those in attendance at a Memorial Day service at a joint session of the legislature and promised "We will continue to fight for the freedom they died for."
The joint session, held on the Saturday of Memorial Day weekend, met in the chamber of the Texas State House. Members of the government, legislature, and the judiciary met to honor the fallen.
The Texas State legislature took time from their legislative battles to gather in this joint session to honor all of those in the United States Armed Forces who have given their lives in defense of the nation.
The legislators took the time to individually honor and thank those Texans who have given their lives in service to this country since the last legislative session.
The names of the Texas service men and women who died since the last session were read by Senator Donna Campbell (R-New Braunfels) and House Representative Susan King (R-Abilene).
Sen. Campbell is Chair of the Senate Committee on Veteran Affairs and Military Installations. Rep. King is the Chair of the House Committee on Defense and Veterans' Affairs.
Family members present at the ceremony were greeted by Governor Greg Abbott, and Lieutenant Governor, Dan Patrick.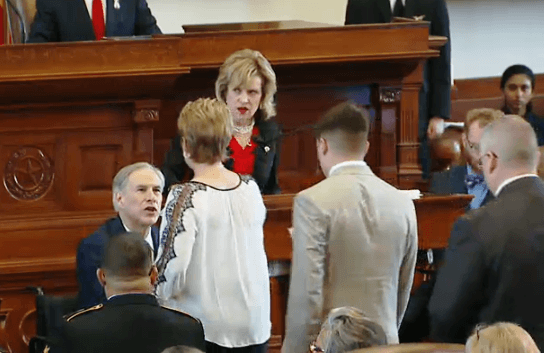 Governor Abbott addressed those there to honor the fallen saying "For the past few months, this Capitol has been a battleground of democracy. The people who made that democratic process possible, the people who ensured we would have the freedom to fight about ideas are the men and women who have worn the uniform of the United States Military," said Governor Abbott in his remarks.
The Governor continued "We are so grateful to all of those who have served, but today we particularly remember those who made the ultimate sacrifice for our country. At this service we recognize especially Texas service members killed in combat since the last legislative session."
Abbott said he had hosted an event earlier in the week in San Antonio to unveil the upcoming mini-series titled Texas Rising, a tale about the Alamo and the rise of Texas.
He said the story of the Alamo still captivates Americans because of the character demonstrated by the soldiers at the Alamo.
The Governor said "Out-manned and out-gunned, they defiantly battled Santa Ana's army, knowing they faced certain death. Their legacy lives on because they fought and died for a cause greater than themselves – the cause of liberty."
He said "It is the same cause fought for by the men and women we honor today. It is the cause fought for by Americans since the day our country began. … They stood in the face of dangers known and unknown and protected us from all that threatened, sacrificing so much and asking for nothing in return other than the respect for the freedom they fought for."
The Governor addressed the families of the fallen that were at the ceremony saying "our words are small solace to the loss you have suffered. When I think of your loss, I'm reminded of the closing scene in the movie Saving Private Ryan."
The Governor told the story of Captain Miller, the man who fought through brutal World War II battles to save Private Ryan, the only surviving son in a family of three brothers that had died in the war. Miller told Ryan as he lay dying "Earn this. Earn it." An elderly Ryan later visits the grave of his rescuer and says: "I hope in your eyes I've earned all of what you've done for me."
Abbott told those in the Capitol that the story of Saving Private Ryan "is a metaphor for what all Americans feel about those who sacrificed their lives for this nation; we hope we have earned what they did for us."
The Governor promised "the families who have lost a son or daughter, mother or father, sister or brother – speaking on behalf of all who work in this Capitol and on behalf of all Texans – we will work to earn what your family has done for us. We will continue on the homeland to fight for the freedom they died for on lands across this globe."
The Governor said "we thank you, and we remember those who served this country and who died for Liberty."
He ended with "May God bless each and every one of you, and may God forever bless the United States of America."
Lana Shadwick is a contributing writer and legal analyst for Breitbart Texas. Follow her on Twitter @LanaShadwick2