12:45 PM CDT: Services began outside Houston's Second Baptist Church as honor guard members from law enforcement agencies from across the state of Texas gathered to honor Deputy Goforth.
Following the seating of the Goforth family, the detail of thousands of police and sheriff's deputies was called to attention as the flag drapped casket of Deputy Goforth was carried from the church.
The U.S. Flag was removed from the casket as the honor guard and assembled officers rendered a military salute. The flag was carefully folded and inspected by the honor guard and its commander and was handed to Harris County Sheriff Ron Hickman.
Sheriff Hickman then turned and presented the flag to a visibly shaken Kathleen Goforth. Mrs. Goforth stood and accepted the folded flag from Sheriff Hickman. They spoke for a few minutes and then Hickman stepped back and saluted her and Deputy Goforth's flag.
This was followed by a flyover of the Houston Police Department's helicopter which executed a "Missing Man" maneuver.
An honor guard rifle detailed shocked the attendees and family as they delivered a 21-gun salute which was followed by a duet of buglers playing Taps.
The casket was then moved to the hearse and the family was escorted to their vehicles to follow the procession to the graveside service. Mrs. Goforth had to be assisted as she walked from her seat. She paused to speak with Sheriff Hickman and Texas Governor Greg Abbott.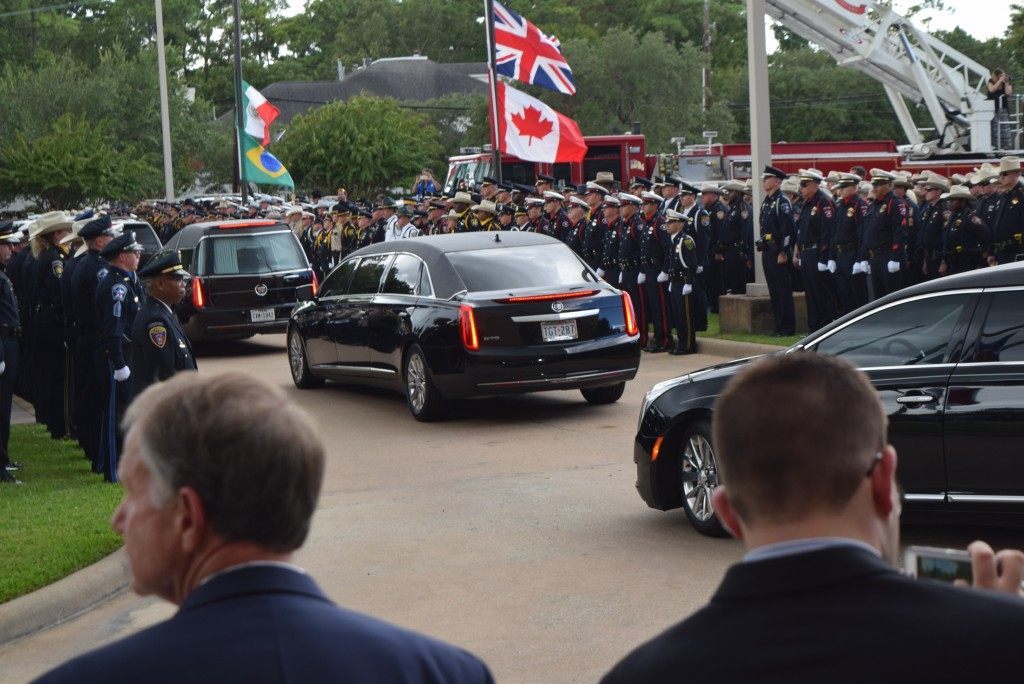 As the family began to drive out through a driveway,  Harris County deputies who delivered a final salute to Deputy Goforth and the family. The prior clear skies suddenly began to drop tears of raindrops just as the family departed the church.
12:13 PM CDT: Dr. Young recounted heroic stories of deliverance by police officers in the community.
"We run from the danger while you in blue run towards the danger and you do your jobs to deliver us from evil."
"What is evil? Webster does not define evil."
"Anything that is contrary to the purpose and plans of God is evil," Young said.
"Webster describes what evil does, not what it is."
"What do you do about evil?"
"Jesus who wore the blue, like you wear the blue, knew he was in a lifetime battle with evil."
"Anyone who wears the blue, that is what you face in a mirriad of ways every time you put on the blue and the badge."
"Job Description: Deliver us from evil."
"Sometimes it seems that evil is winning."
"Evil NEVER wins," Young said.
"Something is happening in Houston, in Texas and in America," he continued.
"There has been a change where evil now will attack those who wear the blue. That is as freightening and demonic as anything we can imagine."
"But things are changing. As those you protect are changing."
"People in the community are now praying for police."
"Three days ago, a police officer was putting gas in his car. He was looking around, and a man pulled up in a car and said 'take your time, I've got your back.'"
"That's what's happening. Your husband, your daddy did not die in vein. Something is happening."
"Suddenly there is a swelling of people saying, these men and women who wear the blue are standing for what is right and good and they will deliver us from evil."
"There will be a new Houston, a new Texas, a New America. You can write it down, WE HAVE YOUR BACK!"
The service concluded with a chorus of "We shall overcome."
12:01 PM CDT: Larry Harrison, Chad Ireton, George Wood, and Dr. Craig Cook performed a quartet version of The Lord's Prayer.
Dr. Young told a story from Exodus about Jesus wearing a cloth of blue. He compared that to the sea of blue sitting before him in the church. Thousands of police officers, deputy sheriffs, constables, and DPS troopers gathered in the congregation in support of the Goforth family.
"Deliver us from evil" in the Lord's prayer is the assignment of everyone who puts on the blue uniform and the badge.
11:48 AM CDT:  HCSO Chaplain Shannon Bowdoin described the pain expressed by Kathleen Goforth upon learing of her husband's death. She said, "what am I going to do about my children?"
Bowdoin said " you are going to lean on us."
"Your son and your daughter just inherited about 4,000 surrogate parents. You are not going to have to walk alone."
"We are not going to focus on revenge, or getting even. We are going to focus on healing and moving forward."
"If you think  we are going to be motivated by fear or rhetoric, you are sadly mistaken," the chaplain said.
"We are going to stand as sentinels of justice in every community across this country."
"We will not bow to anyone. We will stand for what is right, for what is good. and we will stand by your side, Kathleen."
11:45 AM CDT: Darren and his son Ryan had purchased "Capt. America" shirts to wear together. They never got the opportunity to do that, but today, Ryan is wearing his Capt. America Shirt and Darren is wearing his, under his uniform.
De Los Santos finished his remarks and hugged Mrs. Goforth. All stood and applauded them.
11:35 AM CDT: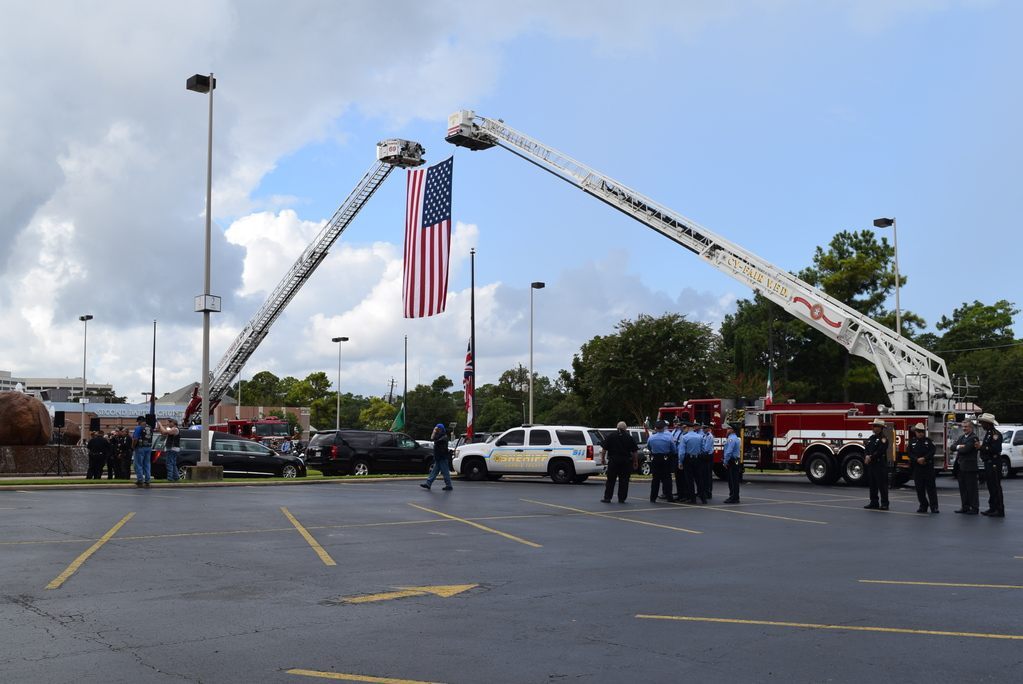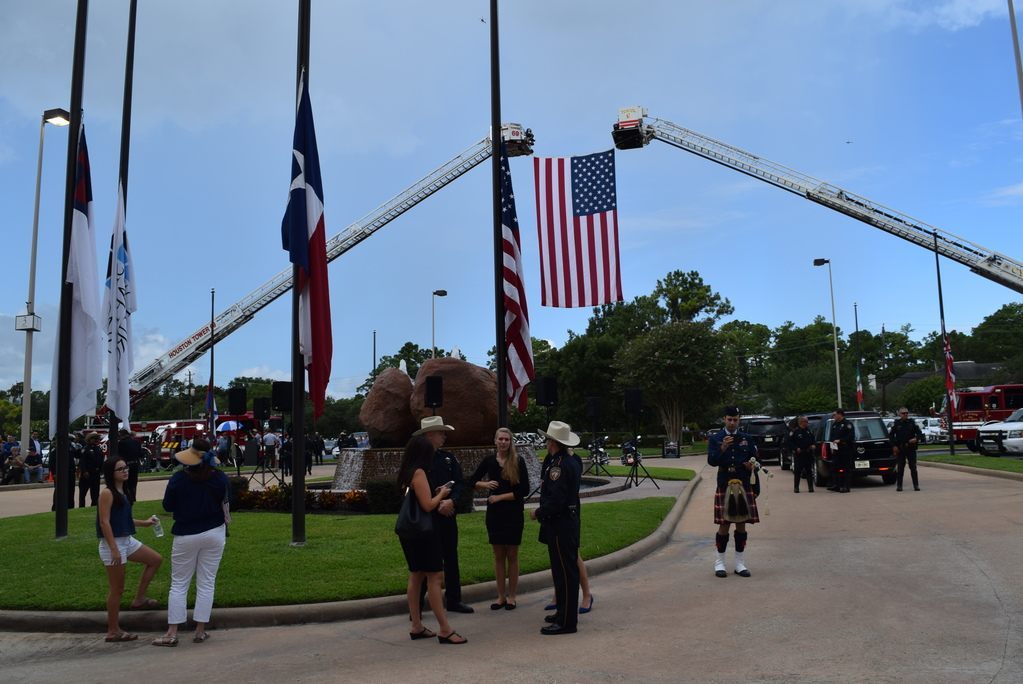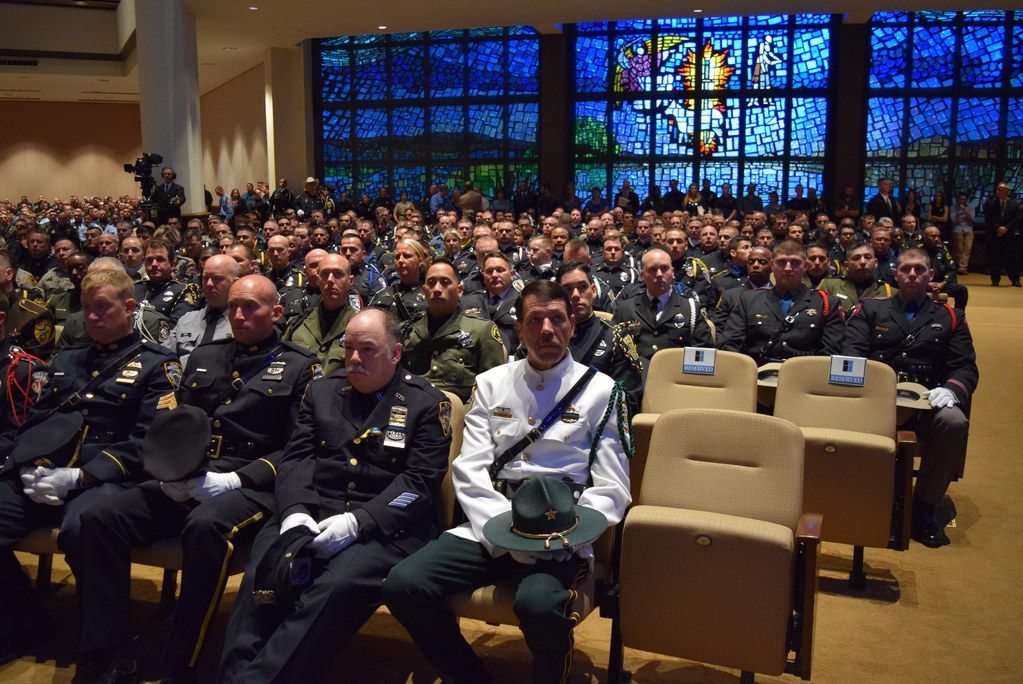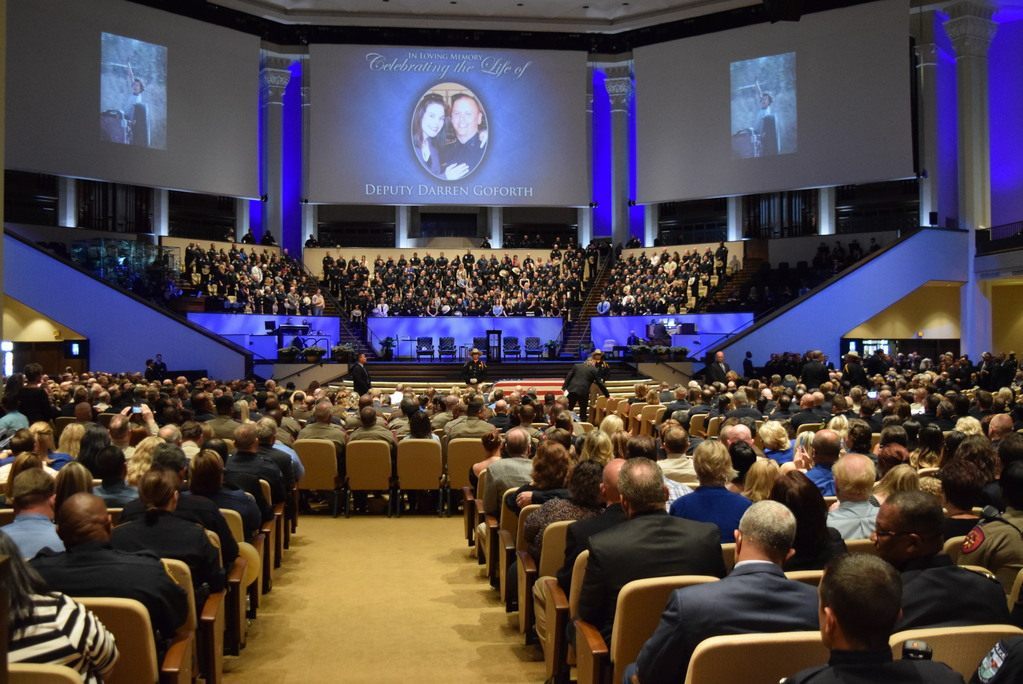 11:30 AM CDT: Houston PD Lt. Roland De Los Santos is now speaking.
He described the outpouring of supports from law enforcement across the nation and from the community.
He talked about the vigil on Saturday night where over 1,000 people gathered to show suppor for Goforth and law enforcement.
"I have never seen an outpouring of support like that which has come this week in honor of Deputy Goforth."
The Lt. spoke of the long line of traffic of people who waited in traffic for more than an hour to get here.
He has been friends with Deputy Goforth since elementary school. Darren loved humor, he said.
"We laughed at things a lot of people don't laugh at," he said. "He was good mechanically, it was always great to have a free mechanic."
De Los Santo teared up several times during his eulogy of his fallen friend.
"He was the kind of friend, that even when we lost touch, he would reach out again to keep the friendship."
"After becoming a deputy, Darren ended up patrolling the area where I live. He would keep an eye on my family. He was well liked, even by the people he put in jail, because that's the kind of man he was."
He told a story of a local criminal who still liked Darren.
He said the guy would come up to him with his video and say "Look, it's my favorite cop." Darren would reply, "Look, it's my favorite car thief!"
He thanked all in the community who have come and said thank you.
11:24 AM CDT: County Sheriff Ron Hickman said Darren Goforth was an outstanding professional.
"This is a loss suffered by out community as well. It affects us all," Hickman said. "His loss ripples throughout the community he serves. I will not allow the death of Deputy Goforth to go silently."
Hickman described the senseless murder of Deputy Goforth. On that night his friendship was cut short. "His life was not taken in vain. Tonight, we will answer the call in Darren's name."
"We will protect in serve in Darren's honor and in the memory of all who have died in service."
"God bless you, God bless your family and God bless the heroes among us."
11:22 AM CDT: Harris County Sheriff's Chaplain, Lt. Don Savell, offered prayer to the family and to all law enforcement officers who wear the badge and uniform. He reminded all that the badge belongs to the people and to all law enforcement. A deputy's actions reflect not only on himself but on all who wear the badge.
Mrs. Rhonda Williams sang a comforting message with her version of "No more light."
11:20 AM CDT: 2nd Baptist Church in Houston is one of the largest churches in Texas. The sanctuary is filled with police officers and deputies from all across the Lone Star State. Elected Sheriffs and other dignitaries including Texas Governor Greg Abbott, Lt. Governor Dan Patrick, U.S. Senator Ted Cruz, Members of Congress, and the Texas Legislature joined the family of Deputy Darren Goforth.
11:13 AM CDT: Following a bagpipe ensemble playing Amazing Grace, Mrs. Betsy Sanders opened the service for Deputy Goforth with a rendition of "I can only remember."
11:10 AM CDT: Thousands of mourners are filing into Houston's Second Baptist Church to pay their respects to Sheriff Darren Goforth.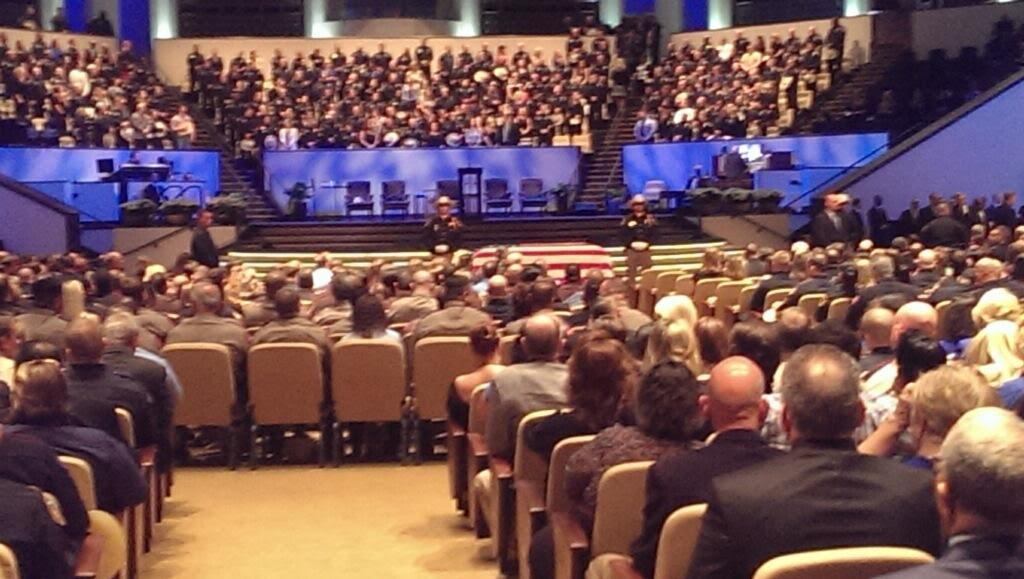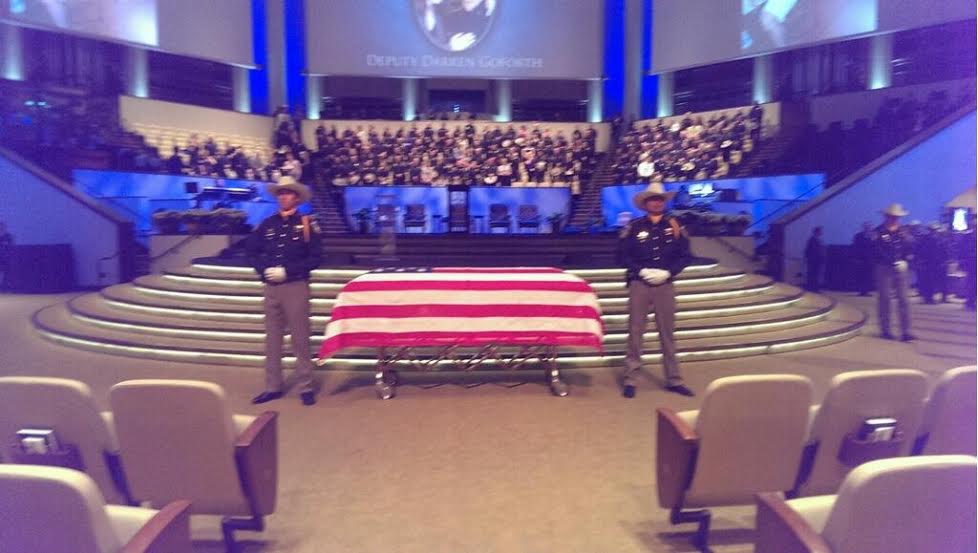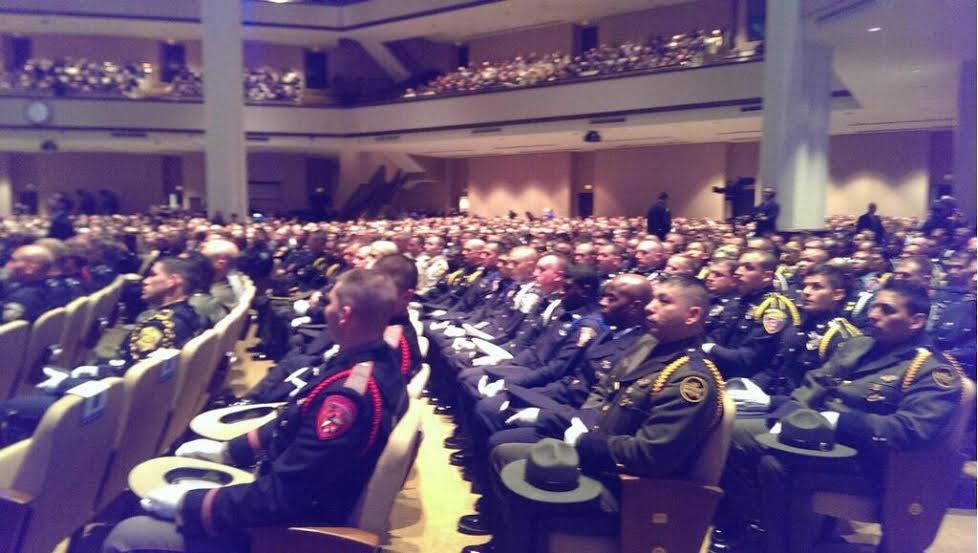 HOUSTON, Texas – Harris County Deputy Sheriff Darren Goforth will be laid to rest on Friday with all the honors the County and the State of Texas can bestow upon him. Texas Governor Greg Abbott has called for law enforcement across the state and all citizens of Texas to honor the deputy who was viciously murdered one-week ago.
Goforth's funeral will begin at 11:00 a.m. on Friday morning at Houston's Second Baptist Church. The church, which will seat several thousand people, will be packed by fellow law enforcement officers, supporters of law enforcement, state and local elected officials, and the friends and family of Darren Goforth. Texas Governor Greg Abbott and U.S. Senator Ted Cruz will head the list of dignitaries who will be on-hand to pay their last respect for this deputy who gave the last full measure in his service to the public. Others include, Lt. Governor Dan Patrick and Congressman John Culberson. Many other federal, state and local officials will be on hand.
Governor Abbott has asked Texans to wear blue today in memory of Deputy Goforth and in support of all law enforcement officers. He has also asked that all law enforcement officers turn on the emergency lights on their patrol vehicles for one minute at 11 a.m. to mark the beginning of Goforth's funeral. All Texans who are driving at that time are also asked to participate by turning on their headlights and emergency flashers for one minute.
"It is essential that we as a community, that we as Texans, come together to honor the men and women who protect us and keep our communities safe," Abbott said to a packed meeting of the Houston Downtown Pachyderm Club on Thursday. He said the gestures noted above will show that "we are standing in solidarity" with our law enforcement officers.
He said that law enforcement is "vital to the core foundational principles upon which we survive." He reminded the attendees that we are a nation governed by the rule of law.
Lt. Governor Dan Patrick also spoke out Thursday night about the murder of Deputy Goforth and the violence against law enforcement. Speaking to Breitbart Texas, the Lt. Governor said it is time we had a discussion about the rhetoric and coarse language being used in this country. He said we need to examine the issue about when free speech crosses the line into criminal conduct.
During his speech to over 1,000 people attending the Kingwood Tea Party's Constitution Day celebration, Patrick called on Texans to honor law enforcement, not just today, but in the coming days and weeks ahead. He asked that, if you can afford it, when you see an officer having lunch, "send over a desert, or pick up their tab." He said if you can't afford that, "walk over and shake their hand and tell them thank you."
Patrick attacked the mainstream media who brings on guests they know are going to spew hate-filled messages "simply to increase their ratings." He spoke about the language being used on the internet that calls for violence and de-humanizes police officers.
The Lt. Governor said we can start in schools. "Let's go back to saying yes sir, and yes ma'am to our teachers," he said.
Deputy Goforth was shot execution-style at a gas station on Friday night. The officer was in uniform and was putting gas in his patrol car at a Chevron station in northwest Houston.
Witnesses told Breitbart Texas that the shooter shot the deputy in the back of the head and in the back. As reported by Breitbart Texas, Harris County District Attorney Devon Anderson said the suspect unloaded 15 rounds into the deputy.
The funeral for Deputy Darren Goforth begins Friday morning at 11.00 a.m. It is being held at Houston's Second Baptist Church located on the corner of Voss and Woodway. From there, a funeral procession will escort the body of the murdered deputy to a nearby cemetery.
WATCH the livestream of the funeral here: