BROWNSVILLE, Texas—Two illegal aliens have been sent to prison in connection with their role in growing 11,500 marijuana plants in Texas. The father and son duo are expected to be deported after completing their sentence.
On Tuesday, 22-year-old Miguel Echevarria-Guisar appeared before U.S. District Judge Andrew Hanen who sentenced him to three years in prison on the charge of manufacturing marijuana. Just last month, 51-year-old Miguel Echevarria-Zuniga, Guisar's father was sentenced to three and a half years for a similar marijuana charge and for being a previously deported alien who was caught in the United States.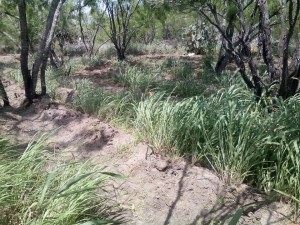 The father and son were arrested in August, 2014, by chance after U.S. Border Patrol agents stumbled upon the field being cultivated in Willacy County. More than 11,500 plants were found in the operation, court records obtained by Breitbart Texas revealed.
On that day, agents arrested 14 illegal aliens that were being smuggled through the brush area. Two of the aliens were later identified as the Echeverria's. At the time of their arrest, both father and son were trying to get away. They claimed to not know anything about the marijuana field and that they to simply be illegal aliens trekking through the brush area.
Authorities sent fingerprints taken from items found in the field to be tested and they were found to match the father and son duo.
Federal agents also ended up raiding a warehouse in the border city of Weslaco where they found other agricultural items and evidence linked to the marijuana operation.
In April, both father and son were convicted following their guilty plea on the drug charges.
In April, Breitbart Texas reported on a $2 million marijuana field belonging to Los Zetas that was found on the U.S. side of the border in Laredo under similar circumstances. At the time of the find in Laredo, border authorities claimed that the plantation was not linked to Mexican organized crime, however Breitbart Texas was able to prove that the plantation was directly linked to Los Zetas.
Ildefonso Ortiz is an award winning journalist with Breitbart Texas you can follow him on Twitter and on Facebook.