Mexican authorities have jailed more than 30 people who helped through active participation or omission in the escape of famed drug lord Joaquin "El Chapo" Guzman.  Two guards are believed to have been playing computer games instead of checking security cameras at the time of the escape.
Mexico's Attorney General's Office (PGR) has arrested 23 prison employees and public officials, as well as 10 associates of El Chapo who helped him escape, information provided to Breitbart Texas by the PGR revealed.
On the night of July 11, Guzman was able to sneak out of his maximum security cell in Altiplano's prison, get onto a railcar and move about one mile down a tunnel that led to a small house nearby.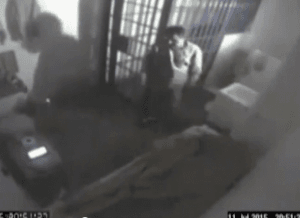 The daring prison attempt delivered a black eye to Mexican authorities who had spoken against extraditing the drug lord claiming they had the means to hold him and take him to trial.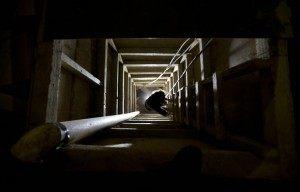 According to Mexico's El Universal, the trial documents filed against Juan Carlos Sanchez Garcia and Jose Daniel Aureoles Tabares show that they along with several other individuals helped the drug lord escape by playing dumb in order to buy him time.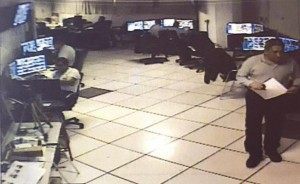 The two individuals were tasked with monitoring the surveillance video from the cells, however the men were in fact playing the video game solitaire while the other screens were in fact off.
After the guards notice the drug lord missing, rather than sound off the alarm, they take their time walking tot heir supervisors office and then going to the cell where other officials climb down the hole and eventually after coming out sound off them alarm. 
According to El Universal, what the guards and prison officials did while playing dumb was buy Guzman Loera about three hours from the time he snuck out of his cell shortly before 8:48 p.m. to the time the alarms went off at around midnight.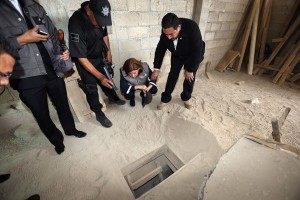 As previously reported by Breitbart Texas, one of the individuals is a pilot who is believed to have flown Guzman out through a clandestine airstrip thus allowing the cartel boss to forego any roadblocks.
"We are carrying out an in-depth investigation at all levels," said Mexico's Attorney General Arely Gomez in a prepared statement obtained by Breitbart Texas. "We are coordinating with the various agencies and entities of the Mexican government to deliver before a judge all those who in one way or another helped facilitate the escape."