LA GRULLA, Texas — The current mayor in this border city is fighting two misdemeanor charges accusing him of having used a fire truck to fill his swimming pool. His defense attorney stated that the case is politically motivated since court records point to a damage of "less than $100".
On Saturday afternoon, local news outlets began publishing stories about the imminent arrest of La Grulla Mayor Pedro Flores. According to Starr County-County Attorney Victor Canales, Flores was to be charged in connection with having ordered volunteer firefighters to fill up his pool.
On Monday Flores, turned himself in to authorities on the Class B misdemeanor charge of theft by a public servant for which his bond was set at $3,000. Flores is also facing a Class C misdemeanor charge (same category as a traffic ticket) for the charge of abuse of official capacity. For that smaller charge, Flores has 10 days to appear in court to contest the charge.
The criminal complaint filled by Canales alleges that sometime in January, Flores used "fire hydrant water" to fill up his swimming pool and the amount of the water and the diesel to run the truck is "Less than $100." 
The case has been a local headline since the weekend; however, when Breitbart Texas spoke with Flores' attorney, he stated that he had not received a case file. Eddie Ramirez who is representing Flores told Breitbart Texas the only document he had received was the criminal complaint, which was handed to him days after his client became a local headline.
"I normally don't comment on pending cases but based on the information in this criminal complaint and the way this case has been handled I have to say this appears to be politically motivated," Ramirez said to Breitbart Texas. "I am looking forward to trying this case and getting to the bottom of this."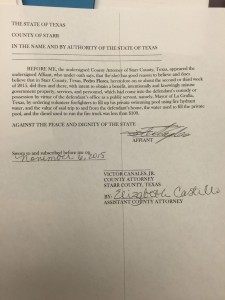 Ildefonso Ortiz is an award winning journalist with Breitbart Texas you can follow him on Twitter and on Facebook.