Border Patrol agents found 37 illegal aliens, including three juveniles from Mexico and Honduras, in a "Goddess of Death" shrine adorned stash house in Edinburg, Texas, on Monday.
Two suspected human smugglers, a U.S. citizen and the other a Mexican national, have been arrested.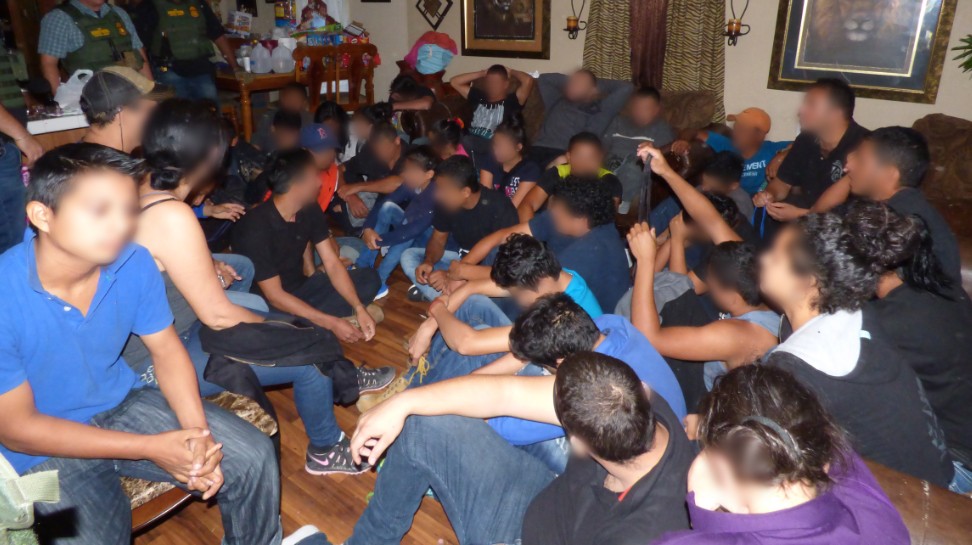 Border Patrol agents and troopers from the Texas Department of Public Safety conducted a traffic stop on a known smuggler and this led to the discovery of the stash house.
Officers obtained consent to search the residence and found 37 illegal aliens inside.
The home was adorned with a shrine to the folk saint La Santa Muerte. The "Goddess of Death," also known as the "Saint of Death" is known to be associated with the drug trade and narco-culture.
The makeshift shrine to the Santa Muerte found inside the Edinburg home had multiple offerings to the narco-deity including paintings, statues, candles, cash, food and offerings.
"These immigrants are essentially held for ransom," says Chief Patrol Agent Manuel Padilla Jr. He added, "And, these smugglers are putting these migrants in harm's way in the middle of our residential neighborhoods. I encourage you to take a stand with us against this type of crime in your communities and help save lives by reporting any suspicious activity at 1-800-863-9382."
All of the illegal aliens were taken to the McAllen Border Patrol Station and processed. The smugglers were referred to the Rio Grande Valley Prosecutions office.
In May 2015, San Benito Police found a large statue of the Santa Muerte that had been left in the middle of the road. The statue initially sparked the deployment of a local police bomb squad after witnesses claimed to have heard ticking noises coming from the statue. No explosives were found inside the Santa Muerte figure in San Benito.
The Rio Grande Valley (RGV) Sector, along with much of the rest of the southern border, has been receiving yet another massive flood of illegal immigrants. Just last week, Breitbart Texas reported that the RGV Sector saw an 81 percent increase in the numbers of apprehensions when comparing FY 2015 to the current numbers.
Some Border Patrol sectors saw as much as a 405 percent increase in the numbers of unaccompanied alien children (UACs) who were caught crossing the border.
Texas Governor Greg Abbott  warned as far back as September 2015 about the looming humanitarian crisis that would follow. The federal government has still not taken the steps to secure the border.
Note: This article has been updated.
Lana Shadwick is a writer and legal analyst for Breitbart Texas. She has served as a prosecutor and associate judge. Follow her on Twitter @LanaShadwick2.
Ildefonso Ortiz contributed to this article. Ortiz is an award winning journalist with Breitbart Texas you can follow him on Twitter and on Facebook.