MONTERREY, Nuevo Leon — A group of cartel gunmen murdered the wrong person before dressing him up in tactical gear to cover up their error. This year there have been at least six murders in this state where gunmen have executed the wrong victim or shot innocent bystanders in firefights.
The recent murder was investigated and solved by Nuevo Leon homicide detectives who were able to arrest the three gunmen that carried out the failed hit in the suburb of San Nicolas. The gunmen had originally entered a house to murder a local drug dealer.
During questioning by authorities,34-year-old  Omar "Guason or Joker" Ruiz Perez said that he went into a house known as a local drug selling point where they shot their victim in the head. The victim was Edgar Alejandro "El Diablo" Gauna Cano a street car washer and panhandler known in the neighborhood for being "a harmless junkie".
Due to their error, "El Guason" and his two  gunmen used their tactical gear to dress up their victim with body armor, combat boots and a drop-down leg holster in an attempt to have local Ministerial Police think it was a cartel on cartel crime and not investigate the matter properly.
Local neighbors told authorities numerous times that the victim was not a cartel member but had been  killed by mistake. The neighbors also provided authorities with extensive description of the gunmen and the vehicles they left in. The information helped authorities capture the men just hours after the crime.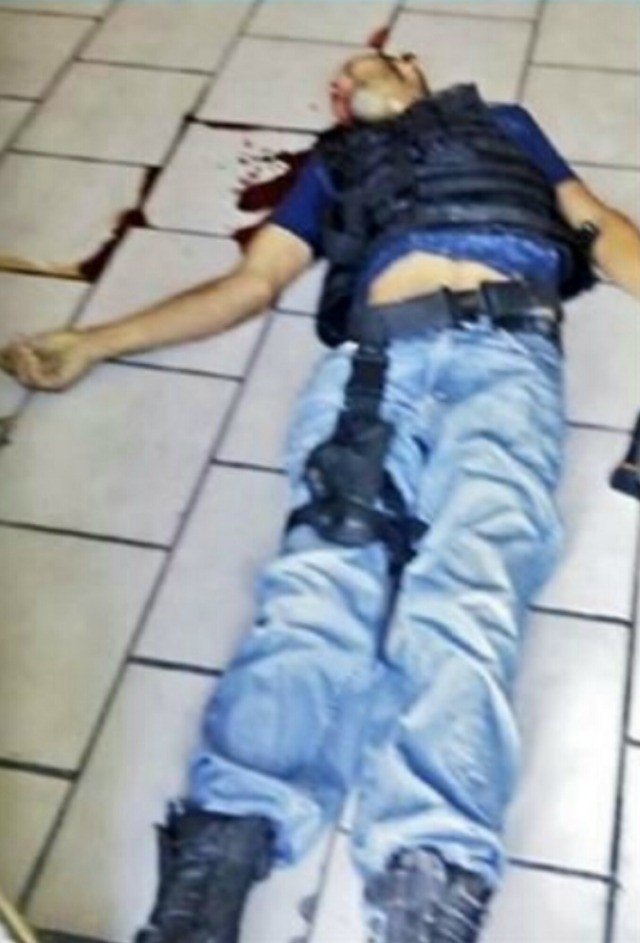 In recent months, the clandestine drug distribution in the streets of Monterrey and its suburbs has set off a bloody turf war. Street level drug dealers are often murdered in broad daylight or kidnapped by their rivals. This year, there have been at least six innocent victims in this area, who have been mistakenly killed or been hit by stray gunfire during the shootouts among drug dealers.
Editor's Note: Breitbart Texas traveled to the Mexican States of Tamaulipas, Coahuila and Nuevo León to recruit citizen journalists willing to risk their lives and expose the cartels silencing their communities.  The writers would face certain death at the hands of the various cartels that operate in those areas including the Gulf Cartel and Los Zetas if a pseudonym were not used. Breitbart Texas' Cartel Chronicles are published in both English and in their original Spanish. This article was written by Tony Aranda from Monterrey, Nuevo León.