MATAMOROS, Tamaulipas — Sexual predators sought by U.S. law enforcement have been entering Mexico illegally to hide in this border city.
Last month, members of Mexico's Attorney General's Office extradited two suspected sexual predators who had crossed illegally into Mexico in an effort to avoid prosecution. In addition to the extraditions, over the weekend, U.S. Customs and Border Protection officers arrested Oscar R. Santos at an international bridge in Brownsville, Texas as he was trying to move back undetected. Court records obtained by Breitbart Texas revealed that Santos is a previously convicted sex offender who had an outstanding arrest warrant from a federal court in Maryland.

Santos' arrest comes a week after Mexican authorities arrested Cristal Jollie, an African-American woman sought by authorities in Harris County, Texas on sexual assault of a child and child pornography charges since 2010. Mexican authorities caught up with Jollie in this border city in the rural community of El Refugio. After her capture, Mexican authorities took Jollie to one of the international bridges where they handed her off to U.S. authorities.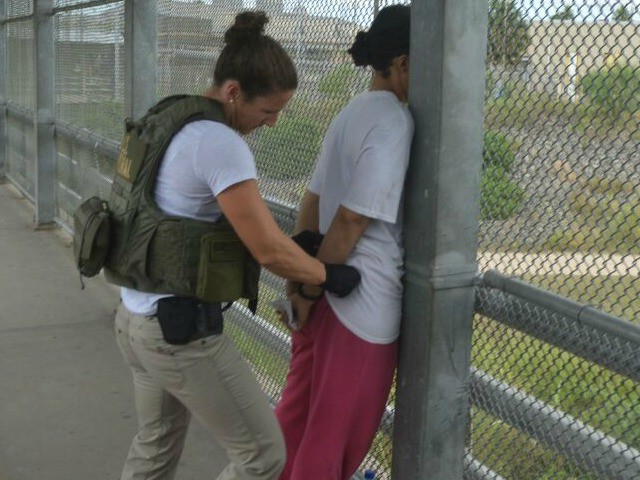 Just before authorities extradited Jollie, Mexican authorities arrested one of Texas' 10 Most Wanted in this border city. According to information provided to Breitbart Texas by the Texas Department of Public Safety, 27-year-old Cruz Alfredo Bazan had outstanding warrants  from Cameron County for sexual assault of a child charges. Bazan had previously been convicted in 2012 on a similar matter in connection with the abuse of a 15-year-old victim.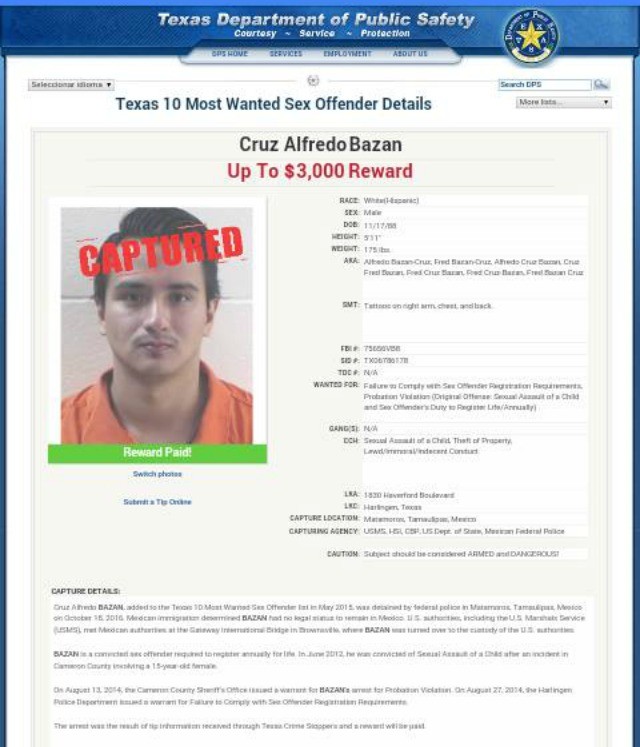 Texas authorities worked with their Mexican counterparts to track down Bazan in Matamoros. At the time of the arrest, he had allegedly been using six aliases. Mexican authorities walked Bazan to the bridge where they turned him over to U.S. authorities as well.
Ildefonso Ortiz is an award winning journalist with Breitbart Texas. He co-founded the Cartel Chronicles project and you can follow him on Twitter and on Facebook.
"J.A. Espinoza" from the Cartel Chronicles project contributed to this report.