Almost all of the marijuana and the methamphetamine that are seized in the U.S. are coming from Mexico, according to a new report.
Most illegal substances are crossing through the area known as the Rio Grande Valley in Texas and through the Arizona border.
As Breitbart Texas has reported, the Rio Grande Valley has been ground zero for a surge in human smuggling at the hands of Mexico's Gulf Cartel. In addition to flooding the Texas border with millions of pounds of marijuana, the criminal organization has been pushing hundreds of thousands of illegal immigrants through their areas of influence. The move has allowed the criminal organization to overwhelm the enforcement and detention capabilities of the federal government.
The new stats on the drugs arriving almost exclusively from Mexico come from the advocacy group Drugabuse.com; based on figures and statistics from U.S. Customs and Border Protection, as well as the FBI and DEA. The information was initially published by the Washington Examiner this week.
According to the figures, from 2012 to 2015 the Rio Grande Valley Sector seized 2.9 million pounds of marijuana–surpassing the hundreds of thousands of pounds all of the other sectors, except Tucson. Known as one of the main smuggling routes of the famous Sinaloa cartel, the Tucson sector has seen 3.9 million pounds of marijuana seized.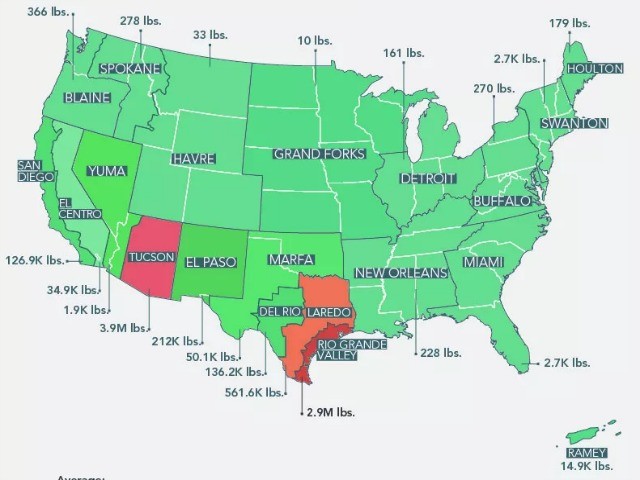 Despite the staggering number of seized drugs, cartels continue to move large quantities into the U.S., according to the report.

Ildefonso Ortiz is an award winning journalist with Breitbart Texas. He co-founded the Cartel Chronicles project and you can follow him on Twitter and on Facebook.