An issue that has become known as the "Ferguson effect" is causing police officers to hesitate and question their judgment in situations where the use of force would be proper. The phenomenon occurred following the justified 2014 police shooting of a black man in Ferguson, Missouri, and the protests and riots afterwards. A new police survey from the Pew Research Center confirms what many media outlets have been reporting–the "Ferguson effect" is real.
A female Chicago police officer did not use her service pistol to defend herself while she was being beaten to the point of unconsciousness because, "She didn't want her family or the department to go through the scrutiny the next day on national news," Chicago Police Superintendent Eddie Johnson told the Chicago Tribune in September 2016. "(S)he looked at me and said she thought she was gonna die, and she knew that she should shoot this guy, but she chose not to." Two other officers were also injured while apprehending the suspect in question.
An article in the Washington Post the following month said the hesitation by police has become known as the "Ferguson effect." The Ferguson effect is named after the police encounter in Ferguson, Missouri, where a police officer being beaten by an unarmed black man used his firearm in self-defense. False rhetoric about the suspect being shot in the back with his hands in the air led to protests and riots in Ferguson and other cities. "Many law enforcement officers have said that the intense focus on policing in the time since has put them on the defensive and hindered their work," the Washington Post reported.
A 97-page nationwide survey of police officers by the Pew Research Center titled "Behind the Badge" confirms that "recent high-profile fatal encounters between black citizens and police officers have made their jobs riskier, aggravated tensions between police and blacks, and left many officers reluctant to fully carry out some of their duties." The survey was compiled from the results a questionnaire sent to nearly 8,000 officers in over 100 departments across the nation. It includes police departments and sheriff's officers in jurisdictions large, and small.
The survey reveals that officers are dealing with two conflicting concerns that create doubt, hesitation, fear, and uncertainty–things that can put officers' lives, and those of the public, in danger. Officers have become more concerned about their personal safety. But they are also more concerned about the repercussions of using force, even when the use of that force is fully justified. Large departments are felling the "Ferguson effect" even more than smaller ones, the survey reveals.
The Pew Research Center learned that 95 percent of officers in large departments, and 88 percent of those in smaller ones, are more concerned about their personal safety than they have been in the past. These concerns were likely intensified during the past year when officers experienced a 61 percent increase in the deaths of their fellow officers from hostile gunfire, Breitbart Texas reported earlier this month. A total of 64 officers were gunned down, many in ambush situations where they were shot because they are cops.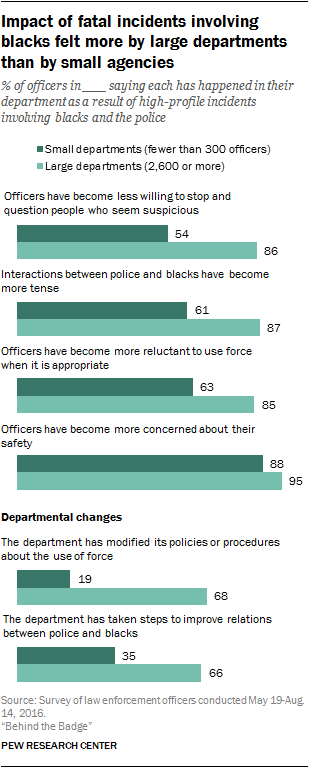 "The 61 percent increase in law enforcement officers shot and killed in 2016 versus 2015 and a 53 percent overall increase in officers murdered in the performance of duty are deeply troubling statistics," ODMP Director of Research Steven Weiss told Breitbart Texas at the time. "Included in that statistic is a disturbing increase in officers killed in 'ambush-style' murders, such as the incidents in Dallas and Des Moines."
"These types of murders are particularly disconcerting because they are not born out of a criminal's desire to avoid arrest, but out of a hatred for not only law enforcement, but for our society as a whole," Weiss explained. "It is the type of attack that, for the most part, tactical training or increased vigilance may not help to prevent."
However, the growing concern about personal safety is in direct conflict with the growing concern over the consequences of the use of deadly force, even when the officer's life is in danger, as in the case of the Chicago officer referenced above. The survey reveals that 85 percent of officers in large departments are more reluctant to use force when appropriate. That number drops to 63 percent in smaller departments.
The result is officers are becoming more hesitant to put themselves in situations where they might face an encounter. When asked if they are less willing to stop and question people who seem suspicious, 86 percent of officers in large departments said they are less likely to initiate the encounter–54 percent in smaller departments.
Officers "don't want to become the next YouTube video," Fraternal Order of Police President Dean Angelo told the Chicago Tribune. "If you participate in a deadly force situation you can save your life, but in 2016, you can lose your job."
The overwhelming percentage of officers said they believe they do not have enough people to do the job they are required to perform. In law enforcement agencies with less than 1,000 officers, 79 percent believe they need more help to adequately police their communities. That percentage grows to a near-unanimous 95 percent in agencies of more than 1,000 officers.
The use of body cameras to record the actions of officers and suspects during encounters has generally been seen as a positive tool by officers. While not without their own problems, bodycams are seen by 65 percent of rank-and-file officers as a positive tool. Supervisors and administrations see it as a positive tool in even higher rates.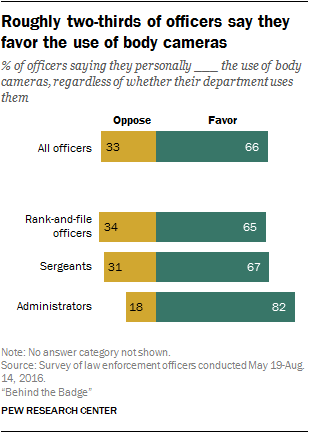 Former Harris County Sheriff Ron Hickman told Breitbart Texas shortly before leaving office that while there are still many issues with the cameras, they are helpful tools. "It is still a very immature technology," Hickman explained. "Currently most cameras are attached to the officers chest and are; therefore, not necessarily seeing what the officer is seeing. In a fast-developing emergency, the officer may not even have time to turn the camera on before a use of force situation escalates." He said bodycams will become increasingly effective as the technology matures, but they are not an end all to capturing what happens during police encounters.
As and example, two Houston police officers came upon a man in the street. The officers had not been dispatched to this situation, they just came upon the man in the street. As they got out of their car, the man turned and pointed a gun towards the sky and then at the officers, Breitbart Texas' Lana Shadwick reported. The officers quickly ordered the man to drop the gun, but had to shoot him after he failed to follow their instructions. The situation developed so quickly, the officers did not have time to start recording until after the shooting. Houston police policy guidelines say this is normal in these types of situations. A YouTube video filmed by a witness and a convenience store security camera captured part of the scene.
Despite the fully-justified nature of the shooting, the officers still came under great scrutiny from community activists. Houston Mayor Sylvester came to the officers' defenses saying that despite protests in the community, "The reality is that this was not a case of an unarmed person being shot by police."
Protests like those following the Houston officer-involved shooting and the false "hands up don't shoot" narrative that rose out of the Ferguson shooting have led officers to believe the protests against them by demonstrators like the #BlackLivesMatter movement are more based on long-standing anti-police bias than about the particular encounters or incidents. The police survey reveals that 92 percent of officers believe these protests are somewhat (24 percent) or a great deal (68 percent) affected by anti-police violence. A majority of those officers (65 percent) believed the protests are not motivated by a genuine desire to hold officers accountable for their actions.
Some other key findings of the Pew Research Center survey revealed:
About half of black officers (53%) say that whites are treated better than minorities in their department or agency when it comes to assignments and promotions. Few Hispanic (19%) or white officers (1%) agree. About six-in-ten white and Hispanic officers say minorities and whites are treated the same (compared with 39% of black officers).
Most officers say that outside of required training, they have not discharged their service firearm while on duty; 27% say they have done this. Male officers are about three times as likely as female officers to say they have fired their weapon while on duty – 30% of men vs. 11% of women.
Roughly three-in-ten officers (31%) say they have patrolled on foot continuously for 30 minutes or more in the past month; 68% say they have not done this.
Officers are divided over whether local police should take an active role (52%) in identifying undocumented immigrants rather than leaving this task mainly to federal authorities (46%).
The share of sworn officers who are women or minorities has increased slowly in recent decades. Since 1987 the share of female officers has grown from 8% to 12% in 2013, the last year the federal Department of Justice measured the demographic characteristics of police agencies. During that time, the share of black officers increased from 9% to 12% while the Hispanic share more than doubled, from 5% to 12%.
About seven-in-ten officers say some or most of the people in the neighborhoods where they routinely work share their values and beliefs. Officers in larger departments are less likely than those in smaller departments to say they share values with the people in the areas where they patrol.
About half (51%) of police officers compared with 29% of all employed adults say their job nearly always or often frustrates them, while about four-in-ten officers (42%) and half of employed adults (52%) say their work frequently makes them feel fulfilled.
A large majority of all officers (76%) say that responding effectively to people who are having a mental health crisis is an important role for police. An additional 12% say this is a role for them, though not an important one and 11% say this is not a role for police.
Bob Price serves as associate editor and senior political news contributor for Breitbart Texas. He is a founding member of the Breitbart Texas team. Follow him on Twitter @BobPriceBBTX.