McALLEN, Texas — A story wildly circulated by Mexican news outlets about a woman having her visa taken away because she had memes making fun of U.S. President Donald J. Trump has been deemed false by U.S. authorities.
The story began when Mexican media celebrity Denise Maerker reported on her show Atando Cabos that a woman in one of the Tijuana border crossings had her visa taken away by an immigration official because she had various memes making fun of Trump. Maerker took to Twitter to comment on the story and credited a journalist by the name Rocio Galvan.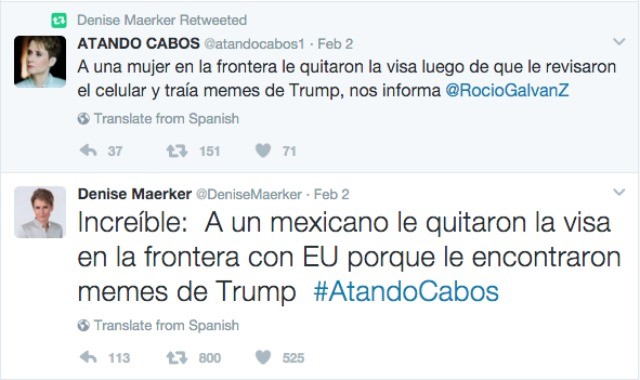 Various news outlets like Radio Formula, El 5inco, El Mañana, and others went off Maerker's tweet to further disseminate the story. The uncertainty caused by the alleged arbitrary measure spread on social media as various individuals began to ask about the case.
"There were no such events that occurred within any ports within the San Diego Field Office," U.S. Customs and Border Protection responded to an inquiry by Breitbart Texas into the stories circulated by Mexican media. Breitbart Texas also requested similar information from ports of entry in Texas, and Arizona and received similar answers.
By Friday afternoon, Maerker sent a retraction of sorts in a second tweet and had Galvan back on her show, where they clarified that the woman who had her visa taken away was never told that it was over the Trump memes.

According to CBP, officers have the authority to cancel visas if the individual is found to be inadmissible under the Immigration and Nationality Act (INA). The act lists the grounds for denial of entry into the country including health related reasons, criminality, security, immigration violations and others; the act does not list memes or jokes as a reason for canceling denial. The agency further stated that when arriving at a U.S. Port of Entry CBP officers can inspect electronic devices such as computers, cell phones cameras and other items.
Ildefonso Ortiz is an award winning journalist with Breitbart Texas. He co-founded the Cartel Chronicles project with Brandon Darby and Stephen K. Bannon.  You can follow him on Twitter and on Facebook.
Brandon Darby is managing director and editor-in-chief of Breitbart Texas. He co-founded the Cartel Chronicles project with Ildefonso Ortiz and Stephen K. Bannon. Follow him on Twitter and Facebook.