MCALLEN, Texas — A recent border shooting where cartel smugglers fired at U.S. Border Patrol agents points to a disturbing trend as organized crime members appear to be getting more aggressive against law enforcement.
The most recent attack took place on Friday morning near in a rural area not far from Los Indios international bridge. The attack took place when agents assigned to the Harlingen station responded to a vehicle heading towards the river in what appeared to be an attempt to collect a load of contraband. Authorities tried to stop the fleeing vehicle, but it headed back towards the river as the smugglers tried to escape into Mexico. During the escape, unknown men in Mexico began to fire at law enforcement on the U.S. side. No agents were hurt in the shooting.
The cross-border shooting comes just a week after cartel smugglers near Rio Grande City used caltrops or road spikes in an attempt to protect their drug loads, information released by the U.S. Border Patrol revealed. During that smuggling attempt, after picking up a drug load and encountering law enforcement, cartel members drove back towards the river. Along the way, the smugglers deployed the caltrops in order to slow down law enforcement. Two of the vehicles used by agents were disabled after their tires were rapidly deflated. When authorities arrived at the river, they found the vehicle used by the smugglers. Inside the vehicle, authorities located more caltrops and various drug bundles.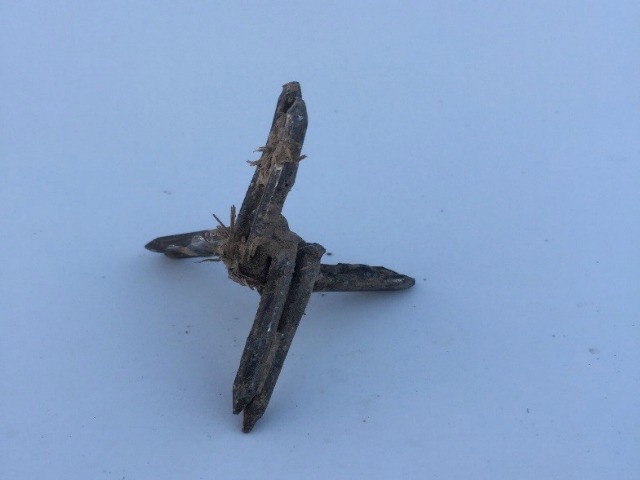 The tactic that cartel smugglers used in both cases is called a splash down, where as Breitbart Texas has reported, smugglers drive their vehicles into the river so that other cartel members can recover the drug loads and return them to Mexico before authorities can arrive. While splashdowns are common in the this particular area of the Texas border, shooting at authorities, and the use of caltrops point to smugglers becoming more aggressive in securing their drug loads and protecting them. Their boldness comes even at the risk of engaging law enforcement with gunfire on the U.S. side of the border.
Ildefonso Ortiz is an award winning journalist with Breitbart Texas. He co-founded the Cartel Chronicles project with Brandon Darby and Stephen K. Bannon.  You can follow him on Twitter and on Facebook.