PIEDRAS NEGRAS, Coahuila — A Mexican state judge from this city allowed a suspected drug trafficker who is a wanted fugitive in the U.S. to regain his freedom. The U.S. Drug Enforcement Agency (DEA) listed the fugitive as one of their "most wanted."
Recently, police officers with the Fuerza Coahuila special unit arrested Salvador Castillon Saucedo during a traffic stop along the highway that connects this border city with Ciudad Acuña. Piedras Negras is the Mexican border city directly south of Eagle Pass, Texas. Ciudad Acuña is located directly south of Del Rio, Texas.
At the time of the arrest, authorities found the man to be in possession of more than 120 small doses of narcotics pointing to street level distribution. Investigators took Castillon before a state judge who released him on bond even though the suspect is listed as one of the DEA's most-wanted fugitives.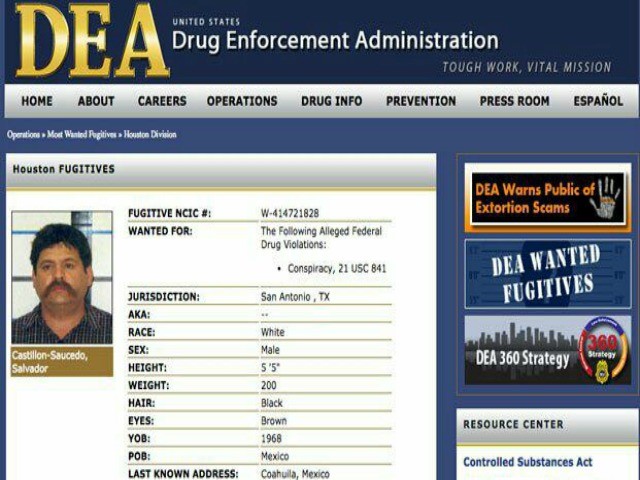 Castillon is listed as a wanted fugitive by the DEA in connection with a 2003 indictment charging him with multiple drug trafficking and conspiracy offenses. A wanted poster by U.S. authorities has Castillon listed as a fugitive who is armed and dangerous. The fugitive is the brother of Antonio Castillon, the former mayor of the city of Guerrero, Coahuila. The Castillon family is well known in Coahuila for their political connections and deep business ties to the region.
As Breitbart Texas reported, Coahuila continues to be a stronghold for the Los Zetas cartel where the criminal organization continues to have deep ties to political operators and state officials. Various trials in U.S. federal court have unveiled how in years past, the Los Zetas cartel was able to have complete control over Coahuila. Court documents published by Breitbart Texas reveal how U.S. prosecutors consider Mexican courts to be under the control of cartels and are able to provide protection and immunity to cartel operators. 
Editor's Note: Breitbart Texas traveled to the Mexican States of Tamaulipas, Coahuila, and Nuevo León to recruit citizen journalists willing to risk their lives and expose the cartels silencing their communities.  The writers would face certain death at the hands of the various cartels that operate in those areas including the Gulf Cartel and Los Zetas if a pseudonym were not used. Breitbart Texas' Cartel Chronicles are published in both English and in their original Spanish. This article was written by "J.M. Martinez from Piedras Negras, Coahuila.