Nearly six million Floridians have been ordered to evacuate as a catastrophically dangerous Hurricane Irma prepares to turn its sights on the Sunshine State. Governor Rick Scott told those in the path of the storm, "leave now."
"If you have been ordered to evacuate, leave now — not tonight, not in an hour, now," the governor said according to a CNN report.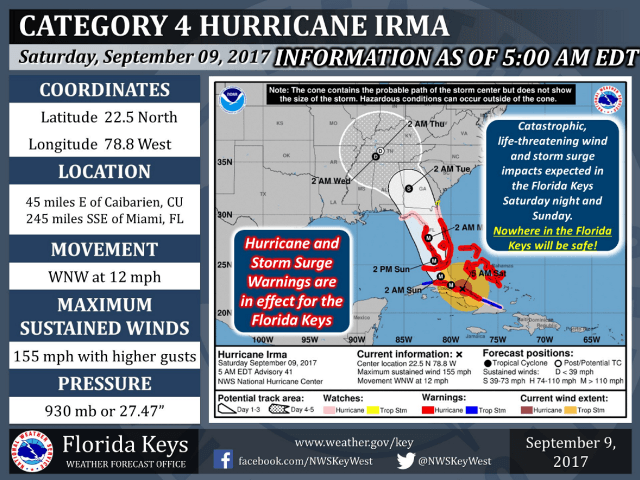 The 8 a.m. AST update from the National Hurricane Center (NHC) reports that Hurricane Irma is maintaining its category 4 status with sustained winds of 130 mph. The storm's center is located about 10 miles NW of Caibarien, Cuba, and is moving to the WNW (275 degrees) at 12 mph.
Officials warn of a storm surge along the Florida coast as the storm continues an uncertain approach to the state. Current predictions call for the storm to continue a WNW track for the next 12 to 24 hours, officials stated. At some point, the storm will begin to turn NNW and track across the warm waters that separate Florida from Cuba. It is currently expected to track just west of the Florida gulf coast before making landfall sometime on Sunday afternoon at an undetermined point between Venice and Tampa Sunday evening.
Officials said the storm could re-intensify as it moves over the warmer waters of the Florida Straits. Irma is expected to deliver major hurricane force winds across the entire peninsula until it exits to the north Monday evening.
"This is as real as it gets," National Weather Service officials in Key West Tweeted. "Nowhere in the Florida Keys will be safe … you still have time to evacuate."
***THIS IS AS REAL AS IT GETS***

***NOWHERE IN THE FLORIDA KEYS WILL BE SAFE***

***YOU STILL HAVE TIME TO EVACUATE***

Please RT. #Irma pic.twitter.com/VWLMEDWoUs

— NWS Key West (@NWSKeyWest) September 8, 2017
At about 7 a.m. NWS officials reported outer rain bands of Irma moving into the Florida Keys. Officials Tweeted a warning that hurricane force winds could occur at any time.
Outer rain bands associated with #Irma moving across the #FLKeys this AM. #Hurricane force gusts possible. #FLwx pic.twitter.com/FYE8TKsBnq

— NWS Key West (@NWSKeyWest) September 9, 2017
Follow complete coverage of Hurricane Irma on Breitbart News.
Bob Price serves as associate editor and senior political news contributor for Breitbart Texas. He is a founding member of the Breitbart Texas team. Follow him on Twitter @BobPriceBBTX and Facebook.