REYNOSA, Tamaulipas — The ongoing cartel war for control of the border city of Reynosa has spread from the streets into the state prison in the outskirts of the city. Rival factions of the Gulf Cartel appear to be fighting over the revenue made from extortion and illicit businesses inside the prison.

 
This week, Tamaulipas state authorities deployed nearly 60 police and first responder vehicles to help authorities at the prison in Reynosa take control of a large scale riot inside. One inmate who is believed to have started the riot died during the riot. Eight others were injured but are expected to recover. Unofficial information obtained by Breitbart Texas points to some of the injured prisoners having been shot. 
During the riot, hundreds of relatives lined up outside of the prison asking for Warden Maria De Jesus Aldana to provide information as to the welfare of their loved ones inside. Military forces, as well as federal and state police officers, used drones to oversee the prison as they moved from hotspot to hotspot trying to quell the fighting.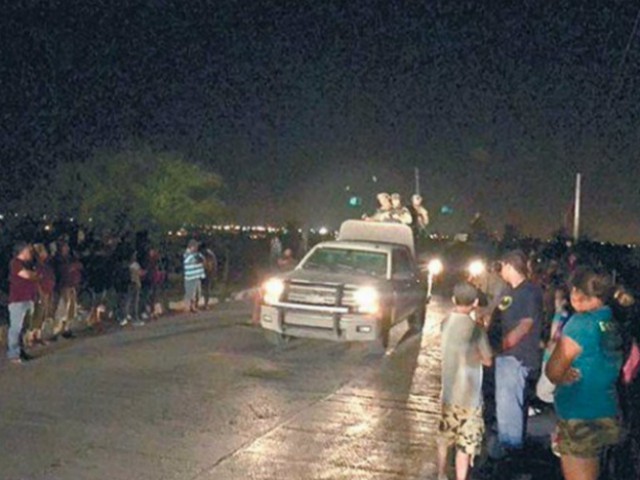 The riot came just one day after a team of cartel gunmen ambushed the van where the head of security for the prison, Jesus "Chuyito" Alvarez, was riding. The attack took place along the Libramiento highway that cuts through Reynosa connecting Matamoros with Monterrey. One of the prison guards was injured in the attack while one of the gunmen was killed. Alvarez survived a similar attack just 15 days prior when another team of gunmen ambushed him along the Reynosa- Rio Bravo highway. The prison security chief was able to escape by getting to the military station along that same highway. 
For over a year, rival factions of the Gulf Cartel have been fighting for control of the various drug trafficking and human smuggling routes in Reynosa and its surrounding areas. The fighting has manifested itself through fierce gun battles along the city streets, as well as an unending number of kidnappings and executions. Since the violence started in May 2017, the city has seen more than 500 murders directly related to the internal cartel war, Breitbart Texas reported. 
Editor's Note: Breitbart Texas traveled to the Mexican States of Tamaulipas, Coahuila, and Nuevo León to recruit citizen journalists willing to risk their lives and expose the cartels silencing their communities.  The writers would face certain death at the hands of the various cartels that operate in those areas including the Gulf Cartel and Los Zetas if a pseudonym were not used. Breitbart Texas' Cartel Chronicles are published in both English and in their original Spanish. This article was written by "A.C. Del Angel" from Tamaulipas.